AT CIPM 2016, the Romaco Group will demonstrate its Innojet VENTILUS® V 2.5 granulation and coating system attached to a hot melt device. For the first time in Asia, the company will also launch the Noack blister line with an integrated anti-counterfeiting system for primary packaging. A Romaco Macofar microdosing machine will be another highlight of this year's exhibit. This innovative solution underlines the engineering specialist's proven expertise in aseptic powder dosing.
Romaco Innojet VENTILUS® V 2.5: The lab-scale all-rounder
The VENTILUS® V 2.5 processes particles from 10 µm to 30 mm in diameter, such as powders, granulates, pellets, tablets or capsules, in laboratory applications. It is suited as a granulation and coating system for products for the pharmaceutical, chemical and food industries. The machine is based on the air flow bed technology originally developed and internationally patented by Dr. h.c. Herbert Hüttlin. The enhanced processing efficiency results in batch times which are up to 25 percent shorter. The uniform flow conditions inside the cylindrical product container enable extremely gentle intermixing of the batch. The process air is controlled by the booster ORBITER, an ingenious container bottom consisting of overlapping circular plates. Together with the ROTOJET, the central bottom spray nozzle, the ORBITER booster forms an innovative functional unit that meets all the requirements for linear scale-ups. The air flow bed technology ensures accurate control of the product movement and equally precise application of the spray liquids. The formulations which are realised in this way achieve the required release profile with between 10 and 15 percent less coating material.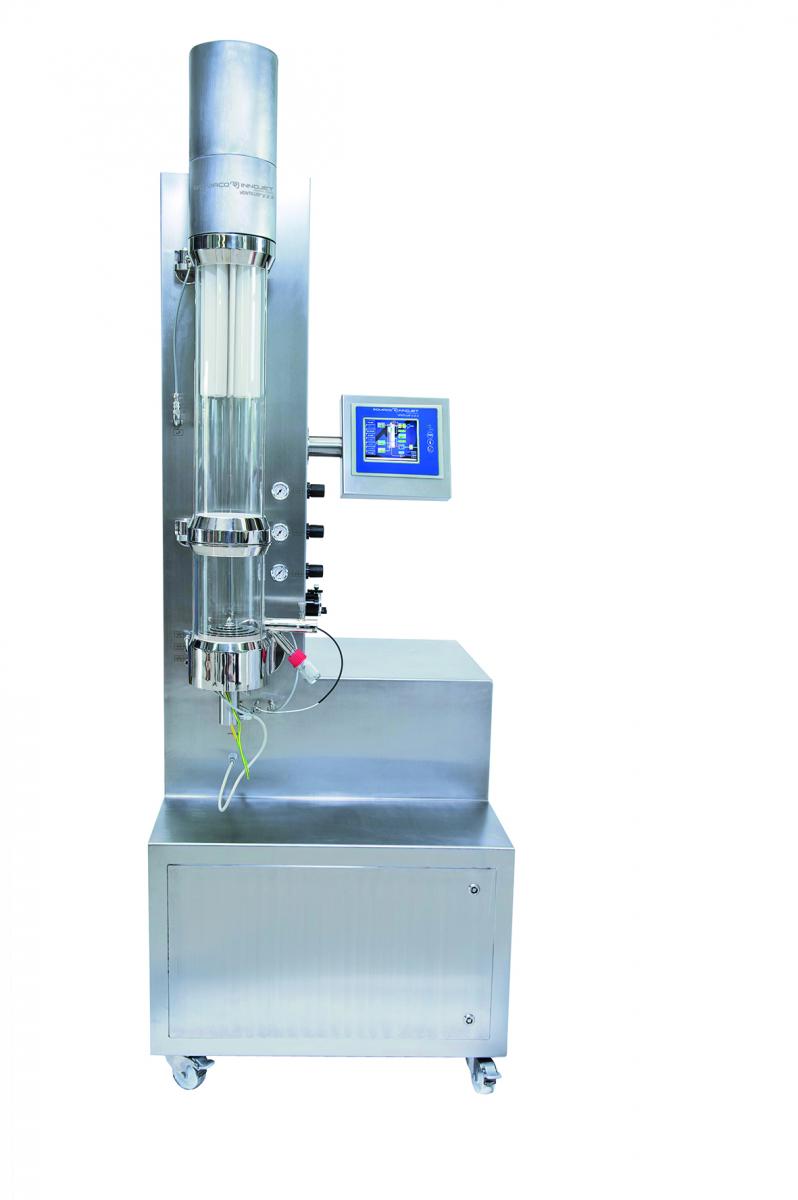 The Romaco Innojet VENTILUS® V 2.5 on show at CIPM 2016 will be attached to a hot melt device. A special spray nozzle designed for organic wax or hard fat coatings with a melting point up to 90°C is used for hot melt applications. All hot melt coatings speed up the process because there is no evaporation – and since there is no need to heat the process air, energy efficiency is likewise improved. Hot melt coatings are particularly in demand for taste masks and moisture barriers.

Romaco Noack 960: The Noack 960 blister solution with an integrated system enables the primary packaging to be unequivocally identified. The technology, developed in an exclusive partnership with NANO 4 U, provides bespoke anti-counterfeit protection for blister packaging. Highly precise stamped holograms allow each blister to be clearly marked with proof of originality, with no additional materials needed. The blister packs are coded for this purpose with overt and/or covert security features. Hidden holograms can be identified rapidly and easily with the help of a laser pointer. The new system is integrated in the blister machine's coding station and has no influence on production speed. When installed in an in-line configuration with the Promatic PC 4000 continuous motion cartoner, the Romaco Noack 960 blister line has a maximum output of 700 blisters and 420 cartons a minute. The technology can be purchased with either rotary or platen sealing and impresses with high OEE (overall equipment effectiveness). Quick format changes, short cleaning times and an advanced level of automation are the system's main hallmarks. The fully interchangeable QuickFeed unit permits extremely fast product changes. The servo-driven transfer station which passes the blisters to the cartoner is designed with a vacuum assisted overhead conveyor; de-stacking is independent of specific formats. All in all, the blister solution cuts the customer's unit packaging costs by delivering optimal value for money.
Romaco Macofar MicroMaxX 18: Exceptional dosing accuracy when filling sterile powders
The innovative Romaco Macofar MicroMaxX 18 microdosing machine continues a decades-long tradition of solutions for filling sterile pharmaceutical powders into vials. Its two dosing stations allow multiple dosing into the same vial; alternatively, the product can be filled in two separate process steps. The powder is dosed by means of a vacuum/pressure system with dosing discs, each of which has twelve chambers that are easy to install and clean.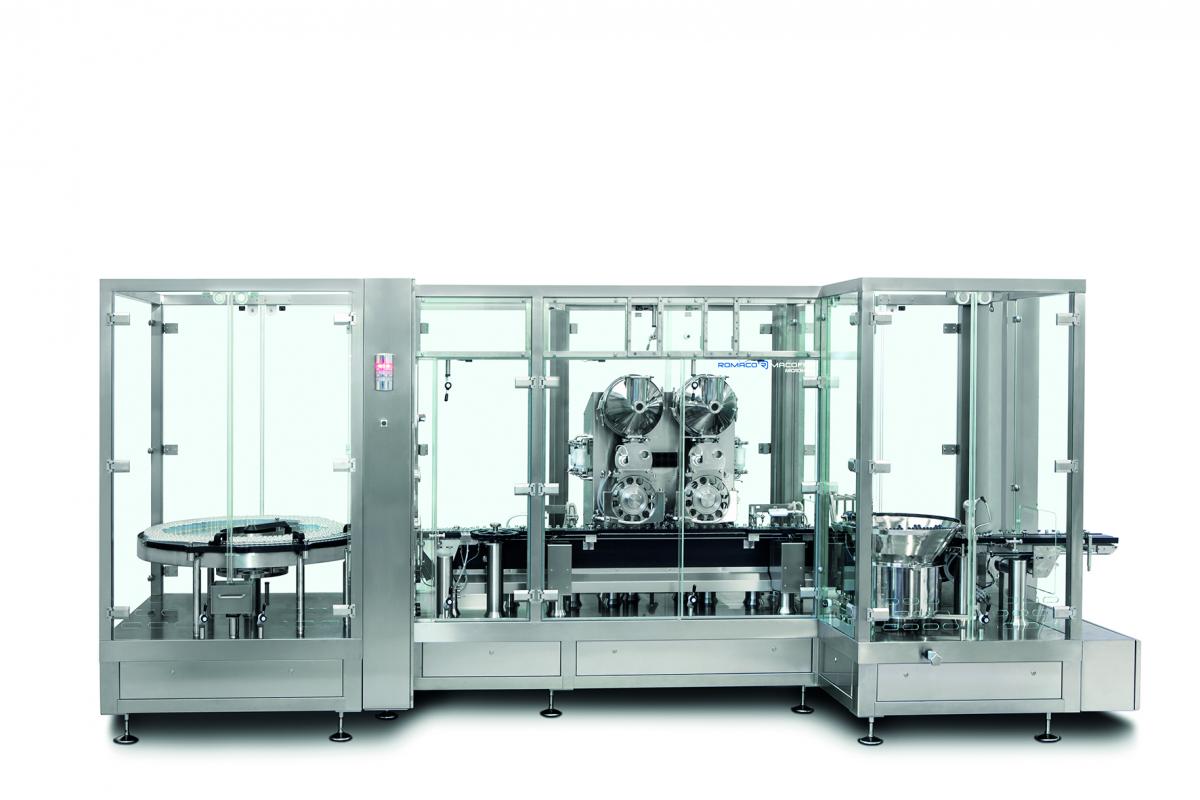 The system enables exceptional dosing accuracy when processing pharmaceutical powders with different densities and flow properties. Thanks to the innovative in-line weight control system, all vials can now be weighed both before and after filling for the very first time. If every vial is weighed individually, the Macofar MicroMaxX 18 has an output of 12,000 vials an hour, making it the fastest in the market today. In the version with statistical weight control the system achieves as many as 18,000 vials an hour. As a result of the modular concept, it can be equipped with various containment systems such as open or closed RABS. Peristaltic pumps for filling sterile liquids can likewise be integrated at the customer's request. The cGMP compliant design of the Romaco Macofar MicroMaxX 18 thus satisfies even the most stringent requirements for aseptic processes.
CIPM China (China International Pharmaceutical Machinery Exposition) will be held at the Chongqing International Expo Center from 20-23 April 2016. Visit Romaco at International Hall, Stand C20.
Nike