AT ProFood Tech 2017, McCormick Place, Chicago, Illinois, USA in Booth 2130 Coperion and Coperion K-Tron will present the latest innovations and technologies for the food industry. On display are a batch weigh receiver station, sanitary filter receiver, volumetric screw feeder, smart weigh belt feeder, ZRD hygienic rotary valve and the WYK-CIP two-way diverter valve, along with videos depicting our equipment in operation.
Batch Weigh Receiver Station – For hygiene requirements of the food industry
The P100 batch weigh receiver combines a vacuum receiver with a reliable weighing system, which accurately measures the amount of material being drawn into the weigh hopper. This technology allows multiple ingredients to be conveyed and weighed so that accurate batching of ingredients can take place – up to 8 components can be sequentially added to the batch weigh receiver. With this type of scale weighing system, typically weigh accuracies of +/-0.5% of the full scale capacity can be achieved. Once the desired batch has been achieved, the mixer then calls for material, a butterfly valve opens and the material in the scale hopper is discharged. The vacuum-based operation of the batch weigh receiver assures a dust-free processing environment. Batch weigh receivers are ideal for delivering higher volumes of major ingredients – such as flour, sugar, starch, corn grits, corn meal, farina, potato granules, potato powder, rice cones, etc. – to the process, when precise accuracy of the ingredient is not as critical.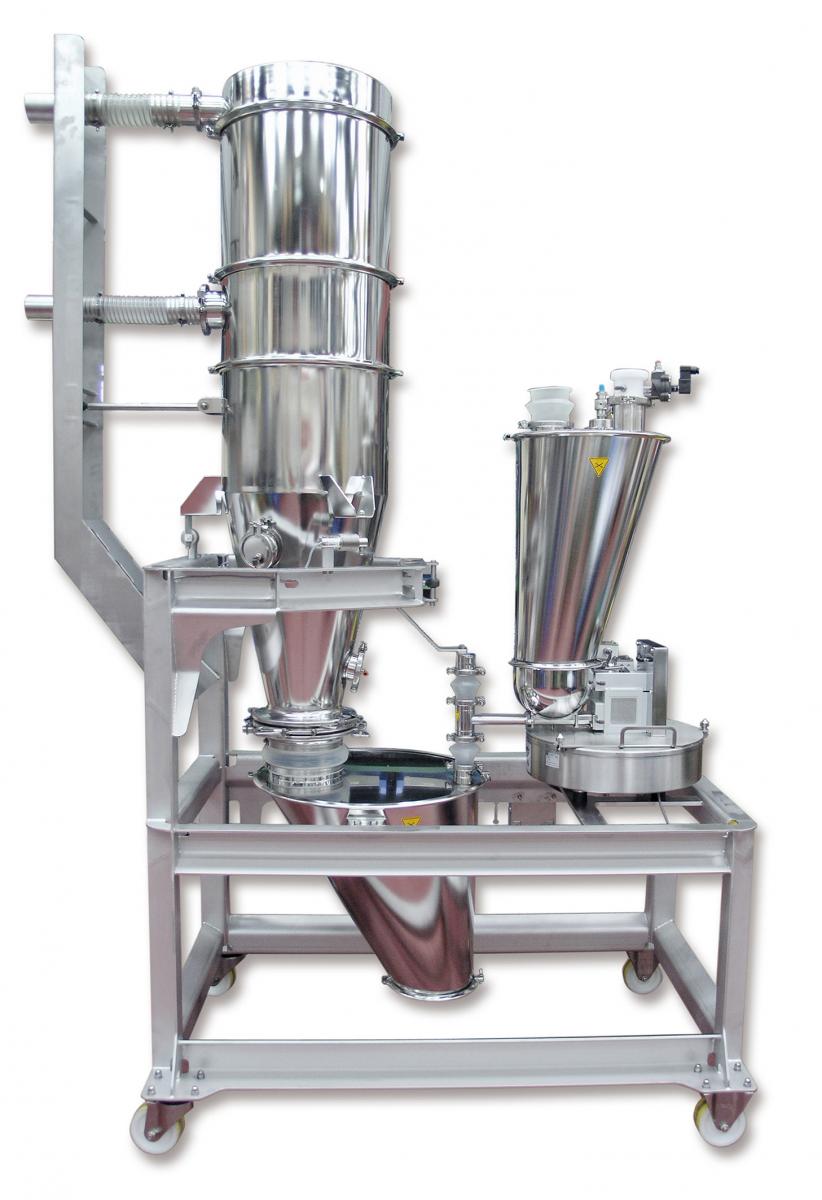 Batch weigh system with P100 batch weigh receiver and KT20 gravimetric feeder (Source: Coperion K-Tron, Sewell, NJ, USA)
Dense Phase Pressure Vessel – Helps demonstrate innovative dense phase conveying capabilities
Coperion K-Tron pressure vessels are used in dense phase pneumatic conveying applications and suitable for premixed materials, materials with high bulk density and products that are highly abrasive, friable, or tend to segregate. They are designed for high capacity conveying rates and long distances in purged and non-purged (full-line) systems. They are available in either mild steel or stainless steel, depending on sanitary requirements and the type of application. Food grade executions can be configured for batch conveying or continuous conveying as needed. Stop by and see for yourself the full line of dense phase conveying capabilities and learn about Coperion K-Tron's new OmniveyorTM System that conveys virtually every dry bulk material in a safe, efficient and effective manner.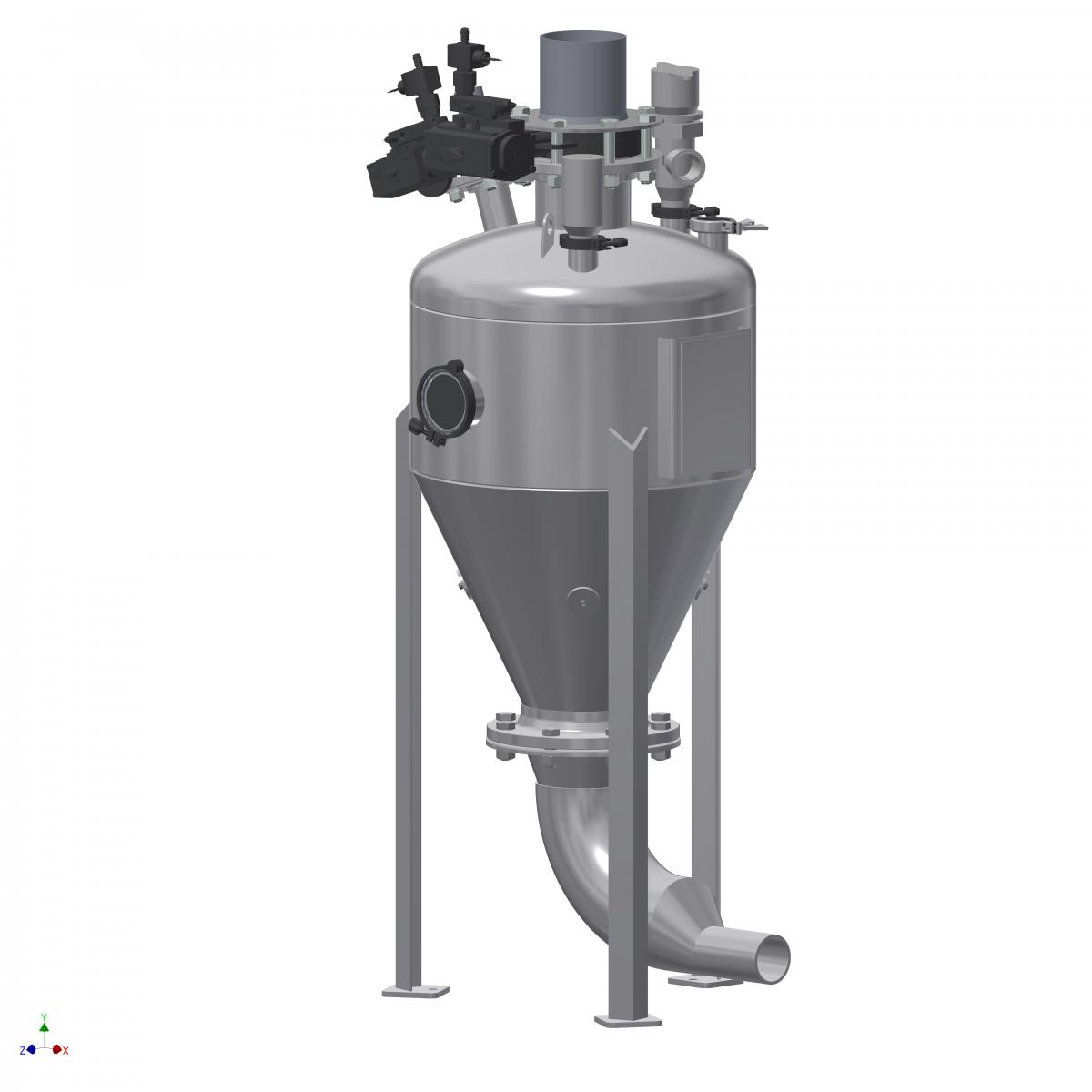 Dense phase pressure vessel, suitable for premixed materials, materials with high bulk density and products that are highly abrasive, friable, or tend to segregate (Photo: Coperion K-Tron, Salina, KS, USA)
Volumetric Twin Screw Feeder – For reliable feeding of bulk materials – Model KT35 twin screw feeder on a D5 platform scale on display
Coperion K-Tron twin screw feeders can be used for free flowing powders and fine granulates. They are ideal for feeding difficult materials such as pigments, sticky, bridging or flooding powders, fiber and fiberglass. Screw feeders are the most common and economical volumetric feeders you can buy. Coperion K-Tron makes both single screw and twin screw volumetric feeders in a wide range of sizes to meet your feed rate requirements and solve your material handling problems. Some are optimized for quick material changes and can even be configured for differing material properties. Others feature easy cleanability and meet food and pharmaceutical sanitary requirements.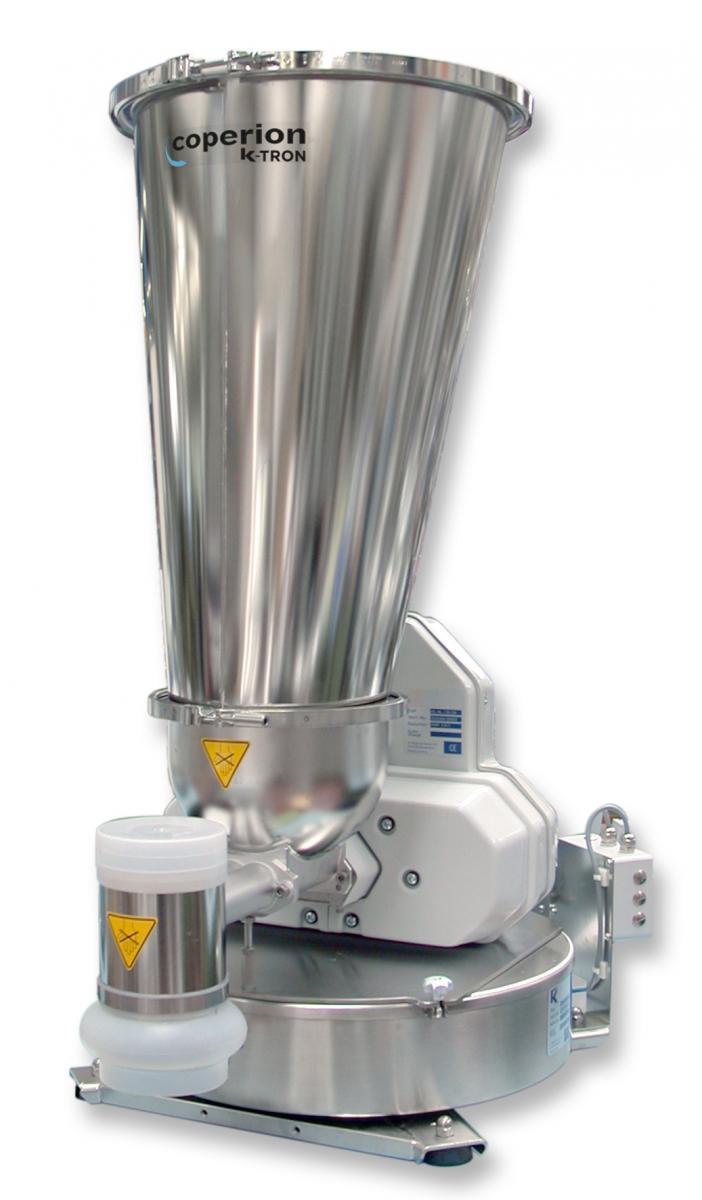 KT35 twin screw feeder on a D5 platform scale (Photo: Coperion K-Tron, Sewell, NJ, USA)
Smart Weigh Belt Feeder - Gentle high rate gravimetric feeding or metering of free flowing or friable products
Weigh Belt Feeders are relatively simple, extremely reliable gravimetric feeders providing high feeding precision and efficient process monitoring. They can be used for feeding, batching and metering. The SWB is the perfect solution for metering uncontrolled flow where headroom is limited, or when feeding friable material that may be damaged by other feeding methods. This compact gravimetric feeder can handle large volumes of bulk material with different flow characteristics.
Optionally, the SWB-300 and SWB-600 offer continuous online taring by using two weigh modules. This reduces costly maintenance, line shutdowns and laborious manual calibration while at the same time substantially improving long term accuracy and stability.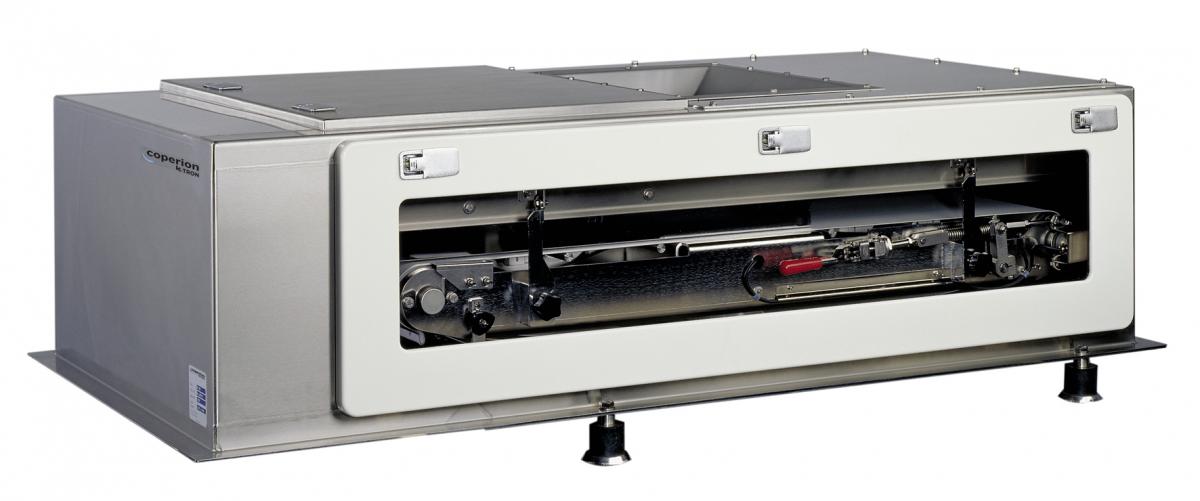 SWB-600-N Smart Weigh Belt Feeder with housing (Photo: Coperion K-Tron, Sewell, NJ, USA)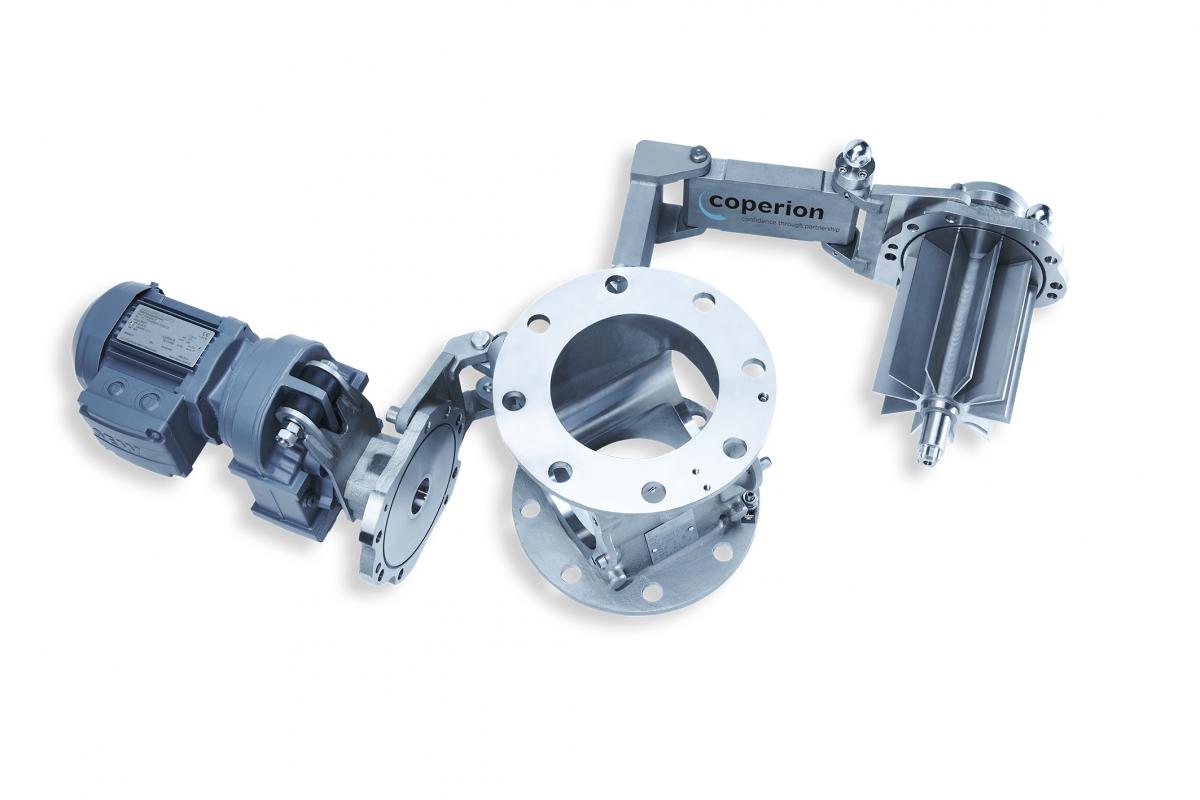 The ZRD Hygienic Rotary Valve – with full access extraction system and a large inlet for high filling efficiency (Photo: Coperion, Weingarten, Germany)
ZRD Hygienic Rotary Valve - Discharging and metering valve for powders, USDA certified and EHEDG compliant
Coperion's ZRD sanitary rotary valves have been approved by the United States Department of Agriculture (USDA) following certification in compliance with the USDA Dairy Grading Branch. Already designed in accordance with the engineering and design guidelines of the EHEDG (European Hygienic Engineering & Design Group), these sanitary rotary valves also meet the current, strict requirements governing application in the USA. The valves can be used for applications demanding even the highest degree of hygiene and cleanliness. In addition, they are distinguished by their extreme reliability in operation. As these rotary valves can be readily inspected and also cleaned quickly and thoroughly, they are ideal for applications involving frequent changeovers from one product to another and/or for the processing of products with adhesive tendencies. Parameters such as particle size, cohesion and adhesion influence the flow properties of bulk materials and therefore the correct design and layout of bulk material handling components. The ZRD Hygienic Rotary Valve offers an extra-large inlet for high throughputs and is suitable for pneumatic conveying up at up to 1.5 bar (g) [21 psi] and temperatures up to 100°C [212°F].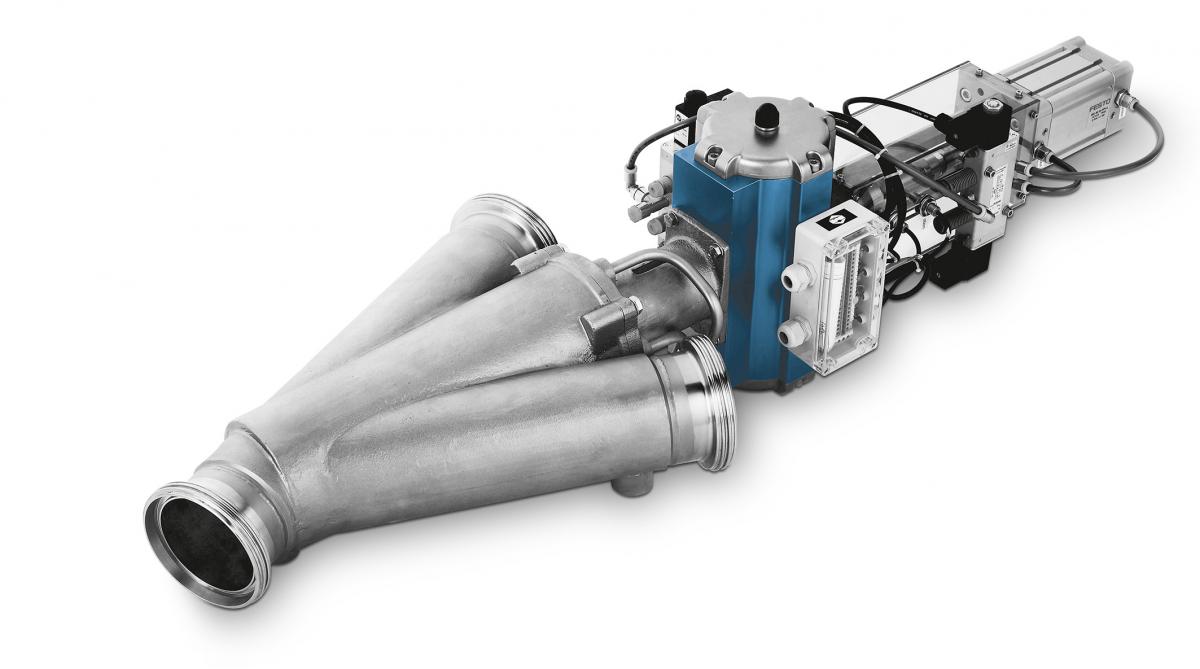 Two-Way-Diverter-Valve WYK Cleaning-In-Place Design - The only bulk material diverter valve in the world with fully automated CIP (Photo: Coperion, Weingarten, Germany)
Two-Way-Diverter-Valve WYK Cleaning-In-Place Design - The only bulk material diverter valve in the world with fully automated CIP
The Coperion WYK-CIP Two-Way Diverter Valve is ideally suited for inline material handling of hygienic and difficult to handle powders and granular products. This valve can be used in pneumatic conveying systems, in order to divert transfer of material to different locations. The fully automatic CIP cleaning design permits complete purging of all product residues after the automatic cleaning process. Due to a unique retractable rotor assembly, the rotor can be pulled slightly out of the housing towards the rear of the valve, thus allowing the cleaning solution to rinse all product contact surfaces within the valve. In addition, specialty purge openings in the actuator plate enable an intense rinsing flow and complete discharge of the rinsing effluent. The WYK can be used for installation in conveying lines or in gravity pipes up to 5 bar(g) [73 psi(g)] and operation temperature up to 100° C [212° F].
Air Max Shox 2018