BALI-ALM was established in 2010 by couple Fera Agustina Kaffanke and Christoph Kaffanke, for the production of dairy products. The company in Bali, Indonesia, has since been providing the local market with milk, cheese and yoghurt in the way they would process these in Germany, according to Mr Kaffanke. In this interview, he talks further about the company's products and markets.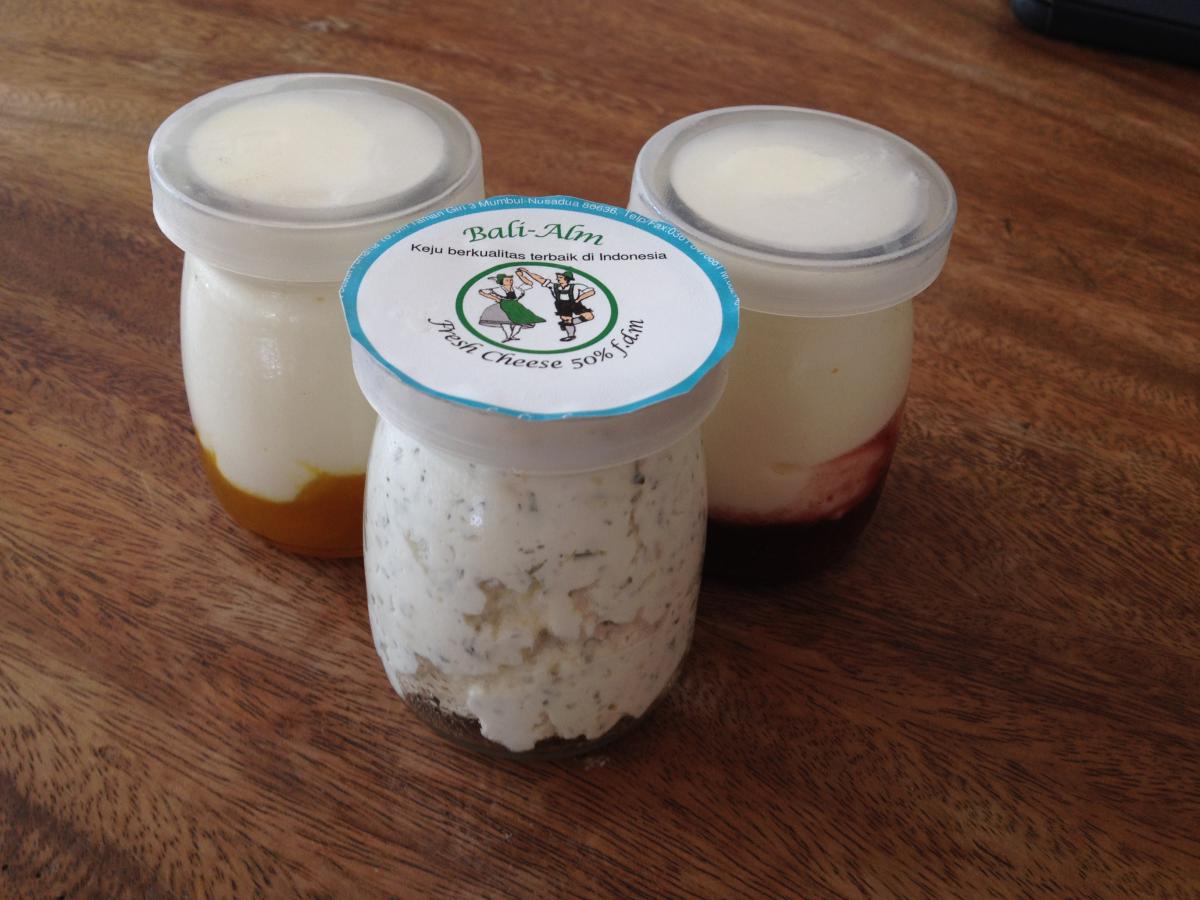 Bali-Alm's cheeses including Tilsiter and halloumi, and fresh cheese are free from stabilisers and preservatives
Please tell us what Bali-Alm is known for in Indonesia.
Generally, we have three main product lines: milk, yoghurt and cheese. Our milk products include fresh milk, skimmed milk, and chocolate and cream milk (that we use to produce another dairy product).
We offer plain yoghurt as well as those combined with homemade natural jam, like strawberry, banana, papaya, dragon fruit, vanilla, pineapple, and mango. While for cheese, we make blue cheese, camembert, brie, different types of Tilsiter, halloumi, fresh cheese, German cooking cheese and many others. We also have sour cream, crème fraîche, and curd cheese. We specialise in German cheese and some other general cheeses, but we don't make Italian cheese like mozzarella.
We actually have a high demand for blue cheese but we have a limited production capacity due to its complex and tricky production process.
Which of these products are best-sellers?
So far, yoghurt and camembert cheese are our top-selling products.
Is there a particular reason why you supply only to hotels and restaurants?
For now, due to current limited capacity, we primarily supply hotels and bigger restaurants in the South of Bali. This is due to the fact that many of them require original and natural dairy products, which are quite hard to get here, either as ingredients for their dishes or as the final products to sell in their hotels or restaurants.
We want to get into supermarkets, but our capacity is still limited for this. Moreover, the prices they are willing to charge to the end-customers are too high. This is not what we are looking for because our intention is to provide healthy and affordable products.
In the future, we are going to target hotels and restaurants in Jakarta as we think Jakarta is also a huge market for our local dairy products.
How does the company differentiate itself from larger dairies in Indonesia?
We offer homemade products; we do not mass-produce as yet. The advantage is that we can focus on the quality. We have very strict standards on the production process in terms of sanitation and we use only the high-quality ingredients.
Our products are all natural with no colouring, stabilisers or aromas. We only make healthy and affordable products for our customers. These are our competitive advantages, although for German cheese, I don't think we have any competitors in Bali, even in all over Indonesia.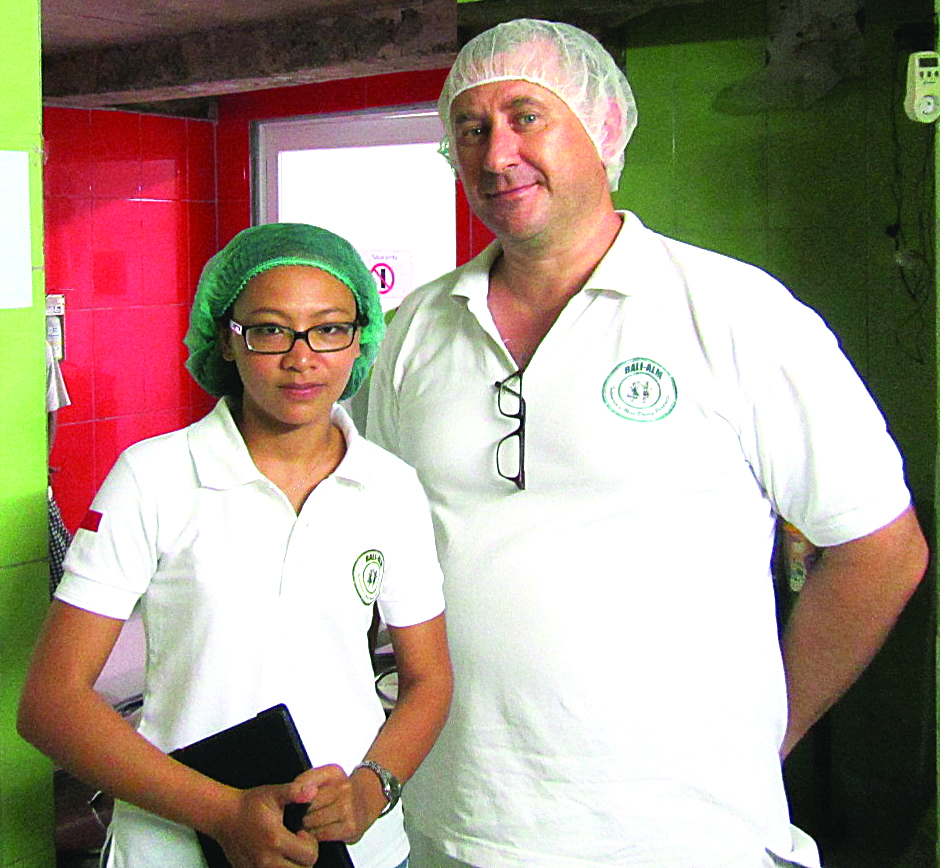 Fera Agustina Kaffanke and Christoph Kaffanke founded
Bali-Alm
five years ago
What standards are required in dairy production?
As we cooperate closely with the university in Kempten in Germany, to apply science-dairy-products, our hygiene standard follows German standards. We also comply with HACCP (Hazard Analysis Critical Control Points). Our ventilation system is a H13 filter-system, surpassing German government regulation. Furthermore, we installed UVC blue-lights in combination with ventilation system in the cheesing rooms to keep bacteria to a minimum.
What is your production capacity for yoghurt and milk?
For now, we can produce 300 kg yoghurt and 300 kg milk/cheese per day. However, this current capacity is not enough to meet our market demand, so we are definitely increasing our production capacity. We have started to expand the production site to boost our capacity to 1,000 kg yoghurt and 600 kg milk/cheese per day.
Are there plans to export products to other Asian countries?
We have not ventured into export, but we have a vision to export our products to Australia in the future. We have not done so because we see Indonesia as a huge market for now, since it still imports so many dairy products. We will therefore focus on the local market for the moment.
Where do you source ingredients?
Indonesia is not a country whose people consume dairy products a lot. So, it is difficult to find the ingredients that meet out quality standards. We source fresh milk from Java Island several times a week. The current turnover of milk is around 25,000 litres per month. We get our fresh fruits from Bali, and some other special ingredients from Germany. With the help of seven employees, we produce wide range dairy products.
Do you source packaging from local companies?
We use bottles for most of our products: milk, cheese, and yoghurt. We also use special paper for cheese. Same problem as ingredients – it is still difficult to find packaging in Indonesia, particularly for dairy products, that meets our standards. But after a long search, finally we found it from one company in Jakarta.
What are the company's plans for the year ahead?
Our first big step in 2015 is to increase our capacity by expanding buying and installing a yoghurt packaging and filling machine. This is to make production process more effective and efficient and to help us meet market demand. After that, our next big plan is to explore new markets in Jakarta. - DIANA SUCIAWATI
Chuck Taylor All Star