A DRUG-ELUTING implant that gradually delivers an advanced steroid with anti-inflammatory properties directly to the sinus lining and then dissolves into the body is improving the quality of life for patients with chronic sinusitis and ethmoid disease. The spring-like implant is inserted following endoscopic sinus surgery.
The U.S. FDA-approved PROPEL™ implant, developed and manufactured by
Intersect ENT
, acts as a stent and steroid delivery system for mometasone furoate, an advanced steroid with anti-inflammatory properties, at the same time. PROPEL mini, the second of localized drug delivery products from Intersect, is a smaller version that offers the same clinical benefits and improved surgical outcomes for patients with less extensive surgery and/or smaller anatomy.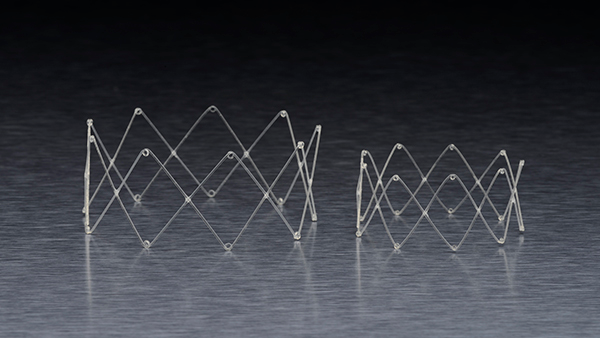 Billions of dollars are spent annually to treat chronic rhinosinusitis (CSR), although CSR and associated nasal polyposis often go undiagnosed. In patients with CSR, the sinus linings can become inflamed, blocking the natural drainage passageways and leading to chronic infections and nasal obstruction. Patients suffer from debilitating symptoms, which include facial pain or pressure, nasal congestion and difficulty breathing, discolored nasal discharge, loss of smell and taste, headache, fatigue and depression.
When chronic sinusitis does not respond to medications, surgery to enlarge the openings that drain the sinuses may be an option. The goal of surgical treatment is to enlarge the inflamed or obstructed sinus passageways.
Improving the quality of life
To further improve surgical outcomes, otolaryngologists in the United States are increasingly using Propel to reduce the need for additional surgical procedures and for systemic steroids, which can have serious side effects. The steroid is sprayed over the stent and comes in contact with the tissue lining the sinuses, reducing the initial inflammatory response.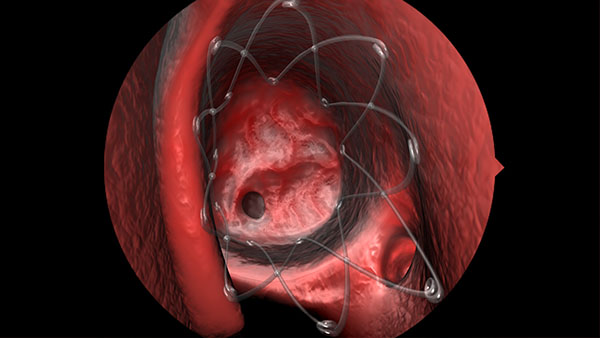 The spring-like device is inserted into an open surgical cavity, where it conforms to a patient's sinus anatomy and expands to prop open the sinus cavity
The spring-like device is inserted into an open surgical cavity, where it conforms to a patient's sinus anatomy and expands to prop open the sinus cavity. The biodegradable implant is a polymer that can deliver steroid medication for 30 days postoperatively, according to the manufacturer. Propel uses sustained release technology to deliver mometasone furoate directly to the sinus mucosa prior to dissolving in 30 to 45 days.
Propel implants can give physicians the opportunity to perform less invasive surgery even while addressing ethmoid sinuses with similar or better results. Not only is it less invasive, the treatment can be used in conjunction with balloon sinuplasty and will likely decrease the need for additional sinus surgery.
Sustained release of the steroid has also been shown to slow down the recurrence of polyps, which occur as an underlying allergic response. Postoperative patients also see return to normal looking tissue much sooner with less scarring and less recurrence of polyps. They also experience less facial pressure, less facial fullness and less nasal congestion.
Post-surgery, the implant allows for a lower number of procedures, such as debridements, and makes it easier to irrigate the sinuses.
As a delivery system for corticosteroids, Propel offers advantages over both oral steroids, which can have serious side effects, and intranasal steroids, which only deliver about 2% of the drug to the nasal cavity with every application.
The dissolvable steroid-releasing implant is the first in a new category of products offering localized, controlled delivery of steroid directly to the sinus tissue to maintain the openings created in surgery. Currently, Intersect ENT is pursuing clinical trials designed to support expanded indications and to assess two new investigational drug-eluting implants to provide ENT physicians with additional options to treat patients with chronic sinusitis less invasively and more cost effectively.
Like the Propel products, the RESOLVE product releases mometasone furoate directly into the sinus lining to reduce inflammation. Designed to treat patients with recurrent sinus obstruction in the office setting, the investigational product has more radial strength than the Propel products in order to dilate the obstructed sinus, and releases the steroid over a longer period of time (up to three months).
A Phase III clinical study to support U.S. FDA approval of the steroid releasing implant is ongoing.
Air Jordan Shoes Men