ONE of the fastest growing contract research organizations, iMEDGlobal, is expanding business in Asia Pacific with a USD 3-million investment in the Philippines. The innovation-driven company specializes in providing consulting, services, platforms and solutions to life sciences, bio sciences, and consumer health companies. Services and solutions for everything from clinical trial management to registration are delivered through a global network of offices in the US, India, the UK, and now, the Philippines.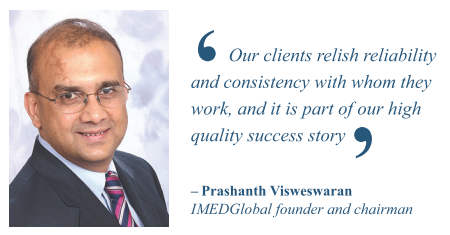 iMEDGlobal
provides consulting, services and technology solutions for pharmaceutical, life sciences and consumer health companies, and serves some of the world's top brands in pharmaceuticals, healthcare and cosmetics out of its Center of Excellence in Manila. Considered the regional hub for APAC operations, the Philippine office covers clients in Singapore, Thailand, Indonesia, Taiwan, and Korea.
Contract research, which involves clinical trial management, pharmacovigilance and cosmetovigilance, and clinical research development for the pharmaceutical and life sciences industries, is a growth sector that is estimated to be worth between USD 35 to USD 40 billion globally. While these companies can conduct clinical trials and research internally, the industry has grown by offering specific medical and technical expertise on an outsourced basis.
Prashanth Visweswaran, founder and chairman of iMEDGlobal, says that in the highly competitive pharmaceutical market, companies are understandably more focused on finding the best solutions that can be brought to the marketplace as quickly as possible.
"Their interests lie in research and development of products, not data management solutions or the latest software for data management. We, like many other CROs and BPOs, are best at managing those types of activities. We understand the domain, and we blend that with our technical capabilities," he explains.
Mr. Visweswaran began the organization in 2013 with president and CEO, Mahesh Mudnur, who oversaw the opening of global delivery centers in Bangalore, India and Manila; Rajaram Iyer, who is chief financial officer; and Shobana Prashanth, chief solutions officer. It evolved from a need for outstanding service and solutions to the pharmaceuticals and life sciences markets.
Proprietary solutions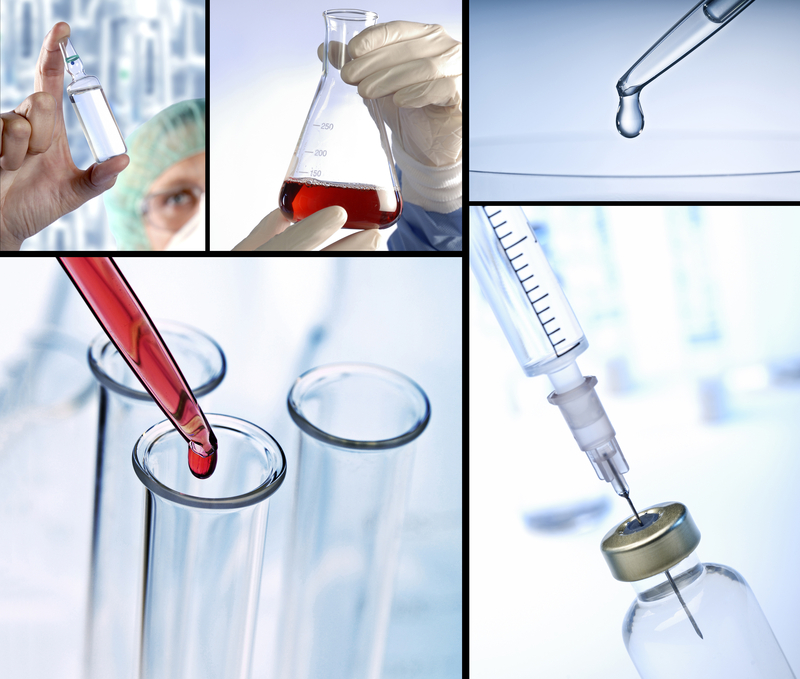 iMEDGlobal develops new implementation methodologies, quality practices and analyzes existing set-ups for continuous optimization and enhancements. Repeated assessments allow the CRO to develop business accelerators that helps their customers to be prepared for events that require quick scalability and agility.
Mr. Visweswaran is candid about the competition in the CRO industry, but says iMedGlobal's preference to tackle bigger and more complex challenges is what sets them apart.
"We prefer to tackle bigger challenges, where there is complexity to the process, where we can bring a 'wow' solution to our clients by leveraging our highly educated, highly talented team," he said. "Of course, we will always service any need of our clients, big or small, but complexity is where we shine."
What differentiates the Princeton, New Jersey-based CRO as a preferred solutions provider is what they add to those services. "Everyone says they're innovative, but we can showcase it with case study example after example of how we've tackled problems from later phase clinical development to post-market reformulations, and everything in-between," said Mr. Visweswaran.
"We're scalable, our quality is measurably high, our costs are competitive and we're innovative," he added. "As just one example, we've maintained 99.998% quality on our deliverables for the last 56,000 cases that we've managed."
iMEDGlobal counts two of the top five global pharmaceutical and consumer healthcare companies as clients, served from across its global network. In 2014, the company were awarded an end-to-end reformulation project for a top five global consumer healthcare company.
"We were awarded the business because of our ability to customize solutions from our five business areas: Drug Safety, Data Management, IT, Regulatory Affairs, and Clinical Research," Mr. Visweswaran said. "We chose the optimal level of service, cost and solutions and deliver them in four global regions."
APAC hub
Apart from a great location to service global clients, iMEDGlobal also consider Manila the hub for APAC operations. The Philippine site also does work for life science and cosmetics clients across Thailand, Singapore, Indonesia, Taiwan and Korea.
All technology services deliverable from all the global centers of excellence with a particular focus in the Philippines on Pharmacovigilance, Medical Affairs and Regulatory Affairs. Based on the enormous response and the market opportunity in the region, Mr. Visweswaran revealed that significant investment is planned for regional growth of the company's services to meet the response and demand in Southeast Asia.
"iMEDGlobal has always strived to maintain a global focus, ensuring we have strategic representation all over the world. Manila continues to make a significant impression on the global outsourcing market and we are leveraging their success," he said.
"With over 6,500 languages around the world, the language of life science is English," he also noted. "[And] we enjoy the ubiquitous presence of English here in Manila."

Headquartered in the United States, iMEDGlobal global operates delivery centers India and the Philippines
As a very specialized industry, iMEDGlobal know knowledge workers' experience is inherent to their ability to provide such innovative, custom solutions. "A typical employee would have a background in life sciences, biosciences, medicine or pharmaceuticals. They hold degrees from distinguished universities, and are doctors, have master's degrees or have pursued their PhD. We also provide an opportunity for our star performers to work out of any of our global locations – thus fulfilling their aspirations of working abroad," he explained.
All IT services employees at the Center of Excellence boast robust experience, extensive certifications and proven expertise in life sciences applications, be it with global drug safety systems like Argus and ARISg; Regulatory Information Systems like REGISTER; or Clinical Data Management Systems like Oracle Clinical.
"Our philosophy is innovation-driven. We have been growing by employing local talent with specific ideas and skills that augment our business needs in the pharmaceutical and life science industries. Our pilot investment in the Manila office has flourished, growing to be a true Centre of Excellence. We will continue to target clients in research and development, pharmaceutical sciences and healthcare," he added.
Going forward, the company expects to further customize solutions and services in Manila will evolve as the market does, and to continue to partner with clients whose focus is the patient and helping them achieve good or improved health.
Global platform
One of the core pillars of iMEDGlobal is their global platform. Opening a Center of Excellence in Manila was a response to a shift of R&D to China and the Philippines, and Latin America is the next target. "Our current footprint is based on being scalable, and delivering our models globally with local expertise," said Mr. Visweswaran.
The organization's growth rate has been phenomenal – over 500% in the first year of operation in 2013. Services in drug and product safety, regulatory affairs, reformulation, clinical operations and technology are currently being delivered to support customers' operations in over 40 countries spanning three continents.
"Our facility capacity planning has always been at the receiving end. We've already outgrown several facilities and will continue to look for the optimal mix of employees and facilities to meet our growing customer demand," said Mr. Visweswaran.
An organization innovative that is built from the bottom up, not the top down, according to the iMEDGlobal's founder. He believes employees need to be encouraged, their ideas nurtured and developed, and help to balance their life/work demands, which results in a more positive, happy workplace.
"We have an internal mantra, 'Happy Minds Yield Great Services and Solutions'. We have achieved extremely low turnover, and promoted employees from within because we have exercised this belief with every person we have hired," Mr. Visweswaran revealed.
The organization has also taken pains to avoid a strict US/India model, but rather to cater to the worldwide client. "We combined lifetimes of expertise to determine what we could bring to our clients that was unique. This is showcased in the customized solutions that we create, developing products no one else offers that accelerate our clients' speed to market, and our global delivery model," he said.
"Being a truly global provider means that we provide full time zone coverage, non-stop regulatory coverage, and effortlessly manage local nuances like languages, local expertise and business execution. We give our clients the impetus to get their products to market faster," said Mr. Visweswaran.
Clients relish reliability and consistency with whom they work, and that seems to be the basis of the iMEDGlobal high-quality success story.
Air Jordan