IN A STRATEGIC move intended to bolster its position as a leading research and early development organization, Roche is investing CHF 136 million in its operations in China. The fresh infusion will finance a new R&D center, the Roche Innovation Center Shanghai, which is scheduled for completion in 2018. In the interim, the company continues to develop innovative drug candidates and to address unmet medical demands in infectious disease in Asia and globally.
Roche's facility in Shanghai is a strong link in the company's global research operation and development of antiviral drugs. Not only has the laboratory in China made significant contributions, including the discovery of new compounds, but is part of the company's strategy to conduct "science without borders". The system allows Roche to conduct research nonstop worldwide in its seven research centers, following the sun as it were. Animal toxicological experiments can begin on Christmas Eve in China, for example, and then the next stage be conducted in Europe or North America over the Lunar New Year festival.

Dr. John C. Reed, head of
Roche Pharma Research and Early Development
(pRED), Stella Xu, general manager, Roche Innovation Center Shanghai, and Dr. Janet Hammond, head of Infectious Diseases for Roche pRED, and discussed the direction Roche is taking in its research program.
What are some of the significant results that have been achieved since the R&D center was established ten years ago?
Stella Xu: There is great potential for antiviral drugs that we're currently studying and we're expected to enter clinical trials in the next 12-15 months. The most critical is that the mechanism of action of these drugs is a new and completely different from the existing drugs on the market. As it relates to trade secrets, we cannot disclose more details, but preclinical data for these drugs is satisfactory and the company is confident that at least one or two these drugs will eventually become the world's leading treatment options. With hepatitis B drugs now available in the market, for example, the mainstream is the polymerase nucleoside drugs that are intended to interfere with viral replication by inhibiting the hepatitis B virus. But the hepatitis B virus is very cunning and has a variety of viral mechanisms to evade the body's own anti-virus mechanisms. Nucleoside analogs currently on the market are not effective against the virus, but we now we have a new study of drug mechanisms that directly target the virus itself that looks promising.
Roche has two biologics that will face patent expiry, and there may be Chinese pharmaceutical companies that will launch their generic versions. What is Roche's strategy with regards to products facing patent expiry? Is setting up a joint venture in China to compete in the field being considered?
Dr. John Reed: We are committed to innovation, and constantly develop new proprietary products. It is difficult for competitor to replicate our products, and this is not just related to a compound, but to an entire process. The quality of the final product is highly dependent on the environmental conditions at each process stage. Any subtle change in the process is likely to affect the biopharmaceutical quality of the final product, and have a significant impact on its purity, biological characteristic and clinical activity. Even if the gene sequences, production processes and product formulations matched those of the original drug, there is no assurance of bioequivalence. So no matter what strategy is taken by competitors, we will remain committed to the principle of innovation.
How important is big data to Roche's research activities?
Ms. Xu: Modern biological research relies on large amounts of data and we use big data derived from a large and diverse set of data, including clinical and biological data, for early research and development of new drugs as well as NGS (Next-Gen Sequencing) technology. Scientific Information Management guarantees that all our scientists get rapid access to all the newest information available in their field of interest. Roche continues to increase investment in informatics-based technologies, including bioinformatics and statistical functions, in order to improve the analysis of large data capacity and to promote the development of new drugs. It is worth mentioning that we are gradually upgrading data mining and analysis in drug development projects, especially in the field of oncology drug development.
Few companies worldwide continue to invest in antibiotic research and to tackle antibiotic resistance, yet Roche continues to be active in this field. Why is this?
Dr. Janet Hammond: First of all, antibiotics are indispensable. There is an urgent need for new antibiotics able to combat the increasing resistance to antibiotics that is being seen worldwide. Modern medicine, whether surgery or adjuvant treatment of other diseases, requires antibiotics to ensure better patient recovery.
Secondly, governments and drug regulatory agencies around the world have realized the growing gravity of antibiotic resistance and that they need to reduce regulatory barriers that are causing many pharmaceutical companies to be reluctant to invest in the field of antibiotics. Recently in the United States and in Europe, a more flexible antibiotic development strategy is being explored. The need for coordinated action has been recognized by the US, the EU and their partner countries.
Roche has a strong legacy in antibiotics. While other big companies ceased their research research in the field of antibiotics 20 years ago, today at Roche we have a better understanding the disease mechanisms of bacterial infection while the latest technology tools are allowing us to understand how to specifically address the problem of antibiotic resistance. So from a scientific point of view, our understanding of the disease is more profound, which helps us to find new targets to reduce the incidence of drug resistance, or delay the occurrence of drug resistance. Whether from the internal point of view or from a scientific point of view of innovation and risk, compared to two decades ago, we have confidence to be successful in this regard, which is why we will remain active in the antibiotics field.
What is Roche's progress in its infectious disease program?
Dr. Hammond: We are now at the forefront of global product line for an LptD antibiotic targeting Pseudomonas infections*. This is currently in clinical Phase II stage. Specifically, the antibiotic under study is only effective against strains of gram-negative Pseudomonas aeruginosa, so one can reduce the side effects and drug resistance. It is very meaningful for us to meet a long-term strategy of Roche's personalized treatment.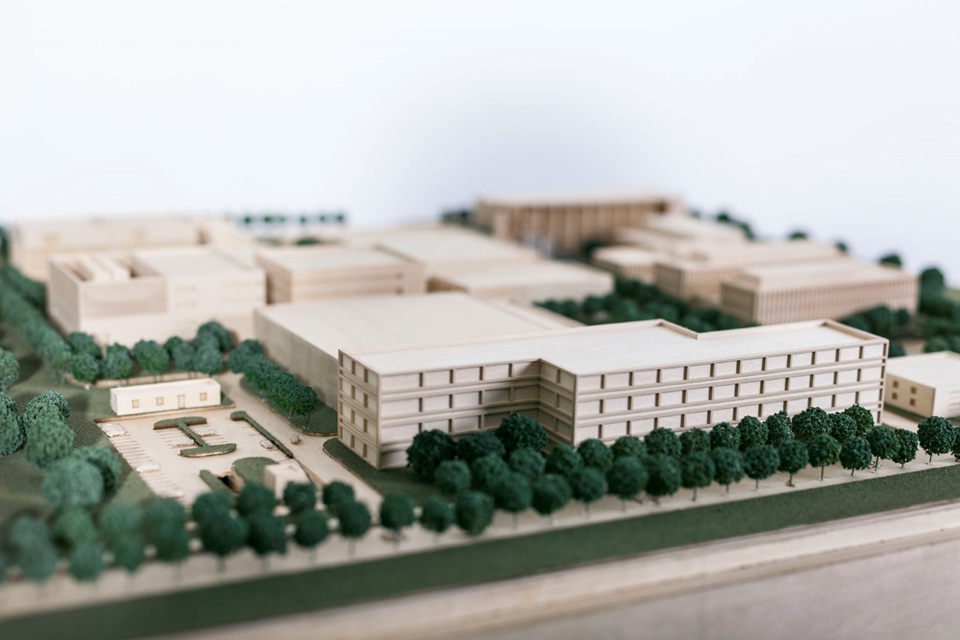 Upon completion in 2018, the Roche Innovation Center Shanghai will occupy 14,000 square meters with 220 modular work areas where R&D staff can more effectively
and efficiently conduct drug research and development
Investing in Asia
In addition to the CHF 136-million research facility, Roche is also investing in a CHF 450-million diagnostic manufacturing facility to address the continuously growing demand for diagnostic tests in China and the Asia Pacific region. The new manufacturing site at the Suzhou Industrial Park, in Suzhou, China, will focus on producing Immunochemistry and Clinical Chemistry tests, products that are crucial to clinical laboratory testing.
The new
Roche Diagnostics
manufacturing site will be the eighth worldwide and the first in the Asia-Pacific region. The facility will focus on packaging operations in the first phase and will be fully operational by 2018. The new site will not only strengthen the global manufacturing network of Roche Diagnostics, but also contribute to the company's strategy for sustaining its leadership position in the region.
*
Roche's LpTD antibiotic has received the U.S. FDA's Qualified Infectious Disease Product (QIDP) and fast track designation, which expedites the review of the drug application and qualifies the drugs for five years of marketing exclusivity to be added to certain exclusivity already provided by the Food, Drug, and Cosmetic Act.
Zoom Lebron XII 12