DRIVEN by the widening application, government initiatives to promote research activities in 3D printing, increased investments by key players to incorporate this technology, and continuous innovations in this field, the medical 3D printing market is an exciting and fast-growing field. 3D printing applications in healthcare range from off-the-shelf hearing aids and personalized, patient-specific implants to tissue and cell regeneration.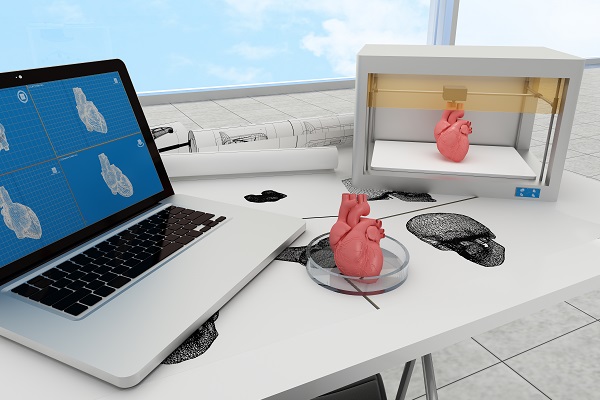 3D model of a heart: Digital design data is used to build up a component in layers by depositing material
(Photo © Belekekin | Dreamstime.com)
The printing market for products, according to market consulting firm Meticulous Research, is divided into printers, scanners, materials, and software. Materials are further sub segmented as metals, polymers, ceramics, and biological cells, according to Meticulous.
Market analyst Mordor Intelligence further segments the sector by applications (Surgeries, Implants and Bioengineering) and by technology (Electron Beam Melting Market, Laser Beam Melting Market, Photo-Polymerization Market, Droplet Deposition Market).
Additive manufacturing (AM) is the more accurate term for "3D printing". AM, as defined by the
ASTM International Committee F42 for Additive Manufacturing Technologies
, is a process by which digital 3D design data is used to build up a component in layers by depositing material. Rather than being cut from a solid block or extruded through a mold, the component is built up layer by layer using materials in powder form.
AM is actually not a new process, and the technology as recognized today has been used since the late 1980s to layer curable thermoset polymers based on a CAD design for rapid prototyping. Further development has been spurred as new systems and materials became available, including ferrous and non-ferrous alloys as well as high temperature thermoplastic powders.
According to the Royal Academy of Engineering (UK), the expiration of key 3D printing patents for fuse deposition modeling (FDM) in 2009 paved the way for today's thriving open source 3D printing movement and the rise of simple at-home desktop 3D printers. Five years later in 2014, the expiry for key patents targeting laser sintering additive technology, the lowest-cost 3D printing technology, changed the world of fabrication possibilities once again.
Potential is enormous
Without a doubt, one of the fastest-growing areas for AM is in the healthcare field. This transformative process takes different materials ‒ whether biocompatible polymers, pulverized titanium alloy or cells from a human organ ‒ to achieve better outcomes and assure greater success in the fields of dentistry, surgery, physical rehabilitation, and drug development.
According to Meticulous Research, market by application is mainly divided into dental, medical prosthetic, orthopedic, and surgical instruments. Dental application market is further divided into dental implants, dentures, surgical guides, and others. Orthopedic application is further sub-segmented into orthopedic implants, and surgical guide, while the medical instrument market is further sub-segmented into surgical cutting guides, drill guides, bespoke tools, and bio-medical scaffold systems.
Already, AM provides customized solutions for patients with various medical conditions. Using open-source design, prosthetics are being custom printed for children, which allows them to access to affordable and timely solutions. Even pets have benefited from do-it-yourself 3D-printed prosthetics.
According to a report from Mordor Intelligence, however, the market is growing because of increased applications in dentistry, wherein 3D technology is used to fabricate customized dental implants and removal partial dentures.
So high is the potential of AM in the medical field that the market has been estimated to be a low of $983.2 million by the year 2020 with a CAGR of 20.3% over the period of 2014 to 2020 (Meticulous) and a high of $9.68 billion by 2019 with a CAGR of 22.05% from $3.58 billion in 2014 (Mordor).
A timeline by
Graham Tromans
, one of the world's leading experts in AM, sees the potential in these fields:
2013–2018 biomedical implants
2013–2022 in situ bio-manufacturing
2013–2032 full body organs
Mordor Intelligence said it expects the Asia-Pacific market for healthcare 3D printing to reach $2.69 billion by 2019, growing at an estimated CAGR of 24.60 % during 2014-2019. Government support is seen a primary driver in the region, particularly in Japan, China and Singapore. The Japanese Economy, Trade and Industry Ministry (METI) has set aside $44 million in the 2014 budget to support research initiatives for AM of metal products manufacture. China's commitment to the sector came with $32 million from the Ministry of Industry and Information Technology to fund 10 3D printing research centers in 2012, and the establishment of China 3D Printing Technology Industry Alliance in 2013. Singapore meanwhile announced in its Budget 2013 to invest S$500 million ($375 million) over five years to boost the country's skills in disruptive technologies such as 3D printing and robotics, as well as new business models such as mass customization.
Nike