Procter & Gamble is holding on to its billion-dollar skin care line, SKII. After news of P&G selling its CoverGirl, Wella and a host of other brands to Coty for nearly $13 billion. Highlighting its pledge to SK-II, P&G spends in research and introduces new products with the latest levels of efficiency. The beauty line maintains loyal followers in Asia and around the world too, with distribution reaching 13 markets since it first started in 1980 in Japan.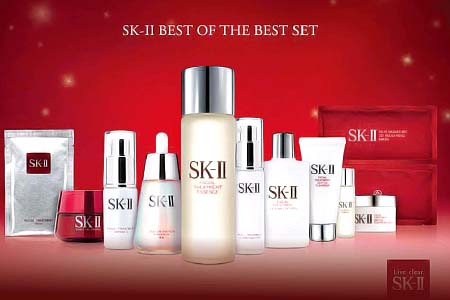 Skin care makings
Over the years, P&G scientists have kept up with the science; creating formulas to make the most effective skin care products available to buyers. For instance, all SK-II products contain Pitera, an active yeast-based ingredient (Galactomyces ferment filtrate) that is believed to provide crystal clear skin in as few as 14 days by improving multiple skin functions including skin turn over. Researchers from Procter & Gamble have identified a new skin aging ingredient that play a critical role in maintaining skin firmness and elasticity, called microRNAs. It is a class of biological regulators that plays a role in stem cell differentiation, epidermal differentiation and renewal, skin pigmentation and even wound healing. According to Xianghong Yan, a principal scientist at P&G, anti-aging is a very important category compared to other beauty categories. And the company has placed a lot of emphasis on anti-aging research.
New offerings
P&G is introducing its latest RNA Power formula, featuring Stem-Acanax, an exclusive nature derived ingredients regulating the epidermal stem cell activation. The new SK-II products provide even better firming performance than Stem Power, says Yan. P&G explains, to produce its new active, both the hydrolyzed soy and the hydrolyzed yeast undergo a second hydrolysis; this step creates an optimal biological effect between the two raw materials.
The production of collagen-1 synthesis in senescent fibroblasts nearly doubled in just two days when subjects were treated with a 1% treatment of the active found in the new SK-II formula. Similarly, SIRT1 production received a boost in human fibroblast cultures after a 1% treatment. The new SK-II formula boasts the benefits of concentrated Pitera with a fusion of soy and yeast. P&G maintains that soy contains significant amounts of the essential amino acids that humans need for protein production. At the same time, soybeans contain isoflavones, which are strong antioxidants that help prevent DNA damage in cells and fight against photoaging. Meanwhile, the aerobic metabolism of yeast makes it rich in essential amino acids and small peptides.
These specific peptide fragments can target molecules involved in the anti-aging pathway. Ultimately, skin firmness, which is the basis for all aging skin issues, is significantly improved in both 10 and 28 days, according to P&G scientists. Yet, how they describe their aging skin problems is unique. "For younger consumers, anti-aging is related to pore size and texture," Yan explained. "For older consumers, it means improving the appearance of wrinkles and sagging skin."
However consumers define it, aging is a concern the world over, but especially in Japan. The Japanese Society of Anti-Aging Medicine notes that people 65 and older will account for nearly 31% of the country's population by 2030.
"Anti-aging is a hot topic in Japan and around the world," noted Yan. "It reflects a change in how people view the aging process. They want to look younger and feel younger, too."
Demand, commitment
Japan still accounts for the largest portion of worldwide SK-II sales, but the brand is making gains in China. "Prestige beauty sales in general, and SK-II sales in particular, are growing very quickly in China," explained Yan. "As Chinese consumers get wealthier, they are traveling more and purchasing products in duty-free retail outlets." Moreover, Procter & Gamble researchers remain dedicated to biotechnology. By working with top dermatologists and universities throughout the world, P&G researchers are confident that SK-II will keep its No. 1 position in Asia's anti-aging category and increase its sales in other markets around the globe.
Air Jordan XIII 13 Shoes