We had an opportunity to meet the general manager of Zhengzhou Sino-Crystal Diamond, Zhang Hong Tao at IMTS 2016.
Being uniquely presented as the artificial diamond developer at the show, general manager Zhang has a vision about how the technology of artificial diamond would gain its momentum in the metal working industry. Relying on its strong research oriented approach, Mr. Zhang emphasized that the company is targeting on the highest capacity materials – both in rigidity and the precision of the tools produced by the company's raw material. The Company's major products are artificial diamonds, as well as raw and assistant materials, including graphite powders, metal powders, graphite rods, pyrophylite powders and dolomite powders, among others, as well as processing equipment. Mr. Zhang stated that around 70-80% of their revenue comes from exporting, thus the current market reach for Sino-Crystal spans all across the globe – including Japan, Germany, Italy etc. The goal for them is in presenting the strengths of artificial diamond for industrial leading manufacturers. The industrial applications for the raw materials are in automobile, mobile phones, electronics, magnetic materials as well as specific usages such as the defence industry. Mr. Zhang noted that the benefits to let artificial diamonds be involved in mass production are as following –corrosion resistance, heat-resistance and pollution resistance with strong conductance. For example, if artificial diamond is facilitated intothe production of undersea fiber cables, it would enhance the lifespan and efficiency given the small erosion degree and fast transitional speedof the diamond made fiber.
In addition to how the raw materials could benefit the manufacturing industry, Mr. Zhang has a broader roadmap for the company – he envisions the establishment of an eco-friendly carbon-based park. In using the element that all the living being is composed from, Mr. Zhang anticipated that the park would fully present the latest technology and exhibit how using carbon-based material can contribute to the call of a 'sustainable development' world-widely.In the mid and long-term plan, Mr. Zhang and his team will keep supplying the world with the innovations in artificial diamond and raw materials.
Zhengzhou Sino-Crystal Diamond Co., Ltd.
Website: http://www.sinocrystal.com.cn/en/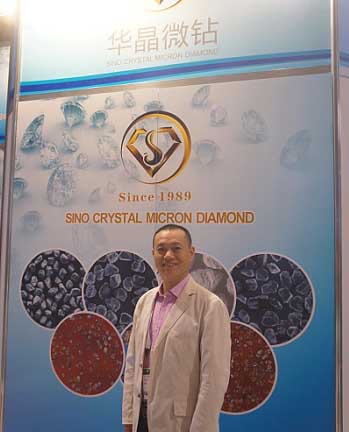 Originals Prophere