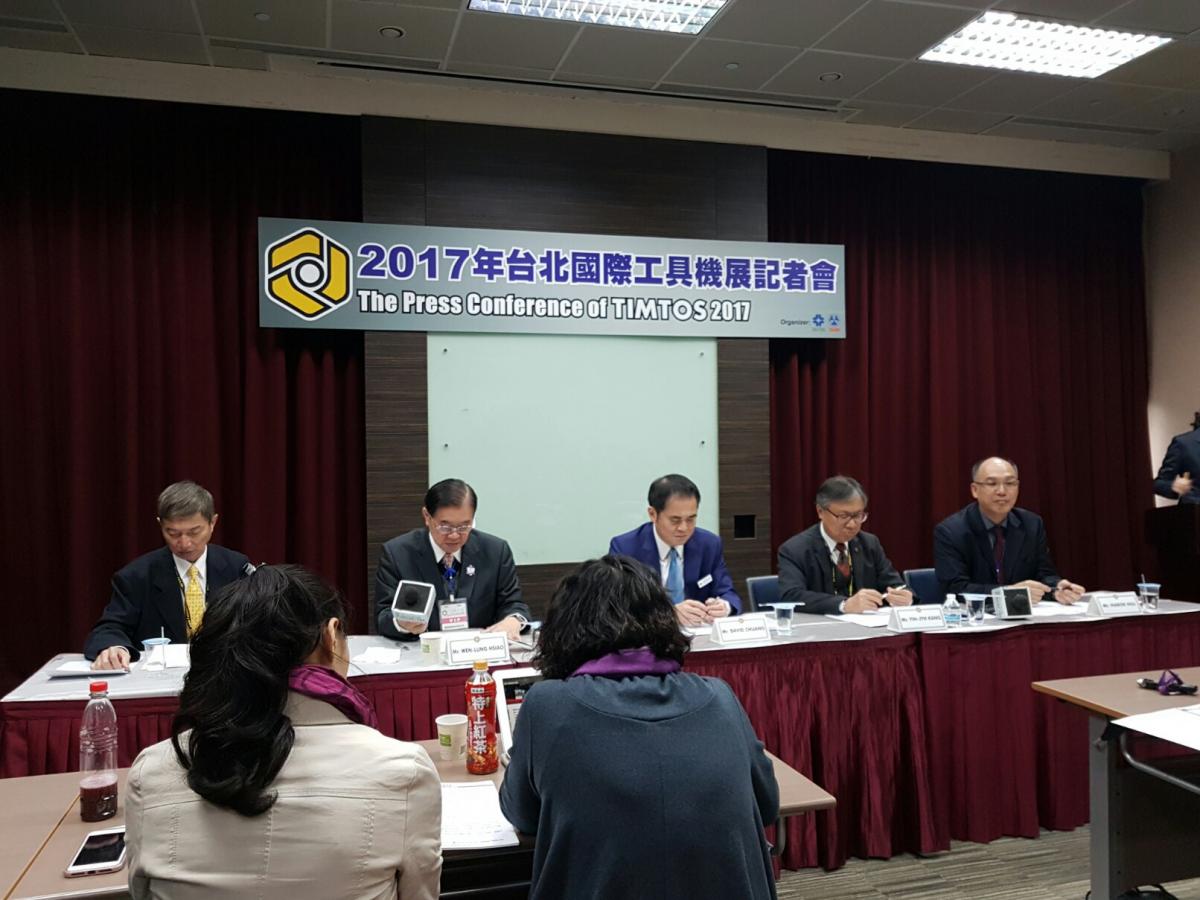 In keeping with the theme ""Industry 4.0+ and Smart Manufacturing", key executives from TAMI, TAITRA including Machine Parts & Elements Committee of TAMI and Metal Forming Machinery Committee of TAMI got warmed up at the press conference on the first day of the fair.
This year's discussion showed that Industry 4.0 and Smart Manufacturing are important, but also highly complex. Only by maintaining high levels of performance, precision, reliability and durability, can Taiwan make steady progress towards smart machinery, smart manufacturing, and IoT.
The manufacturing sector remains a key pillar of Taiwan's economy. Having said that, the country's venture into the aerospace supply chain will be a driving force behind a new generation of machine tools as all manufacturing starts with machine tools.
David Chuang, Vice Chairman of TAMI shared that a number of machine tool manufacturers are working together to develop structural parts, composites, and engine parts needed for the aerospace industry.
"Smart machinery will be prominently featured in this year's exhibition, with companies showcasing various models. I am sure this will be a rewarding experience for all of us. I am very proud to be part of it," he said.
Looking ahead Chuang added that they are quite upbeat about demand from the aerospace and auto industries. The Trump administration's effort to bring back manufacturing jobs to the U.S. will also create a new wave of demand for machinery equipment. China remains the largest market for Taiwan-made machine tools and its outlook is promising as well.
Reflecting on Mr. Chuang's speech about this edition's theme, Yih-Jyh Kang, Executive Director of TAITRA gave very good examples of exhibitors demonstrating smart manufacturing equipment that combines ICT technology with industrial robots, big data, IoT, and cloud control devices.
"Yeong Chin Machinery's smart 5-axis mill-turn machining center integrates physical and virtual capabilities. While meeting the demand for high precision and durability, it leverages a smart operating system and smart technology that will help boost production efficiency and capacity," he said.
Another example is Tong Tai's 5-axis horizontal machining center presented at this show. This model is designed with the aerospace industry in mind. It machines hard and rigid materials well and are particularly suited to processing engine cases and turbine blades. The process rate can increase by around 20% as a result.
In addition, Mr. Kang said that FFG is showcasing a smart production line based on Industry 4.0 principles. This production line can be deployed in a variety of industries, including aerospace, automotive, transportation, precision molds, and consumer electronics.
Of course, there's plenty beyond smart machines information flow discussed during the press conference. Habor Hsu, Chairman of Machine Parts & Elements Committee of TAMI spoke about the backbone of machinery. According to him, parts and elements play an integral role in helping the machinery industry continue to make progress.
Hsu said, "As of one of the major hubs for supplying and marketing machinery and key components, Taiwan is leading in terms of technology know-how and experience. Our products are recognized by well-known customers around the world."
He added, "Our machine parts and elements suppliers are largely concentrated in the central region of the island. The industry cluster is second to none globally and has a lot going for it."
Taiwan has built a comprehensive supply chain, creating a tight-knit network of vendors and subcontractors. By exchanging information and resources, they are able to manage costs, spread risk, and reduce uncertainty. Being flexible in coordination means that they can provide highly-customized products and respond to customers' changing needs.
"Our industry cluster is the one of its kind in the world. It is what makes Taiwan's machine parts and elements sector thrive and continue to stay ahead of the pack," he declared.
The last speech is from Wen-Lonng Hsiao, Chairman of the Metal Forming Machinery Committee of TAMI. He addressed Taiwan's metal forming machinery sector.
Taiwan's metal forming machinery companies have been implementing system integration, between hardware and software and across their supply chains.
He said, "Forwell have long been specializing in a wide range of quick mould change systems that are automatic and labour-saving. Hsiao explained, "We are currently building a cloud platform to reinforce pre-sale and after-sales services."
Taiwan's metal forming machinery suppliers have been involved in the development of servo presses for more than a decade. On the stand-alone basis, the technology is well-established and stable, but sensors for servo presses prove more difficult to develop.
"It is a challenge to incorporate the IoT technology into the equipment. But I am confident that, with the push from the smart machinery committee of TAMI, we will be able to cut down on development time and costs, and provide even better services to customers," he added.
Finally, Taiwan is well-positioned to grow strongly in smart manufacturing industry through productivity-led growth. It has evolved significantly over the years from its initial traditional role. Taiwan is continually evolving and transforming itself to serve global markets.
Air Foamposite One Glowing