ON May 5th at interpack 2017, the Dow Packaging & Specialty Plastics business signed a global Pack Studios collaboration program with HP Indigo Division, a digital printing specialist, to accelerate innovation in flexible packaging. Both companies see a huge potential to advance solutions for the flexible packaging industry by combining packaging material science with printing expertise that target new technologies for faster innovation to market.
This program will accelerate flexible packaging development through shared resources to understand final package appearance and shelf appeal. It will grant HP Indigo access to the Dow Pack Studios network and technical facilities, while effectively expanding Dow Pack Studios capabilities through access to the digital printing capabilities of HP Indigo.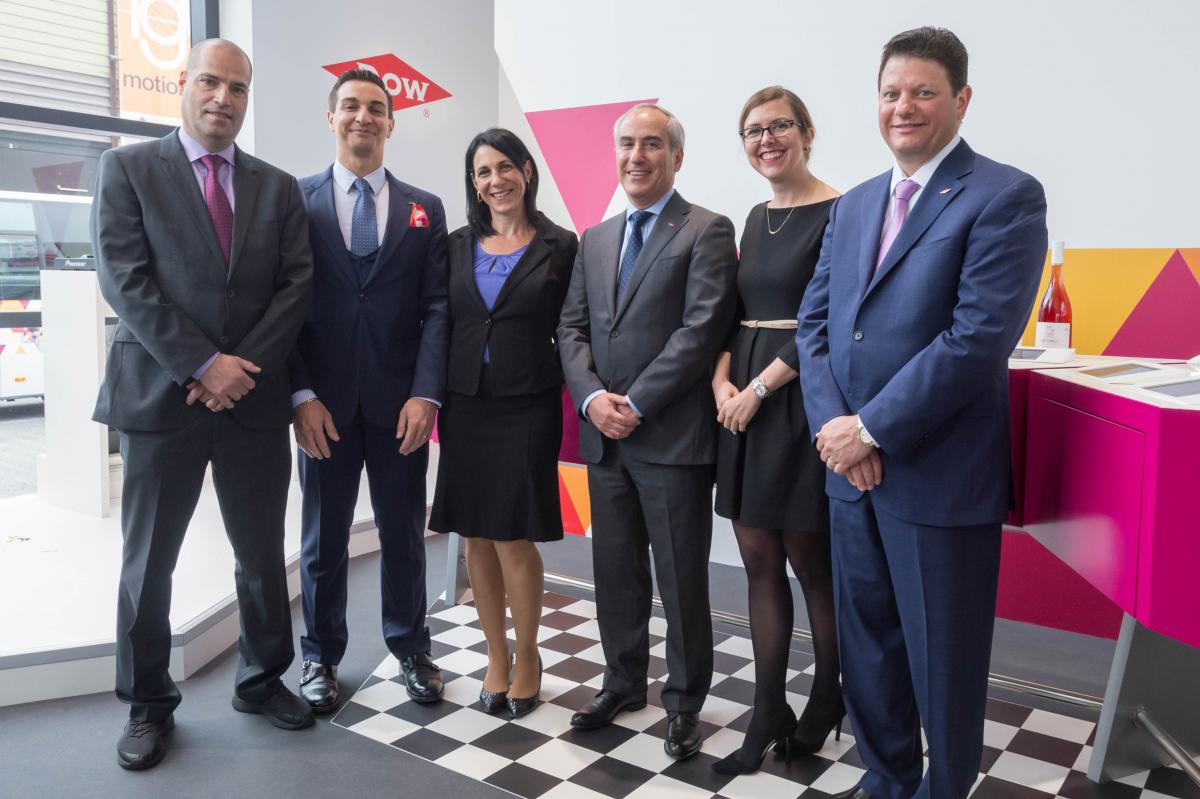 Celebrating the Pack Studios collaboration program (from left to right): Allon Maoz, HP Indigo; Marco Amici, Dow; Nurit Raccah, HP Indigo; Javier Constante, Dow; Haley Lowry, Dow; David Parrillo, Dow
"This is yet another example of how Dow's pioneering Pack Studios approach brings experts together to collaborate on innovative packaging solutions," said Haley Lowry, global marketing director for Pack Studios at Dow's Packaging & Specialty Plastics business. "Digital printing is continuing to grow and the links with customizing packaging further is important. We are honored to have HP join our collaboration program as continued engagement is core to Pack Studios. And as a result of this collaboration, we are able to deliver solutions bringing higher performance, versatility, and sustainability to customers and the industry."
"In HP Indigo's continuous strive for innovation in digital printing, we clearly recognize the benefits that Dow Pack Studios bring to the value chain in the flexible packaging market," said Nurit Raccah, Labels and Packaging Media and Materials Business Manager, Indigo division, HP. "Combining Dow's leading position as a packaging materials provider and HP's pioneering in digital printing, this strategic collaboration through Dow Pack Studios is a major step towards new developments and will extend the value of digital printing in the flexible packaging market."
The global Pack Studios collaboration program with HP Indigo is another step in creating strong Pack Studios relationships, following on last year's successful global innovation and business development agreement with Nordmeccanica SpA, a worldwide leader in coating laminating and metallizing machinery.
Pack Studios brings together the key contributors necessary for cultivating packaging innovations. The Dow resins and adhesives experts collaborate with equipment manufacturers, packaging designers, brand owners and prototyping specialists, and the result is faster commercialization of new and improved packaging. Dow has a long tradition of working with customers to drive innovation. Building upon this foundation and the belief that true innovation is achieved through collaboration, Pack Studios is ushering in the successes of tomorrow… today.
Find out more about Dow's offering to the packaging industry in Dow's Prototype Boutique that is located in the open space outside between Halls 9 and 17. The Dow Business Lounge offers an exclusive program to customers and is located in the Conference Center at the North Entrance.
Visit www.faceofinnovation.com to learn more about how Dow is bringing innovation to life.
Nike