Themed "Building the Global Energy Interconnection", The 11th International Exhibition on Electric Power Equipment & Technology (EP Shanghai 2017) and The 2017 China International Exhibition on Energy Conservation and Environmental Protection Equipment and Technology will be held concurrently at Shanghai New International Expo Centre PR China (Hall E1-E5) from 20 to 22 November. It is expected more than 900 local and international companies / brands will join the exhibition, and attract more than 26,000 visitors from 50 countries / regions.
The First Global Energy Interconnection Achievement Exhibition
General Secretary Xi Jinpinghas attended "One Belt One Road" International Cooperation Forum, and proposed "Opportunities from a new round of energy structure adjustment and energy technology trends have to be seized, including the construction of Global Energy Interconnection together with green and low-carbon development"; Liu Zhenya, Chairman of the China Electricity Council and Chairman of the Global Energy Interconnection Development and Cooperation Organization, at the "To Speed Up the Construction of Global Energy Interconnection, Service One Belt One Road Infrastructure" forum also stressed that the reverse distribution of energy resource and energy consumption has facilitated the trend of interconnectivity. The energy grid will be the basic platform for energy interoperability and global distribution.
In response to the national call, the organizer has themed EP Shanghai 2017 "Enhance electric power technology and equipment - building theGlobal Energy Interconnection". A specialized theme zone for Global Energy Interconnection Achievement will be set up at EP Shanghai, with an estimated total area of 2,000 sqm. State Grid, China Southern Power Grid and five major power companies were invited to exhibit. The theme zone will focus on clean energy alternatives and alternatives to electricity, UHV, smart grid, clean energy, energy storage batteries, large power grid operation control and aspects of global energy internet related researches, supporting equipment and technology etc. "The Global Energy Interconnection Technology Forum" will also be held concurrent with EP Shanghai to promote the standard system of Global Energy Interconnection within the cooperation of electric power and machinery industry.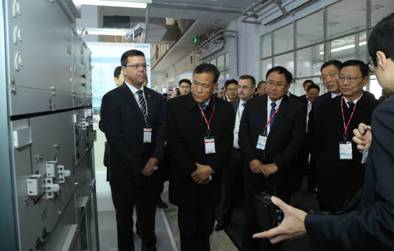 EP Shanghai's Exhibition Scale Reaches New Height
With less than four months to go before the grand opening of EP Shanghai, the total number of confirmed exhibitors have already exceed last year's total. More than 180 new exhibitors have joined the show, with a total exhibiting area shoot up to 50,000 sqm– a new record high for EP Shanghai.
EP Shanghai is also becoming highly international with 900 exhibitors / brands from China, Germany, France, UK, Switzerland, Austria, Canada, Russia and Japan etc. Apart from the first ever Global Energy Interconnection theme zone, other specialized theme zones include: power safety and emergency, electric power conservation, smart grid, power testing, measuring and monitoring, electric power automation and industrial water treatment. EP Shanghai will also hold more than 30 concurrent events, including "One Belt One Road Go Out Policy for Electric PowerMain Forum", "China Electric Power Safety and Emergency Management Forum" and more than 10 "New Product Launching Conferences".All concurrent events will invite domestic and foreign experts from investment, researchers, operation, technology and equipment industry.
In addition, related exhibitions on data centers, intelligent home, rail transportation and metallurgy and metal processing will be held concurrently to create great synergy effect, providing a one-stop comprehensive purchasing experience for visitors at EP Shanghai.
Pre-register Online to Enjoy Exclusive Privileges
Visitors are welcome to pre-register to visit EP Shanghai at http://www.epchinashow.com and enjoy lists of exclusive privileges. Exclusive privileges include speedy admission, free copy of show catalogue (valued RMB100),free exquisite gift at show venue, business matching services and a chance to redeem our monthly promotion gifts at the venue.

Pre-register now for EP Shanghai 2017 at http://epchinashow.com/EP17/Visitor/lang-eng/PreReg.aspx
For more information of the fair, please feel free to contact Adsale Exhibition Services Ltd or visit the fair website at www.EPChinaShow.com

Nike Shoes