RICOLA's world-famous herbal sweets have been produced in accordance with an old family tradition for more than 75 years. Although little has changed about the recipe since then, there have certainly been changes to the product variety. Both the original product as well as the numerous flavours rely primarily on the most important ingredients, i.e. a mixture of 13 herbs that are grown naturally in the Swiss mountains. Ricola has trusted the production line expertise of Bosch Packaging Technology at its production facilities in the Swiss location of Laufen for more than four decades.
Focus on quality, innovation and sustainability
Whilst the Swiss confectionery industry was forced to confront declining sales in 2016, Ricola recorded strong growth rates of 5.3% on the previous year1. One of the reasons for this is its expansion abroad, as the company managed to further expand its market presence in the USA, Canada and Asia. Yet continuous investment in the Swiss site also definitely plays a role in this. Ricola attaches importance to quality, innovation and sustainability, both when selecting its ingredients and its production technology. The family-owned enterprise has relied on Bosch for more than 40 years in selecting its processing and packaging systems, both for new machinery as well as for upgrading its existing lines. The partnership going back many years has resulted in a creative symbiosis promoted by both sides.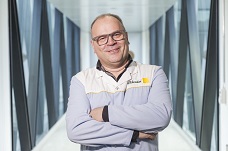 Thomas Fringeli, head of Ricola's plant in Laufen, Switzerland
Production line expertise from A to Z
Bosch machinery is in use at each of Ricola's eight continuous hard candy production lines. The sugar solution is first of all cooked, vacuumed and flavoured in the continuous cooking line BKK 2000. The sugar mass is cooled on the tempering and kneading plant BTK 2000 and then added to the die-forming line. The Cleaning-in-Place system (CIP) ensures that the ingredients are processed hygienically. A separate extruder line with a hard candy extruder BEK 1200 is used for liquid filled candies. The candies are formed and shaped on die-forming lines of the BPK 240 type with a maximum product line speed of 240 metres per minute. The die-formed candies are then sent through a BCK 1500 cooling tunnel with integrated cleaning function and then packaged further. After forming and sizing of the rope the traditional Ricola herbal sweets are cut and wrapped in a Bosch BVW 1800 double twist wrapper and then bagged with the SVE 2520 AR vertical forming, filling and sealing machine, which can fill up to 200 bags per minute. Finally the packages are placed into cardboard boxes by the flexible Elematic 3000 Wraparound case packer, which achieves an output rate of up to 20 wraparound boxes per minute. One special feature of the Elematic case packer at Ricola is a twin supply system fitted in order to guarantee the highest load factor possible, prevent machine downtime and ensure high overall equipment effectiveness for the lines. Ricola products are sold in different packaging types and formats, meaning that flexibility and rapid format changes play a central role.
Developing customised solutions together
Bosch has worked closely with Ricola for many years in order to develop solutions that are adapted precisely to the production conditions at the plant, such as the equipment for die-forming the herbal sweets. In total Ricola has more than 30 die-heads in use for forming the candies. These are normally replaced every eight hours in order to guarantee their durability. "But at Ricola we like to play it safe and replace the die-heads after just six hours. That is much gentler on the materials. It is definitely an economical decision since switching formats takes just three minutes," says Thomas Fringeli, head of the Ricola plant. Ricola asked Bosch about a storage shelf system for storing the die-heads in order to facilitate the process for handling the die-heads and make more efficient use of the storage spaces in the plant. "More than 30 die-heads and the cart associated with this soon became unmanageable and cramped in the plant. The new die-head storage has meant that we now have faster access to the die-heads and can make more efficient use of the space that we previously required", says Fringeli. A maintenance agreement between Bosch and Ricola also ensures that the systems are inspected by Bosch experts between once and twice each year. "Ricola achieves stable productivity rates which are above average through preventive maintenance and repair of the machines and die-heads," says Lutz Blessing, Sales Manager at Bosch, who has been providing advice and support to Ricola for more than twelve years.
Industry 4.0 solution for increased efficiency, quality and safety
Presented for the first time at interpack 2017, an Industry 4.0 pilot solution for managing die-heads has been installed at Ricola with the aim of increasing overall equipment effectiveness. The solution consists of RFID tags which are attached to the die-heads, an IoT gateway plus condition monitoring software from Bosch. This records, displays, and saves the daily and overall service performance of the die-heads. Greater transparency into these production parameters has enabled Ricola to maintain an overview of current production output at any time and to plan maintenance for the future in a far simpler and more targeted manner. The machine operators also receive all relevant information via the RFID tags for changing formats. This reduces the time required for changeovers and also safeguards against any potential errors.
Symbiosis drives innovation
Ricola is supported by an expert team of contacts, both for new machinery projects and for services. This latter element includes product development, orders and supplies of spare parts, regular training for machine operators and support with general queries. "A partnership has arisen after all these years that we are able to rely on 100%. Both sides benefit from the cooperation. Ricola likes having us as a partner that takes care of all their needs. For us in turn the partnership provides daily impetus for constantly creating new and innovative solutions," says Stephan Lemke, Modernisation Manager at Bosch. Plant head Fringeli confirms the beneficial nature of the partnership: "Ricola is on course for growth, and we are perfectly prepared for this through our collaboration with Bosch. We can look to the challenges of the future feeling relaxed as a result of our continuous process of learning and rethinking things together."
Reference
1http://www.ricola.com/de-de/Meta/Medien/Medienmitteilungen/Ricola-Jahreszahlen
Adidas