STAYING true to its vision of providing value-adding food solutions, leading specialty oils and fats provider AAK is fortifying its foodservice range.
The company is drawing from its knowledge of global trends and capability to customise solutions to local requirements to solidify its position in the worldwide foodservice market.
AAK Foodservice, a trading division of AAK UK and part of the Sweden-based AAK AB, currently offers more than 300 frying oils, specialty oils, condiments, sauces, dressings and ingredients. It produces both off-the-shelf and tailored solutions to cater to global fast food chains and top-level chefs across the world.
Like its parent company, AAK Foodservice is committed to ensuring food safety and quality production.. The company pursues responsible growth, placing equal emphasis on financial growth and social and environmental responsibility as it expands its market footprint.
Healthier, cost-efficient alternatives
Natural and healthy ingredient substitutes that are also cost-efficient and easy to use drive product development at AAK Foodservice. A testament to this is the Whirl, a liquid butter substitute.
This liquid vegetable oil tastes and cooks like butter to guarantee savoury and indulgent dishes but is healthier than butter or margarine. It has 65 percent less saturated fat than butter but is twice as high in monounsaturated fats and five times higher in polyunsaturated fats. Compared with margarine, Whirl has more than 3g saturated fat, four times more monounsaturated fats and three times more polyunsaturated fats. Customers looking to offer low-sodium food items may opt for the No Added Salt version.
With an ambient shelf life of 12 months, the Whirl does not require refrigeration. Unlike butter, it can be used straight from the bottle and does not burn or discolour pans. The easy-to-use product likewise ensures full flavour at much less cost.
Michael Skriver, regional director for AAK SEA, said products such as the Whirl are gaining traction fast because they are natural and healthy being vegetable-based but actually taste like butter.
"Not only that. It's in a size that's good for big kitchens and makes running such kitchens more efficient. When we develop new products, we also look into practical, everyday considerations such as storage and how to help chefs run a kitchen faster," Skriver added.
AAK Foodservice's line of high-performance frying oils delivers flavourful results and lasts up to three times longer than standard extended-life frying oils. The Prep vegetable oils have no anti-foaming agent and instead have been further processed and blended.
The company expects the trend for healthful foods and ingredients to gather more steam, particularly in Asia, with the mid-2018 deadline for the cessation of use of partially hydrogenated oils in foods. "We had a good head-start in this area -- Denmark implemented this legislation back in 2003 so we had to do it 15 years ahead of the industry. What this means is that when companies come to us we know what we are talking about, from how it impacts production and efficiency to how it changes the way the food feels in the mouth," Skriver said.
Full-flavour options for exacting tastes
Food quality and flavour intensity have remained a priority for AAK Foodservice even as it pursues healthful and cost-efficient trends. The company's growing product selection – from oils to dressings and dips – aims to elevate the eating experience by providing that extra flavour or characteristic quality.
To aid chefs and menu development teams in creating innovative dishes and menus, the company offers the Prep Premium range of specialty oils and vinegars. These products use high-quality ingredients to create natural and rich flavours ideal for marinating, stir-frying, roasting or any other cooking need.
The Prep Premium cooking oils come in sunflower and rapeseed variants, and cooking spray. The extra virgin olive oil provides a light fruity flavour and rich fragrance for dips, dressings and drizzles. Meanwhile, the selection of infused oils combines high-quality olive and sunflower oils with fresh herbs and ingredients. Available in 500ml and 1L bottles, these oils can be used for dips and salads.
The FlavourHouse range of specialty oils blends high-quality olive and sunflower oils and exotic spices to add heat, spice and depth to any dish. It consists of four variants – SmokeHouse, FireHouse, CurryHouse and Oriental Flame to suit different flavour profile requirements.
The Prep Premium Vinegars comprise balsamic vinegars and condiments whilst the Nut and Seed Oils come in stir fry oil, toasted sesame, roasted peanut and walnut oil options. The fruit condiments fuse sweet and tangy flavours.
AAK Foodservice's Lion range of sauces, dressings, mustard and condiments, and mayonnaise can be used as dips, toppings, marinades, cooking sauce and sandwich mix. These products and the company's other selections were displayed at its booth at the Food & Hotel Asia (FHA) 2018 held in Singapore last April 24 to 27.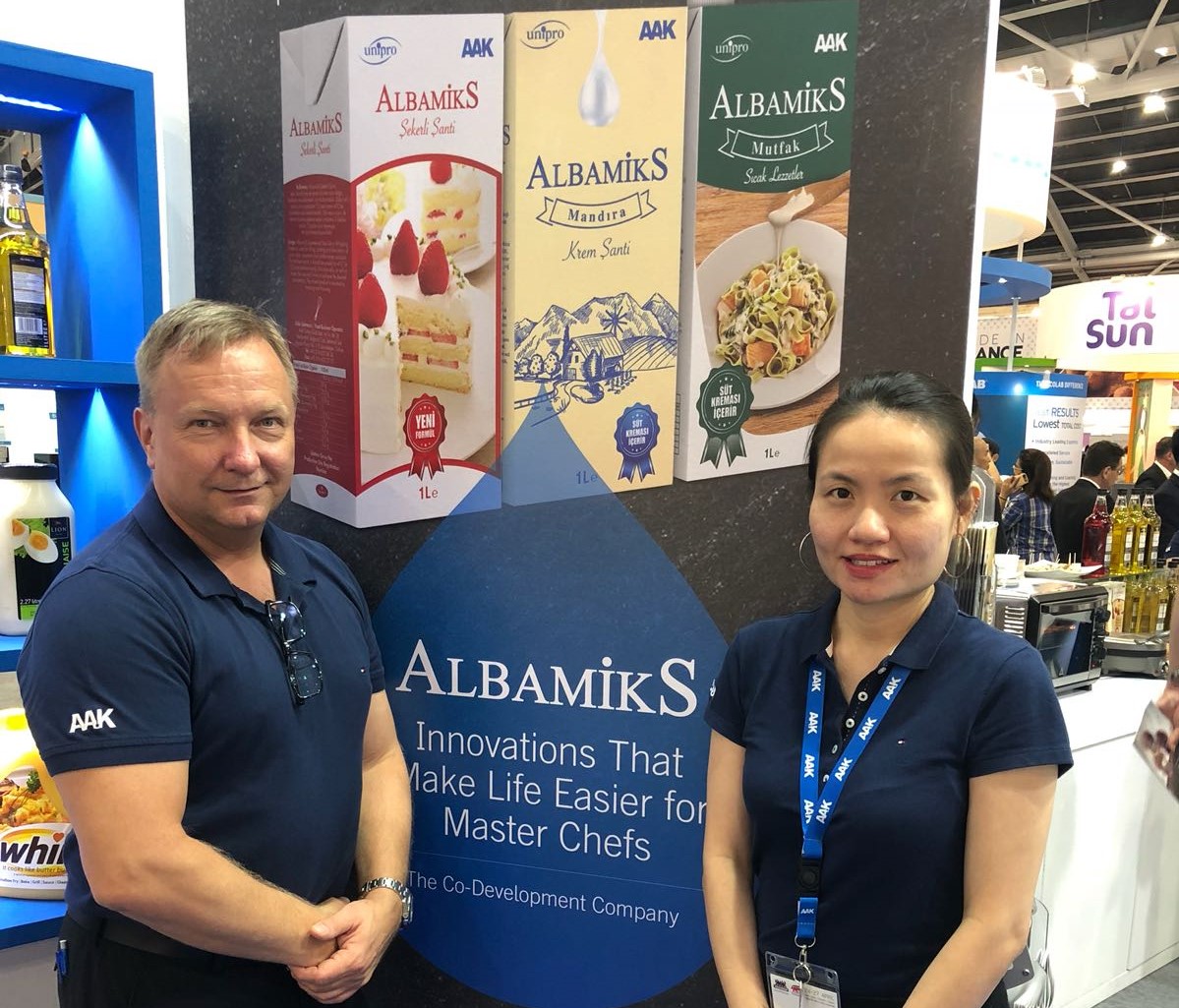 Michael Skriver, Regional Director for AAK SEA and Li Na Wong, Marketing Manager, AAK Malaysia at Food and Hotel Asia (FHA) where the company presented its Lion range of sauces, dressings, and condiments.
Co-developing to match market needs
Banking on its many years of experience in co-development work, AAK Foodservice is taking development work beyond merely localising global trends. With consumer preferences around the globe continuously evolving, the company emphasises the value of strengthening customisation capability to provide the differentiation clients need.
Outside of innovations in packaging, more consumers worldwide are looking for new flavours and alternatives. Exotic cuisines are gaining popularity, as are innovative fast food menus, the latter particularly pursued by millennials. Many consumers are also seeking food options that allow them to meet their daily calorie requirements whilst fulfilling specific cravings.
Skriver notes how the combined ability to localise to the general market taste and customise to more specific requirements helps AAK work better with its partners. "Although we have a broad product range, what we have in the UK, for example, is different from what we have in Denmark or Sweden or what we have in India or Turkey. As a co-development company we want to be able to add to the range of solutions in the target country or as specific as a big fast-food chain in say the Philippines or a big pizza chain in Singapore," he said.
In working with a company such as a chain of restaurants, AAK may send a group of experts to try the entire menu. Based on its evaluation of the food options and knowledge of global trends, AAK may suggest a new product or a new recipe for an existing product.
"This is how this co-development idea works. Together with our client, we develop new products or new recipes based on the trends," Skriver said.
Sights on Asia
Admittedly, AAK Foodservice is just starting to establish its roots in Southeast Asia, Skriver shared. This is where the company hopes its new Singapore innovation centre will come in handy as the facility is being eyed as a hub of excellence spanning over Pakistan to New Zealand to Japan.
"In terms of adapting solutions to the target market, we can start with studying the climate in Southeast Asia, for example, where the hot weather presents challenges. So how can we work with heat in terms of developing new products? Then we'd look into countries such as Singapore, Japan and Korea where the senior population is getting much bigger. The third topic of study may be plant-based products, from plant-based meat products to plant-based cheese," said Skriver.
"This is the year that we start branding and localising for Asia," he added.
AAK Foodservice is looking for local partners, particularly for distribution, and hopes to work with chains that can incorporate the company's food products in their menus.
The Singapore facility is the eleventh lab to be opened by AAK in addition to its other facilities in Shanghai, Mumbai and other parts of the world. The Singapore lab will cater to industrial and foodservice applications, with equipment capable of handling requirements for both. The factories in Shanghai and India are similarly now strongly engaged in foodservice and industrial products.
"We are ready to work with any kind of chocolate and baked or dairy product. Because the same equipment can be used for foodservice, we will also start developing, using, localising our global foodservice range," Skriver said.
As for new product development, Skriver stated that the Singapore innovation centre will also conduct ideation and hands-on training. Co-developing ideas with customers will definitely be at the core of these initiatives.
"We're getting better at brainstorming with partners because we're also building trust at the same time. We continue to work with very interesting ideas, some of which combine several big megatrends instead of focusing on only one popular trend. At the same time, we also want to factor in what our customers need. So we work on solutions that are healthful but we also want to make them very indulging or have a good mouthfeel. For many products, are we targeting both industrial with 12-month shelf life and foodservice, where we want the solutions to stay pleasant for 5 days," Skriver said.
Running Shoes, Trainers, Shorts, Spikes and Clothing