OWNERS of Palaweño Brewery, Ayah Javier and Malu Lauengco were armed with only a homebrewer's kit when they started their brewery in the scenic province of Palawan, Philippines in 2012. Since then, they have upgraded to a three-barrel brewing system, and count the United States and Canada as their markets. Despite the growing popularity of their beer brand, the duo remains cool. They speak to FoodPacific Manufacturing Journal on how they started and what lies ahead for the brewery.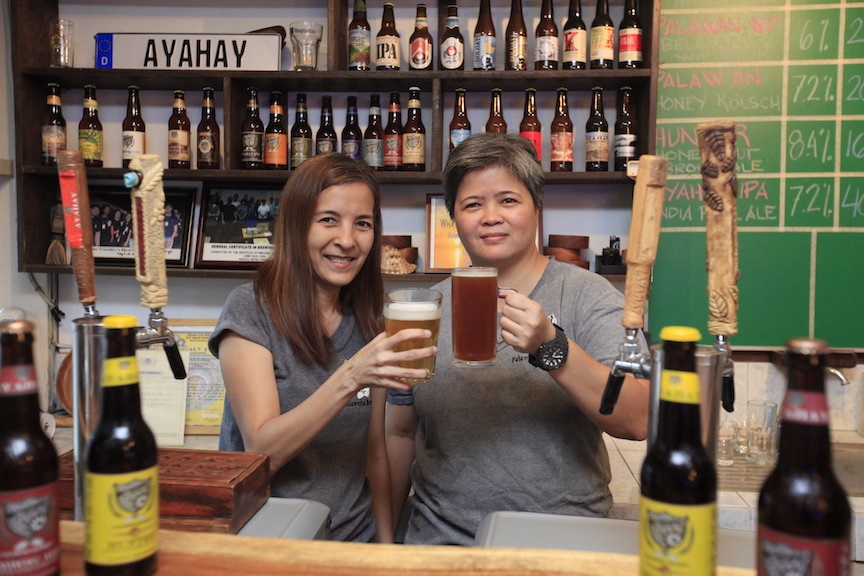 Palaweño Brewery business partners Malu Lauengco and Ayah Javier toast to success.
What started your love for beer and what got you into craft brewery?
Ayah: Experts say that if you plan to venture into something, make sure it is something you are passionate about. I am such a beer lover! Actually, I was living in San Diego, California when my cousin's wife introduced me to the wonderful world of craft beer. My first taste was a Belgian beer. It was a Eureka moment for me. That inspired me to come home with a homebrewer's kit in tow. My beers are aptly named "Ayahay Craft Beers". Ayahay is derived from a local slang "hayahay", which means to relax or chill. I heard the local kids say this all the time and thought that this is just what my beers are, "hayahay lang" (just chill). The vibe of Palawan in a bottle. Plus, if you noticed, it is a play on my name, too.
Six years on, you now have presence in three major island groups of the Philippines. Could you walk us through how and where you branch out next?
Malu: Initially, we were brewing beer in our small kitchen at a Bed & Breakfast named Matutina Pensionne which we used to handle. We would have our guests try our brews, them acting as our guinea pigs! We would throw "Ayahay Night" parties so that we get to see how our beers would fair with the local and international taste. Eventually, that's how we nailed our recipes. Word got around, a guest or someone who has tried our beers blogs and spread it around to their friends. Soon we find ourselves being featured in online/in-flight magazines, articles and TV features. Just recently, we were featured on BBC Earth, something that we are so proud of. We're happy that people like our brews and are supporting us.
What do you look for in locations where you bring your beers?
Malu: We know that the beers would fair well when we get to know the place or the vibe of the people that frequent the location and the owners and staff as well. We look for a place/establishment and people that share our passion for quality, artisanal craft beers, or exudes that "Ayahay" vibe. As the case has been, we seek them and they also seek us.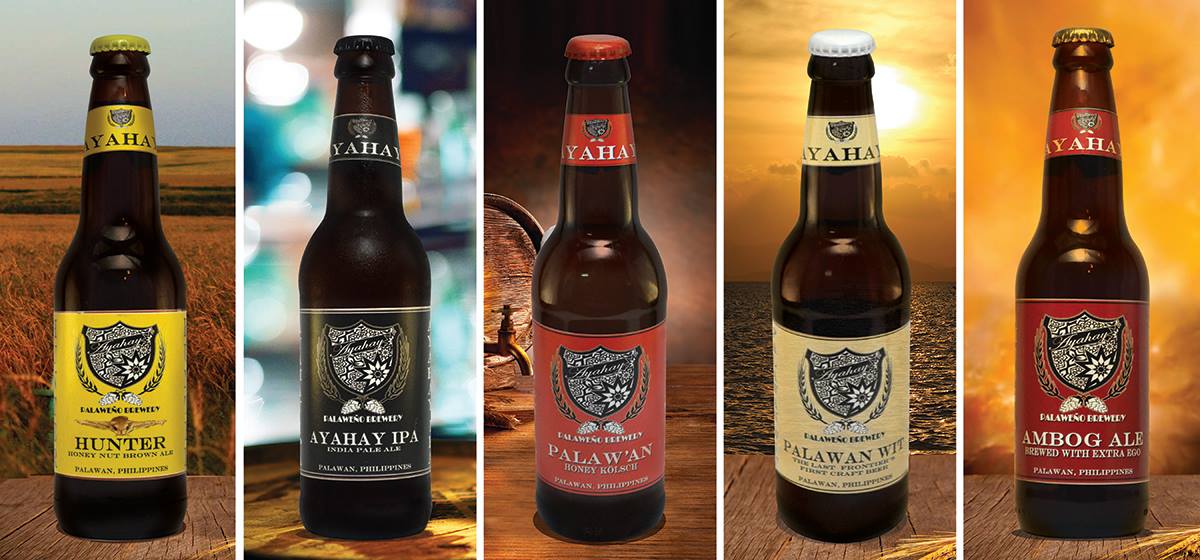 The five core styles available year-round: Ambog (American Amber Ale), Palawan Wit (Belgian-inspired wheat beer), Hunter (Honey Nut Brown Ale), Palaw'an (Honey Kolsch) and Ayahay IPA (India Pale Ale).
Tell us about the brands and how are they different from one another.
Ayah: We have five core styles. We make sure that our range of craft beers will appeal to each and every palate, from the light tasting (Palaw'an Honey Kolsch) to the more robust styles (Ayahay IPA and Ambog American Amber Ale). We also incorporate local and indigenous ingredients to make it "truly Palawan" such as the famous wild Palawan Honey from the Tagbanua, Batak and Palawan tribes; Tangguli or palm candy from Cuyo island; mangoes, and more. The idea is to put Palawan in a bottle.
The beers have rather unique names. What's the thinking that went into these?
Ayah: Some such as Hunter and Ayahay IPA are inspired by customers, friends and relatives. Other styles give homage to Palawan and its people such as Mango de Palawan, Paragua, which is the old name of Palawan, and Palaw'an, which is a name of a tribe in the South. Other names are just what the beer implies. Ambog, for instance, is from the word hambog, which is boastful in Filipino dialect. Most of these names come to play when I'm drunk!
Which beers are offered year-round or seasonally?
Malu: Ambog (American Amber Ale), Palawan Wit (Belgian-inspired wheat beer), Hunter (Honey Nut Brown Ale), Palaw'an (Honey Kolsch) and Ayahay IPA (India Pale Ale) are available all year round.
Our seasonals are: Tipping Point (Imperial IPA, January special), Buco Loco (Coconut Cream Ale, a February special), Mango de Palawan (Mango IPA, March or April seasonal brew), Duhat IPA (March or April seasonal brew), Paragua (Belgian Golden Strong Ale with tangguli – May to June special), Tandikan (New Zealand IPA, July to September – in time for Tandikan festival here), Oktubre (Marzen lager, October special), White Sands (White IPA November special) and Nognog (Oatmeal Stout, a Christmas special). These make our customers come back for more.
Do you have a favourite among your selection?
Ayah: All our beers are like our babies, not one outshines the other. No favourites here. They are all special to me.
Are your staple and seasonal beers offered in all locations? What factors decide these?
Malu: Some of our specials are offered only here in Palawan. Our idea is to bring them to visit the "Number 1 Island in the World" and get to taste it!
What's the creative process involved when you are deciding on beer flavours?
Ayah: It's a personal thing. I always tell our staff: "We will only brew the beers we can drink and we will like".
Can you compare current production capacity versus that of when you first started?
Malu: When we started, we were brewing in a kettle (a 5-gallon kettle). After a year, we were able to upgrade to a half barrel system. Currently, we have upgraded to a 3-barrel brewing system. We attribute this to the growing demand for quality beer and to the guests and customers who have supported us and continue to support us.
How much of production is automated?
Ayah: I'd say about 50% is automated and the rest is still hand-made. We like to keep it that way. Traditional in some sense.
What quality standards do you go by?
Malu: We follow our gut instincts and senses. What the nose says, follows! We do implement strict sanitation rules, which is crucial in beer brewing. If we feel that it is sub-standard, it would never even leave our premise. Every time a brew comes out, we have to make sure to taste it ourselves.
It's safe to say Filipinos are beer drinkers, but do you think they've warmed up to the idea of craft beer?
Ayah: I believe that Filipinos are catching up. Craft beer is not just a craze. It's been here since time immemorial. It is a way of life that I think Filipinos would easily adapt to, being such beer lovers. We are all fun-loving and adventurous, and that's why we bank on Filipinos to support the craft beer industry.
How do you market your products? What channels and promotions do you use?
Malu: Online presence and word-of-mouth work wonders for us. Our exposure to the international world through CNN, BBC, The Guardian and American Express Essentials has helped boost our popularity. We believe that our customers are our best ally when it comes to marketing our products.
Is sourcing materials a challenge for you or is your location in Palawan a boon for it?
Ayah: Most of our raw materials hail from abroad as the Philippines has no production of such. Hops only grow in the upper and lower parts of the equator and the Philippines is smack in the middle of it. There are local importers of raw materials where craft beer breweries in the Philippines get their sources from. Some of our ingredients have to be directly imported from the source. Yes, it is one of the challenges and the price we pay for brewing in paradise!
How do you plan to bring your business further?
Malu: We have currently expanded our production in the United States, particularly in New Jersey. That would cover the U.S. and Canada markets. We are looking at the Oceania countries and hopefully soon, we shall have it in those amazing countries.
BOARDROOM CONNECTION
Boardroom Connection: Ayah Javier and Malu Lauengco
Position: Owners
Company: Palaweño Brewery
A: 82 Manalo Street near corner of H. Mendoza Street, Puerto Princesa City, Palawan, Philippines 5300
T: +63 048 434 0709
C: +63 917 559 9109 / +63 917 898 8525
E: ayahaybeer@gmail.com / ayahaybeer@palawenobrewery.com
W: www.palawenobrewery.com
Nike Air VaporMax 2019