RETAILERS and foodservice companies have a significant role in finding sustainable and commercially viable answers to the world's ever-increasing protein demand and the manner how livestock is fed. This point is clear in The Feed Behind Our Food, a report published by a coalition of leading international businesses and NGOs organised by sustainability non-profit Forum for the Future.
"This call for increased scrutiny comes at a time when animal feed production is projected to grow exponentially to meet future demand," said Forum for the Future. "Already, nearly half of global agricultural land is used for livestock feed production and more than a fifth of wild caught fish is fed to animals. Feed contributes to 45% of greenhouse gas emissions from livestock production, and much of it comprises high-value foods rich in nutrition, such as soy and maize."
Taking action now
The study draws attention to three reasons there is a need to take action on animal feed, and these are food security, changing attitudes, and business opportunity.
"As global commodities, animal feed sources present a real business and food security issue," stated the coalition report.
Citing various statistics, the Forum for the Future revealed that "meeting future demand for animal feed using current feed sources, such as soy, will require an estimated 280 million hectares of additional land."
"Over the last two decades, approximately 20% of the earth's vegetated surface has shown persistent declining trends in productivity, driven by multiple factors including intensive agricultural practices.
Already the cultivation of livestock and animal feed has dramatically altered landscapes around the world. Feed crops cover one third of global cropland, 70% of the original Amazon forest has been converted into pastures, and despite the well-publicised issue of overfishing, 22% of the capture from fisheries is used for animal feed."
Any business with an eye to the future needs to examine their supply chain and plan how to ensure its long-term visibility.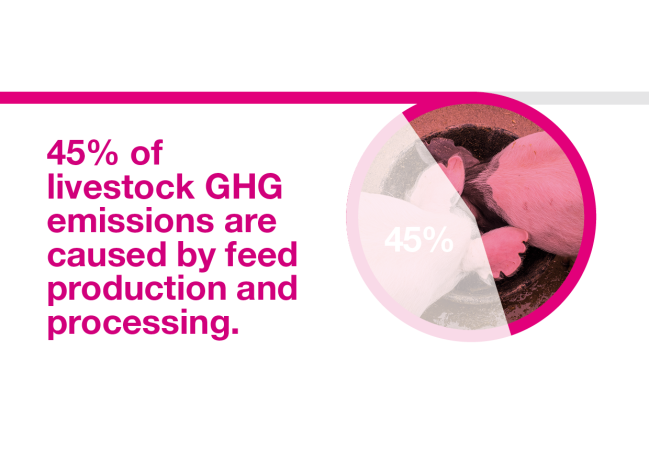 Photo courtesy: Forum for the Future
"The general public and the food industry are starting to recognise that how we produce animal feed drastically affects the health of our ecosystem," said the coalition report indicating consumers' changing attitudes about animal feed.
"This, in turn, is feeding the demand for more transparency about where our food – and its feed – comes from. Greater transparency about the sustainability of feed crops helps build trust with consumers. Progressive companies that act on feed will be better positioned to create this trust."
Also, doing something now about a secure supply of healthy feeds to meet future demands presents a number of business opportunities:
First-mover opportunity, together with the ability to spread risk portfolio in case any feed crop sector faces difficulties in the future.
Resilient supply chain and improved animal nutrition and welfare. Alternative sourcing of animal feeds less dependent on land, water and at-risk species, helps shorten supply chain. Also, better animal nourishment results in reduced mortality and antibiotic usage.
Build trust and brand loyalty. The report said that by offering more sustainable and transparent products building trust and brand loyalty will be a lot easier.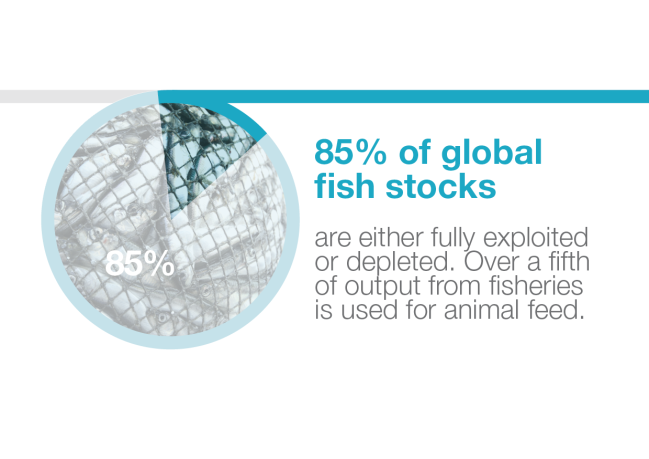 Photo courtesy: Forum for the Future
The environmental effects
The coalition's report also brought to light the impacts of animal feed as it copes with the surging protein demand such as competition for land, deforestation and biodiversity loss, greenhouse gas emissions, overfishing and water consumption.
"Thirty three percent of global croplands are used for livestock feed production and the demand for land for feed production and grazing is projected to continue increasing," the study said pertaining to competition for land. Animal production requires more land per calorie or unit of protein than plant-based equivalents,"
Pointing to deforestation and biodiversity loss, it said that the global populations of fish, birds, mammals and other vertebrates declined by 58% between 1970 and 2012.
"Most new agricultural land has been converted from natural forests that provide benefits such as regulating water quality, carbon storage and biodiversity. With limited options for agricultural expansion, future feed must increase land efficiently and act on biodiversity loss," the coalition report added.
About 14.5% of global greenhouse gas emissions are attributable to the livestock industry. Of this 45% is from animal feed production and processing, and the two major causes of these emissions are energy consumption and land-use change.
Meanwhile, an estimated 85% of fish stocks around the world are either exploited or depleted. It quoted reports by the Food and Agriculture Organisation (FAO) that "since 1961, the global demand for fish has risen at twice the rate of the world's population, and approximately 22% of wild fish capture goes towards animal feed."
What's more, the study stated that the feed crops use 12% of global groundwater and surface water for irrigation, while 98% of the whole water consumption in animal production is linked with the feed crops.
"In many countries, poor water management in agriculture is depleting groundwater aquifers and reducing water quality," according to the report.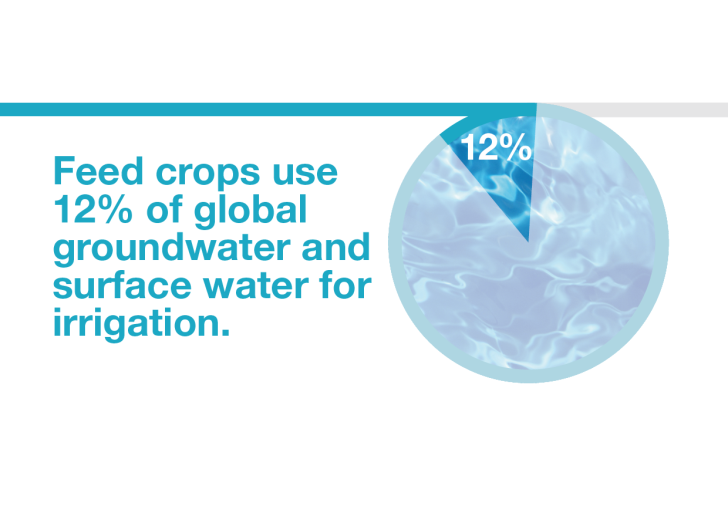 Photo courtesy: Forum for the Future
Moving towards a more sustainable animal feed
In 2016, Forum for the Future interviewed 62 global industry stakeholders to identify the challenges and solutions regarding feed innovation.
"One clear request was for shared sustainability that would allow food and feed companies to compare one option with one another, and so make informed choices," said Forum for the Future. "These criteria and definitions form our first attempt to outline the qualities of a sustainable animal feed that's fit for the future."
"These feed criteria are still open for review. We invite engagement and collaboration with relevant companies, groups and individual stakeholders," the group added.
Here are the criteria and definitions published by Forum for the Future as an initial attempt to outline the qualities of a sustainable animal feed that's fit for the future:
Restorative land use and biodiversity practices
The feed requires a minimal land footprint with suppliers not contributing to conversion of high-value ecological land. Any land management practices will build soil health, and seek to increase biodiversity.
Minimises greenhouse gas (GHG) emissions
The feed should have a dramatically reduced GHG footprint in comparison to the industry average. GHG footprints are conducted using Life Cycle Analysis assessments.
Takes a 'circular' approach
The feed will make use of crops (e.g. forages) and co-products from food production that are inedible by humans.
The feed minimises air and water course pollution (i.e. eutrophication, acidification), inefficient application and overuse of fertilizers have caused major damage to the environment, particularly in water pollution, soil erosion and causing harm to human health.
Minimises freshwater consumption
The water footprint of the feed should be measured and minimized through efficient operations, so that reserves are not depleted and water for humans is prioritized.
Minimises fish stock depletion
Feed production does not contribute to the depletion or exploitation of fisheries.
Promotes animal health and nutrition
High-quality animal feed supports the health and well being of the animal – and healthy animals have less need of antibiotic therapy.
Supports human rights and welfare
All workers involved in the feed supply chain receive high standards of labor welfare and respect of human rights. The feed supply chain is vast and includes farm laborers and factory workers whose working conditions can be dangerous and poorly paid.
Animal feed needs to be financially viable for both feed producers and livestock farmers. This is one of the main challenges for new, alternative feeds as they undergo commercialisation.
Photo courtesy: Forum for the Future
Taking action
The coalition report also outlined two key stages that companies can follow in their efforts to accelerate animal feed sustainability:
Building knowledge through research and honest dialog with suppliers about animal feed ingredients.
Building a strategy by setting goals and developing a strategy that includes innovation needs and identifying potential collaboration partners.
Emerging solutions and innovations
Forum for the Future has encouraged companies to engage with suppliers and stakeholders to explore solutions and innovations for their supply chain.
"Many retailers and food service companies are focusing on improving existing agricultural practices – for instance by pursuing greater resource efficiency, reducing pollution and reducing land expansion. This includes responsible sourcing, better practices with existing crops and crop diversification," the non-profit said.
On the innovation front, solutions are more likely to need much less land, more water-efficient and lower GHG footprint.
Such solutions include sourcing alternative proteins such as insects, algae, seaweed, bacteria and yeast derived protein, specialty feed supplements, and closing the loop, i.e. feeds that feature by-products and waste streams from other processes that are not suitable for human use.
The Feed Compass
ANIMAL feed is a critical action area identified by the global Protein Challenge 2040 coalition –which explores how we can feed nine billion people enough protein in a way which is affordable, healthy and good for the environment.
Feed Compass project, an ambitious and diverse international group of leading retailers, feed ingredient companies, innovators and NGOs from across the food system are developing an easy-to-use tool,based on the criteria set out in this document,to help compare different types of feed and guide purchasing decisions. Source: Forum for the Future
For more information, get in touch with Simon Billing, Senior Sustainability Advisor, Forum for the Future at s.billing@forumforthefuture.org.
Nike