Going to IMTS 2018 and looking at new machining equipment without exploring innovative tooling and workholding solutions is like buying a smart HD TV and connecting it to a dial-up modem.
"Quick-change workholding technology is one of the fastest, easiest ways to increase utilization rates," says Gary Downs, President of SMW Autoblok Corporation, Wheeling, Ill. "Changeover should never hold up production, and IMTS is a great opportunity to solve problems. By engaging with our engineers, we can show visitors that it's not that difficult to stop the bleeding and start being profitable."
IMTS 2018 – The International Manufacturing Technology Show, runs from Sept. 10 – 15 at Chicago's McCormick Place.
Jeff Rizzie, Director of Digital Machining for the Americas at Sandvik Coromant Company, says that, "Intelligent tooling is the next big thing to connect to manufacturing ERP systems. The data from tooling can indicate wear, temperature, positioning and vibration. This information can be used to determine better settings that extend tool life and wear trends for predictive maintenance."
"The Tooling & Workholding Systems Pavilion at IMTS 2018 showcases literally thousands of innovative products that can deliver immediate results," says Peter R. Eelman, Vice President – Exhibitions & Business Development at AMT – The Association For Manufacturing Technology, which owns and produces IMTS. "In fact, the offerings in these product categories are growing so much that, for IMTS 2018, we added a Tooling & Workholding Systems Annex. It features international exhibitors and is located across from the Pavilion's main entrance on Level 3 of the West Building."
Quicker Changeover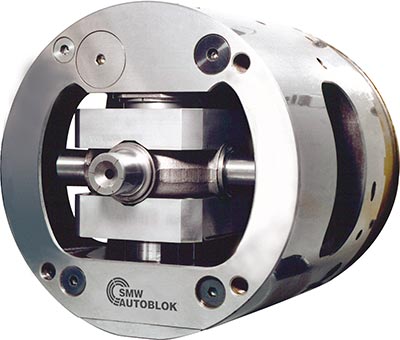 IMTS 2018 will offer close-up views of automatic indexing chucks, such as the AXN from SMW Autoblock, which feature a reinforced body and require no re-clamping to machine multiple faces. They are designed for high productivity machining of complex workpieces in a single setup.
When it comes to workholding, "the trend is for quicker product development, especially in the energy, automotive and aerospace markets," says Downs. "Everyone is looking to their suppliers for expertise that helps them bring products out faster. Years ago, changeover time didn't matter. Now they're counting seconds, because every second at the end of the year is an additional part out the door. Quick-change products allow for faster changeover between different part families to increase the spindle uptime."
The quick-change chuck jaws on display at IMTS 2018 provide a good example. Where a standard chuck jaw change takes 10 minutes, a quick jaw chuck change takes one minute. For shops changing six times a day, they can save nearly an hour, and the savings are easily documented.
"Quick-change tooling allows for working on more than one part by having the ability to change between part families," adds Downs. Technologies such as chuck switching systems and indexing chucks with clamping piston assemblies also allow users to move from one product to another much faster. As added benefits, they reduce floor space and the need for multiple machines, freeing up space for other operations.
Smarter Tooling
Collecting data directly from the tooling provides a better measurement of the tool's utilization, which is valuable information to calculate tool life. Better analysis of tool life increases time between maintenance cycles, so lines can run longer to maximize productivity.
"A lot of manufacturers measure cycles of operation whether the tool is cutting or not," says Rizzie. "Tooling data measures when the tool is cutting to calculate true utilization, which is a much more precise way to determine the life of a tool."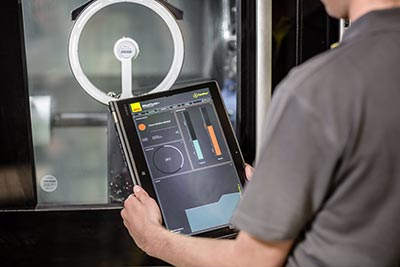 Sandvik Coromant Silent Tools™ Plus won first place in the IMTS 2018 innovation content. This anti-vibration tooling that delivers real-time sensory data to the equipment operator. This allows for better on-the-fly decision making because the device instantly detects chatter and displays vital job data such as vibration, backlash, surface quality, temperature, etc., over Bluetooth through a user-friendly dashboard.
He also notes measuring productivity is an essential first step in boosting machine utilization rate, which is below 50 percent in the average shop. Coupled with the ongoing labor shortage, Rizzie believes that manufacturers must use technology to maximize productivity per operator.
"The insights from connected tooling can put time back on the clock," says Rizzie. "Collecting and analyzing that data gives a system or operator the input needed to make efficiency decisions quicker."
For example, vibration influence a machine's speed, feed, depth of cut and surface quality. Vibration-dampening tool holders for turning, milling, boring and drilling now feature sensors and communication capabilities.
"Operators can access performance data using an app to obtain an indication of the expected surface finish. They can make real-time adjustments to the cutting conditions to yield closer tolerances, better surface quality and higher metal removal rate, which reduces cost per component," says Rizzie. "Coupled with anti-vibration technology, these tool holders enable reach lengths up to 18X bar diameter. That immediately expands a job shop's capabilities."
Smart tooling also includes software featuring an API (application programming interface) connected directly to a user's CAM system. The API automatically provides speed and feed data, eliminating a common source of errors. By adding software that connects to a tool library, the CAM can access all of the dimensional information around the tools used in a shop.
"All these new software solutions work with drag-and-drop simplicity, adding another time-saving benefit to the digital environment," says Rizzie.
"The industry is striving toward a point where digital tooling and workholding function in harmony with connected systems," observes AMT's Eelman. "That said, the hardware on display in the Tooling & Workholding Systems Pavilion remains impressive. Visitors can find innovations that improve results on literally every aisle."
News