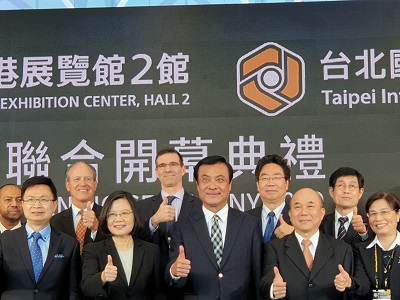 (left to right) Mr. James C. F. Huang, Chairman, Taiwan External Trade Development Council (TAITRA), Dr. Ing-Wen Tsai, President, Republic of China (Taiwan), Mr. Jia-Chyuan Su, President, Legislative Yuan, Republic of China (Taiwan), Mr. Alex Ko, Chairman, Taiwan Association of Machinery Industry (TAMI)
The 27th edition of the globally established Taipei Int'l Machine Tool Show (TIMTOS) now opens its doors making it a momentous celebration, as it launches Taiwan's first Gold-Standard Green Exhibition Hall and TaiNEX 2, the biggest exhibition venue in the country, including a new chapter for Taiwan's MICE industry.
Co-hosted by TAITRA and the Taiwan Machinery Industry Association (TAMI), the 2019 TIMTOS runs from March 4-9, at Taipei Nangang Exhibition Center Hall 1&2, and TWTC Hall 1&3. The six-day show gathers 1,230 exhibitors, bringing to life 7,000 booths, the greatest number of booths ever used in Taiwan, and welcoming 7,500 international buyers and 52,700 Taiwanese industry visitors.
TIMTOS this year features exhibitors from 26 countries, which includes industry giants: DMG MORI, MAZAK, FANUC, SIEMENS, SODICK, and HEIDENHAIN. Local exhibitors include Fair Friend Group, Chain Headway, Soco Machinery, Tongtai, Kao Fong Machinery, Po Ly GIM, Goodway, Shinwu, Chevalier, PMI-Group, and Deta. In addition to a number of exhibitors from Switzerland and Germany, companies from USA, Denmark and Turkey are featured in the national pavilions for the first time. This leads to the fact that TIMTOS has become a major show for global manufacturers to demonstrate their advanced machines and technologies.
Mr. James C. F. Huang, Chairman, Taiwan External Trade Development Council (TAITRA), said, "This year's trade fair is extra special with the brand new hall in which the facilities provide TIMTOS as one of the world's top-3 machine tool show, held right here in Taiwan, a small nation no bigger than the size of Switzerland."
It is THE must-attend event for all decision makers in the machine tools industry. This year's exhibition guides you to the largest in TIMTOS' history and the third largest of its kind in the world. It is expected to once again be the industry platform for exchange of information and expertise following the theme, "Industry 4.0 & Smart Manufacturing."
From March 4 to 9, 2019, visitors can inform themselves of the new AR Experience Zone, which uses Augmented Reality (AR) to demonstrate the structures of metal-forming machines. Taiwanese metal-forming machinery companies apply robotic arms, automatic die change systems, sensors, and AR applications and together with production management systems and remote management, to build smart production lines of sheet metal and aluminium alloy casting. For example, YCM's Smart Factory, Kao Fong's new 5-Axis Machine and Double-column Machine, and Honor Seiki's new generation machine tools specifically designed for making aircrafts.
Comprehensive exhibition and forums program
TAITRA presents a thrilling exhibition program, an extensive summit and networking opportunities with the Who's Who of the entire machine tool ecosystem. Since the beginning, TIMTOS help you set your focus and give guidance for your business and strategy.
The TIMTOS Summit at TICC assembles top executives from international and local firms including ABB, Optomec, Dassault Système, Airbus, DMG, Siemens and Bosch Rexroth. These companies will focus on Machine Intelligence and AIoT, Additive Manufacturing, Innovation in Aerospace Manufacturing, Automotive Manufacturing Revolution to explore advanced application techniques and industrial trends.
In parallel, the show features multiple events including the 14th Ceremony of Taiwan Machine Tool Industry Awards for Excellence in Research & Innovation, TIMTOS 2019 One-on-One Procurement Meetings, Market Briefing of Machinery Industry in Malaysia & Signing Ceremony for the Memorandum of Understanding between TAITRA and PENFEIA (Penang Foundry & Engineering Industries Association), Taiwan-Japan Machinery Enterprise Economic and Trade Exchange Meeting, and the 'Germany Company Talk @ TIMTOS. There will also be 40 seminars on new technologies and new product launches.
Industry 4.0, Smart Manufacturing, and AI are the focus of this year's show. From R&D to integrated supply chains, from specialized units to total solutions, TIMTOS can help you find the tools and services you need to optimize your operation.
Machines are the foundation of all industries, according to Mr. Huang, "Today, we would like to show you how Taiwan can help you turn your ideas into action, transform your vision into reality, and build the future you've always dreamed about," he stated.
Mr. Huang pays tribute to all the makers and builders of all the tools and the machinery during his speech. "All the cogs and the wheels that keep our world turning. To all our exhibitors, partners and friends, we salute you. You shape our world," he acknowledges.
Mr. Alex Ko, Chairman, Taiwan Association of Machinery Industry (TAMI), remarked, "TIMTOS serves more than as a stage for global manufacturers to show their products, it is also a place for recruiting the best talents. This year students take great initiative to learn from the show, with more than 5,200 students coming from 130 classes of 50 schools, more than that of the previous year. "
Mr. Ko expressed its appreciation of the Ministry of Education and related sectors, through which they are able to run the event smoothly, while realizing the practical learning of post-secondary and higher education. He also added the participation of ITRI and PMC (Precision Machinery Research Development Center) in the show, together with new faces including Chung Cheng University, Formosa University, and the Global Research & Industry Alliance of the Department of Engineering and Technology of Ministry of Science and Technology; and expects even more professionals to join the show in the future.
During the opening ceremony, TAITRA and TAMI thanked the long term support and assistance of President Tsai, Minister Su of the Legislative Yuan, and Minister Shen of Economic Affairs for the machine tool industry. With hopes that the government will protect the export of Taiwan machines, and the Central Bank to activate the defensive depreciation mechanism to avoid the impact that Taiwan dollar exchange rate has on machine export, as a response to the ever changing global economy.
Smart machines and manufacturing
In August, TAMI published an industry white paper about smart machinery with plan to continue on the direction of smart machine and smart manufacturing, and become the world's capital for producing smart machines.
TAMI revealed that it will facilitate and support smart machines to connect to the cloud and build a team to help construct a cloud service platform specifically for machines and to demonstrate and promote this platform to the equipment manufacturers. This will add values to the machinery industry and help the industry to reach NT$2 trillion production values by 2025.
Taiwan Machinery industry continues to grow with an industry production value exceeding NT$1.1 trillion. The export value of machinery industry reached US$27.4 billion in 2018, a 7.2% increase from 2017, while the production value increased byNT$80 billion and reached NT$1.18 trillion, representing a 7.3% growth and creating new history records. The export value of machinery tools were US$3.66 billion, increased by 9.5% compared to last year.
Taiwan is a nation of smart manufacturing. TIMTOS' mission is to connect with all attendees, to grow with them, and to thrive with them. The country is not big in size, but we're big in mind. TIMTOS is the perfect example: a celebration of engineering and human ingenuity on a small island nation taking on big global challenges.
In closing, Mr. Huang emphasized, "Taiwan is not big in size, but we fostered many industries that can rival the world's best of the best. Taiwan's machine tool industry has long been competing head-to-head with the world's top machine tool makers who're also global industrial giants. How's this possible, you may ask, when Taiwan possesses nowhere as much natural resources as Germany, Italy or Japan? It's true, our resources are limited, but we can still be resourceful. The fact that we are all gathered here in this new hall for TIMTOS 2019 speaks volumes about human ingenuity in the face of challenge."
The show opens daily from 10:00 to 18:00. Free admission with business cards is available for professional visitors. Tickets can be purchased for the general public at NT$200 per ticket. Booths are open till 16:00. Local students from industry-relevant fields are required to present a student ID for free admission. The show will not admit children under 12 years old.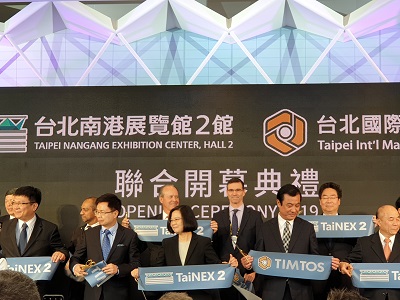 During the ribbon cutting
Zoom Kobe Venomenon V 5