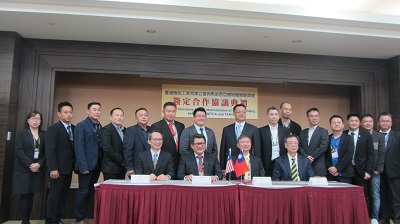 Group photo to TAMI, PENFEIA and member companies after the signing of the contract
Penang Foundry & Engineering Industries Association (PENFEIA), a non-profit trade organization which is a representative body for the foundry and engineering trade industries in the northern region of Malaysia, and Taiwan Association of Machinery Industry (TAMI), have entered into memorandum of agreement (MoU) on March 5, 2019 during the TIMTOS exhibition.
The MoU aligns both parties in developing and incorporating technology capital development programs and promoting future business in line with Industry 4.0. It encourages both associations to foster business relationships among member companies and to develop a mutually beneficial framework for exchange of industry reports, delegations, and business visits.
Established in 1979 and a member of Federation of Malaysian Foundry & Engineering Industries Associations (FOMFEIA), PENFEIA currently consists of 50 companies, who are mainly SMIs, involved in engineering and manufacturing industries. The association promotes the interests of the business community in Penang regarding trade and industrial relations.
PENFEIA President Richard B. C. Teh urges industry players to embrace the future of manufacturing, driven by digital revolution and the Internet of Things, in line with the global modernisation.
Working with PENFEIA is anticipated to compliment TAMI's mission to provide leading technologies to valued customers. Now with PENFEIA's support, TAMI President C.C. Wang believes the agreement will be beneficial as they reach customers in Malaysia.
Taiwan industries has shown that it is one of the fore runners of Industry 4.0. Therefore this creates a very big opportunity between Malaysia and Taiwan to be working hand in hand together moving towards Industry 4.0.
Adidas