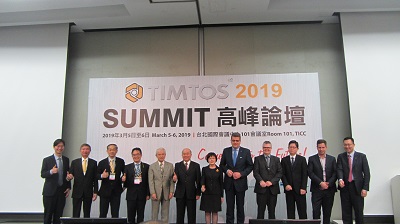 TIMTOS2019 Summit Day1 speakers and executives from TAITRA and TAMI
TIMTOS is committed to fostering innovation in the industrial equipment manufacturing industry through its three day Summit Forums. Here, TIMTOS aims to provide high-quality forums that create an environment conducive to interaction among technology providers and engineers creating products.
As the drumbeat for digitization grows louder, industrial manufacturers must develop new strategies for technology investments. At the Summit, attendees from different nations are invited to look, think, and talk about the latest trends, products and solutions. Every keynote and panel discussions will talk about how to obtain improved efficiency and production transparency from connected technologies and digitization.
Inspiring and noteworthy keynotes from various experts will focus on: Machine Intelligence and AIoT, Additive Manufacturing, Innovation in Aerospace Manufacturing, and the Revolution in Automotive Manufacturing.
Leonor F. M. Lin, Executive Vice President of TAITRA, comments, "This Summit is the result of our successful start in 2017, in which it was very well received. As trends reshape businesses, new technologies are emerging. The next-generation of industrial technologies encompass IoT, cloud computing, artificial intelligence, 3D printing, robotics, and advanced materials, and we are honored to have such an international speaker lineup that will help drive the future and inspire possibilities."
Speakers included: Bernhard Meyer, SAP Global Solution Manager, Industry Business Unit, Industrial Machinery & Components (IM&C), Arthur Liu, Vice President, ITTS, Wen-Yuh Jywe, President of National Formosa University, Jay Lee, Professor at the Univ. of Cincinnati, K.C. Chuang, Honorary Chairman of TAMI, Dr. Neun Harald, COO, DMG MORI, Pascal Pierra, General Manager, Asia Pacific, Optomec, Oscar Yang, Sales Director of Great China, Road Ahead Technologies Consultant, Catherine Lu, TV Journalist, Business Nexr Media Corp., Peter Topol, Senior Product Manager, Heidenhain, Tino Hildebrand, Vice President, Siemens Ltd., Taiwan, Rémi GERMAIN, Aerospace & Defense Industry Sales Director, Dassault Systèmes, Cyrille SCHWOB, Head of Technology, Asia-Pacific, Airbus, HT Choong, Regional Manager- Service Sales (SAS&Taiwan), ABB, Charlie Chen, Division Sales Manager of Industrial & Mobile Application, Bosch Rexroth Taiwan, and Fan-Tien Cheng, Director, Intelligent Manufacturing Research Center (IMRC), National Cheng Kung University.
"TIMTOS is now the third largest machinery exhibition in the world. Thanks to President Ing-Wen Tsai for listening to my suggestion on building TaiNex 2," says Alex Ko, Chairman of TAMI.
He adds, "We need more space for exhibition if we want to be on the top. How else can we attract more buyers in this never ending changes in the industry? But to build a bigger space for us to present our products and interest people to come and see our technologies."
To date, Alex is happy to announce that buyers grew when compared to last year. "Several companies have revised their order volumes. I must admit that the dispute between China and the U. S. affected our order volumes but yesterday several companies have now revised their order volumes, which brings us on a positive note," explains Alex.
Air Jordan IX Low