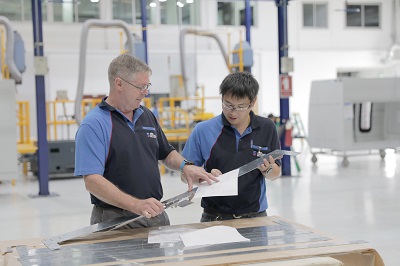 Established in 2000, ANCA Sheet Metal Solutions (ASM) has been servicing the metal fabrication industry with high quality service and capabilities for almost 20 years. Understanding the power of a strong reputation, ASM have recently rebranded with a new dynamic look that has been designed to help them stand out from the crowd and better showcase their advanced capabilities.
Visit ANCA at Stand AG37 / AG39 to learn more about our products and services at Subcon 2019.
Backed by a new, state-of-the-art manufacturing facility, modern website and dynamic brand - ASM have all the tools in their tool box to delight their customers. Previously known as Tinfish, this new name and logo marks an important milestone for the business as increased manufacturing capacity will enable significant growth into the future.
ASM are an Australian owned business and offer a comprehensive set of services that integrate cutting-edge sheet metal fabrication equipment with a workforce of qualified manufacturing engineers, technicians and welders. The skilled team are practiced in transforming a concept into a well-priced, high quality product.
Frank Holzer, ANCA Sheet Metal Solutions General Manager said: "The business has grown significantly over the last couple of years as we gained customers in the automotive, food processing, construction and aerospace industries. We have invested in new equipment and refurbished the building to meet this growing market demand."
"We have taken a dynamic approach, using vibrant colours and punchy angles, to ensure we stand out immediately in the sheet metal and fabrication industry. Having a strong brand is one of the most effective business tools you can have, and I am confident that with our new identity we will see great success. We pride ourselves on our service, quality and global network servicing customers across the world."
The new facilities boast:
Laser cutting
Waterjet cutting
Folding and forming equipment
Welding and painting
Assembly and testing
A lean manufacturing approach
All ASM manufacturing facilities have been ISO 9001:2008 certified since 2015.
Quality assurance testing and measurement is practiced to ensure every product meets the agreed specifications. This is supported by well-established lean manufacturing practices.
ANCA Sheet Metal Solutions is part of the ANCA Group of companies together with ANCA CNC Machines and ANCA Motion. The ANCA Group brings over four decades of innovation to the design and manufacture of machine tools, motion control systems and metal fabrication.