Innovations in blow moulding processes are setting new trends in a market that has become more cost conscious and demands production efficiency.
RIKUTEC Group, a leading blow moulding technology specialist, demonstrated its high-precision, multilayer blow moulding machines for the global market during K 2019. RIKUTEC pursues a holistic approach with regard to products and services, utilising its vast technology expertise and decades of manufacturing know-how, according to Stefan Eichelhardt, Director of RIKUTEC's Engineering Business Unit. The company covers the entire value chain, from the production of raw materials, machinery and plant engineering to product design and series production of large-volume plastic containers.
At the world's biggest plastics exhibition, RIKUTEC highlighted the industrial packaging industry's first all-plastic Twin Drum which meets the highly stringent demands of the Packaging Group 1 regulations as specified by the ADR European agency for safe storage and transport of highly aggressive chemicals. The blow moulded "tank in a tank," which offers by design secondary containment, also meets UN-sanctioned approvals in Europe and U.S. Department of Transportation regulations. The 200-litre Twin Drum effectively stores and transports highly aggressive chemicals in an ultra-clean environment for a range of industrial markets including the pharmaceutical and semiconductor industries. RIKUTEC's patented multilayer coextrusion blow moulding technology manufactures products from 100 to 10,000-L in one shot.
Tackling plastic waste issue
RIKUTEC also discussed its latest effort to tackle the plastic waste issue with the development of highly sustainable materials. Depending on the application and customer requirements, RIKUTEC can use up to 100% HDPE recyclate for the production of blow moulded products. When recycled incoming goods are used and are to be included in production, the raw material consists of 100% post-consumer waste. RIKUTEC produces material not only for its own use but also supplies the market with HDPE pellets for pipe and sheet extrusion; blow moulded drums, containers, and tanks; and for injection molded articles.
"The circular economy is and will remain the topic of the future," said Bodo Richter, CEO and Owner of the RIKUTEC Group. "Many external factors are currently affecting the plastics industry - we, as manufacturers of machines and HDPE products manufactured by blow moulding, are trying to help shape the sustainable change in the plastics industry." Not only is generally recycled plastic used in production, but customers' rejects are also returned to the product cycle as high-quality regranulate, with properties that are comparable to virgin plastics in terms of stability.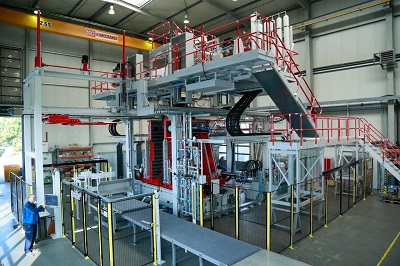 RIKUTEC Group's high-precision, multilayer blow moulding machines
RIKUTEC manufactures industrial packaging such as intermediate bulk containers (IBC) for storage of high-purity and sensitive liquids. It also produces large-volume container series for the environmental sector, such as containers for rainwater utilisation or liquid energy sources. RIKUTEC's custom moulding operation includes containers and tanks that meet special customer requirements.
RIKUTEC was founded in 1986 by German engineer Günter Richter. During the last 30 years, the RIKUTEC Group has evolved from several closely linked business units into a globally known, cutting-edge company. It is a leading innovator in machine and blow moulding technology as well as a sustainable partner in the production of industrial packaging, storage tanks, and technical blow moulding components.
Small PET containers production
In the same exhibition, Jomar Corp., a leading global manufacturer of injection blow moulding (IBM) machinery for the pharmaceutical, healthcare, and household products industries launched its TechnoDrive 65 PET machine. TechnoDrive 65 PET is an IBM machine specifically designed to run PET resins but can easily switch back to more typical materials for injection blow moulding such as polypropylene (PP) and polyethylene (PE).
The TechnoDrive 65 PET machine evolved from Jomar's TechnoDrive 65, a high-speed IBM production machine first unveiled in 2017. It has a dry cycle time of only 1.7 sec, making it one of the fastest injection blow moulding machines in the industry. At K 2019, the TechnoDrive 65 PET machine was demonstrated running 50ml perfume bottles in clear PET on a six-cavity mould.
Using the original TechnoDrive platform as the base, Jomar engineers expanded its capabilities by adding a more robust plastifier motor, high-pressure valves, as well as other improvements such as built-in nozzle heaters to aid in the processing of PET. The result is a machine that is specifically built to process PET but can also revert to more common resins such as polyolefins by only changing the screw and making some minor adjustments.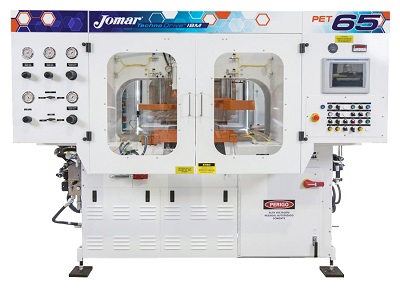 TechnoDrive 65 PET from Jomar Corporation is designed to run PET resins but can be switched back to other materials.
"The TechnoDrive 65 PET machine further demonstrates the versatility of the Jomar line," said Carlos Castro, Jomar President. "Jomar machines can handle engineering resins and a wide range of PET grades such as PETE or PETG. We're giving our customers the opportunity to bid for a variety of projects from cosmetic jars in PET to packers in HDPE with the same machine."
Some IBM machines require a fourth station to process PET. This "extra" station is used to condition the core rods and ensure they are the correct temperature before enveloping the rod in PET. The Jomar TechnoDrive 65 PET accomplishes this task in the ejection station, thereby merging the third and fourth stations. This gives Jomar the ability to manipulate the core rod temperature and create the optimal processing conditions within a super-fast cycle time.
The TechnoDrive 65 PET can mould a variety of shapes and sizes in PET. One of the limitations, however, is rooted in the nature of injection blow moulding. Unlike injection stretch blow machines, an IBM machine does not mechanically extend its core rods, which provides biaxial orientation and allows for extremely thin walls like those found in water or carbonated soft drink (CSD) bottles.
The average wall thickness for a TechnoDrive 65 PET bottle in PET is about one millimetres, so it is more suitable to mould jars, vials, and bottles for the pharmaceutical or cosmetic industries rather than the beverage industry.
All PET projects for the TechnoDrive 65 PET would be accepted as a turnkey project where Jomar would build both the machine and mould. This allows Jomar to tailor the equipment to provide the widest processing window and ensure the project's overall success.
Nike Air Max 95