Dow featured its comprehensive suite of products and capabilities at the K 2019, with focus on the Group's efforts to contribute to the global plastics industry's move to achieve a circular economy in plastics production. In particular, a strong goal is to help brand owners and converters meet the recyclability targets in packaging. Jointly developed with more than 20 global companies, 30 packaging prototypes enabled by Dow's Pack Studios were put on display during the exhibition. These prototypes represent different food, home and personal care packaging applications using Dow's technology in resins, coatings and adhesives on the most common extrusion and packaging machinery.
As Bambang Candra, Commercial Vice President for Asia Pacific with Dow Packaging and Specialty Plastic, explains: "Dow's efforts are addressing the various concerns on sustainability and plastic waste management. The end game for us is to achieve a circular economy. We can see now that the plastics industry is in transition as the issue of plastic waste is creating a lot of pressure on the industry. So for Dow, our initiatives are geared toward meeting the sustainability challenge." Mr. Candra cited an initiative where Dow is one of the founding member of the Alliance to End Plastic Waste, which committed to help end plastic waste in the environment by tapping solutions for used plastics, including reuse, recovery and recycling plastic to keep it out of the environment.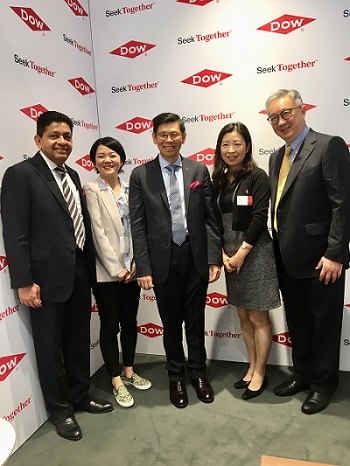 The Dow team at K 2019
"Plastic is too valuable to be wasted and at Dow, we address the environmental concerns by developing new end markets for plastics, designing new product innovations that enable recycling and incorporating post-consumer recycled plastics into multiple applications to effectively manage and recycle plastic waste," Mr. Candra explained. Dow also works with Circulate Capital, an investment management firm founded to finance innovation, companies and infrastructure that prevent the flow of plastic waste into the world's oceans while advancing a circular economy.
Mr. Candra enumerated some of the projects undertaken by Dow which were highlighted at the Dow booth at K 2019, one of them being project MASARO in Indonesia. Indonesia generates the world's second most plastic waste that ends up in the environment. MASARO, which is an Indonesian acronym meaning "zero waste," is an innovative system that combines multiple technologies to create a closed-loop, circular economy. MASARO's pilot program in Babakan, Indonesia, combines educational outreach along with waste management infrastructure to create a circular system. "Together, we are turning waste into valuable end-products like fertilizer, fuel and energy to be used by the community," Mr. Candra explained.
Designing tomorrow's sustainable packaging
In the area of plastic packaging, Dow's presence at K 2019 put emphasis on designing packaging for recyclability to help address the recycling targets of various governments, and the industry's sustainability commitments as well. Dow's offering comprises of concepts for multilayered but mono-material all-PE structures, more complex packaging with customized barrier for food protection, as well as conversion process redesign – including the use of compatibilizers to help enhance the mechanical recyclability of multilayer packaging and a spout insertion technology. PE-based solutions have been developed for pouches and thermoformed packaging.
By partnering with other well-known industry innovators in the areas of conversion machinery – from blown-film, adhesive and lamination, to oriented films technology, Dow has been able to launch innovative TF-BOPE (tenter frame biaxially oriented polyethylene) solutions that deliver performance and production efficiency to existing multi-material packaging structures. As EJ Liu, Asia Pacific Marketing Manager for Food & Specialty Packaging, explained, "On the packaging side, we are thinking more of what the consumers prefer and in doing so, Dow continues to add value into packaging by incorporating consumer's demanding requirements." Ms. Liu cited as examples the use of high performance resins like TF-BOPE, INNATE™, ATTANE™ and ELITE™, efficient AFFINITY™ sealants, high gloss and thermal resistant OPULUX™ optical finishes as well as RETAIN™ barrier compatibilizers for PE-based solutions. These enabled the design of the packaging to attain such properties as stiffness and dimensional stability, good optics, excellent toughness, heat resistance and a broad sealing window for packaging efficiency.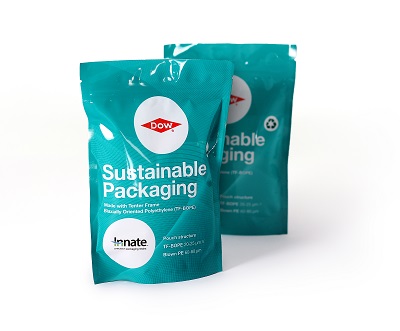 According to Vipul Babu, Sales director for India Subcontinent, Packaging & Specialty Plastics Business, "Creating value starts from the design stage - we design packaging that is recyclable and with value for waste collection. In India, Dow has initiated a project to collect plastics by using a digital platform which has the participation of consumers, institutes and shops. While there is no one solution for plastic waste management, the digital platform encourages effective collection, and can help stop the leakage in the process," according to Mr. Babu.
The Dow team also discussed the obstacles to the implementation of a circular economy. Lawrence Cheung, Sales director for South China, Packaging and Specialty Plastics, mentioned several hindrances. "One obstacle is the commitment of the government as policy-makers need to come up with legislation to implement effective waste management. Another obstacle is that the consumers, resin suppliers and the whole value chain have to share the cost as recycling resins is at cost. Dow has the technology to turn recycled resins into useful-end products," according to Mr. Cheung.
The quest for developing sustainable packaging to meet the circular economy targets poses many opportunities, too. As EJ Liu explains, the future plans and developments in the packaging sector entails many challenges, "Innovations in the use of PE for recyclable bags as well as for other Dow material innovations are creating impact on the industry. We intend to explore more applications for Dow products in Asia and spread it out to other regions. In doing so, we work a lot with our partners, such as machineries producers and brand owners."
Scan to find out more about TF-BOPE

Mercurial Superfly low