Recent technological breakthroughs in injection moulding have provided upgraded performance and flexibility. The injection moulding systems offered today have gone beyond tradition as they take into consideration the requirements for higher productivity, energy efficiency and sustainability.
Several interesting booths at the K 2019 exhibition featured injection moulding systems that meet current demands. Chen Hsong presented its injection moulding range geared for high performance and precision. Arburg demonstrated how a compact machine can be configured online. ENGEL skinmelt enables customers to achieve high recycled content levels, even when working with complex component geometries.
Remarkable precision from all-electric models
Chen Hsong showed off a number of new offerings that immediately caught international attention at K 2019. Visitors to the Chen Hsong booth witnessed the newest "SPARK"-series of high-performance all-electric injection moulding machines. The 100-tonne SPARK all-electric machine on display demonstrated the production of difficult food-grade LDPE closures round-the-clock, showcasing remarkable precision and 100% quality yields.
The SPARK series also boasts a number of break-through technologies that neatly bridge usability, performance and application flexibility — the so-called "4A" refers to: Agile Boost Control for 10x faster dynamic responses; ALL-Adapt technology for wide application window Auto Stress Release System for drastic reduction of internal part stress; and AxP (Algorithmic Cross-Protection) technology for the ultimate in mould and machine protection.

Supermaster Two Platen Servo Drive model from Chen Hsong
As a spearhead for Chen Hsong's main theme at K-show: CLEAN, CLEAR, CARBON-NEUTRAL, the SPARK all-electric represents a unique solution that utilises advanced technology in order to secure a brighter, and greener, more sustainable, future for the planet.
In addition to the SPARK, Chen Hsong also displayed a high-performance MK6 with a second 2K unit producing a product with sandwiched recycled materials, as well as a second-generation advanced two-platen machine making clear, large, thin-walled containers.
As H.L.A. Corbey, General Manager at Chen Hsong Europe, puts it: "Chen Hsong has been strengthening our injection moulding systems as we gear to get our name into the European market. We can offer production cells where we use recycled materials and we have solutions where we can have recycled materials inside good or virgin materials."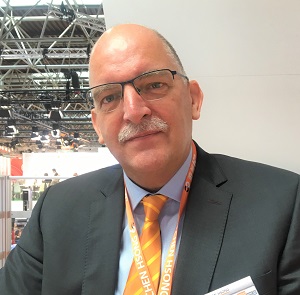 Mr. H.L.A. Corbey, General Manager, Chen Hsong Europe
The Supermaster Two Platen Servo Drive injection moulding machine series is a revolutionary two-platen design. Designed by a team led by leading European and Japanese industry experts, it represents a unique combination of no compromise performance and characteristics. Numerous innovations protected by international patents give this machine a very good price-performance value. The SuperMaster Two Platen machine is available in 700-6500T configuration. The X-Mold controller of Beckhoff offers an integrated solution for the automation of the Chen Hsong injection moulding machines as high-speed applications and complete production cells can be implemented with XMold. The integrated eXtreme Fast Congrol technology enables the sampling of rapidly changing input, signals, allowing the injection process to be controlled with high precision. The machine has a fast mould-eight adjustment and interlock mechanism, a patented clamping and interlock system that ensures accurate, reliable and fast operation. Its T-slot and ejector pattern is according to Euromap standards. The machine features an Inovance servo drive system for high performance, precision, low noise and easy maintenance. For machines using this servo drive, energy can be saved by as much as 80%.
According to Mr. Corbey, Chen Hsong can compete head on with European brands, "We have a different price range but more important, we can provide what European competitors can offer and we win in certain areas because we are flexible, we can do turnkey models and we have offices in various strategic locations. The machines are produced in China but we test in Europe before sending off to customers." Chen Hsong injection moulding machines are ideal for applications in automotive, consumer products, and packaging.
Machine that can be configured online
The 'arburgXworld' customer portal offers Arburg customers enormous added value and adds new possibilities of contacting Arburg. "Starting at K 2019, the portal includes an attractive offer of configuring the new Allrounder 270 S compact online via an app and then quickly having the right machine delivered at fixed conditions," explains Gerhard Böhm, Managing Director Sales at Arburg.
The hydraulic Allrounder 270 S compact not only expands Arburg's machine portfolio, but also adds a direct online sales channel. In order to join the digital Arburg world, customers must initially register free of charge at www.arburgXworld.com and then activate the "Configuration" app in the customer portal. With the aid of this tool, standardised machines can be individually configured by adding defined options and then ordered at fixed conditions – simple, safe and menu-driven.
The Allrounder 270 S compact combines efficient technology in a small footprint with attractive delivery times and prices. Compared to standard hydraulic machines, purchasing an Allrounder 270 S compact means around 25% lower investment costs and around 20% smaller footprint. The control cabinet is integrated in the machine base. The machine is particularly suitable for customers with limited production space or those planning to replace small machines. The technical equipment includes the energy-saving Arburg servo hydraulic system (ASH) with a water-cooled and speed-regulated servo motor. The machine operates quietly, without creating air turbulence and with little waste heat. The highly wear-resistant design of the cylinder module comes as standard. The Selogica control system with its wide range of functions ensures reliable quality even with fast cycles. The hole patterns in the mounting platens take into account all standard requirements in this size class – optionally for Europe or the USA. This makes the machine compatible with existing moulds.
Sandwiches with even more recycled content
Sandwich-moulded components with a core of processed plastics scrap are playing an important role in advancing the circular economy. ENGEL skinmelt makes it possible to achieve high recycled content levels, even when working with complex component geometries.
Transport boxes produced using the new ENGEL skinmelt process was demonstrated by the company. "The transport boxes are particularly challenging for sandwich injection moulding due to their geometry," explains Dr. Georg Steinbichler, senior vice president of research and development for technologies at ENGEL AUSTRIA. "But we are still able to reach a high level of recycled content: over 50%." Both the recycled and virgin material are polypropylene, ensuring that the sandwich-moulded products can also be easily recycled at the end of their service life.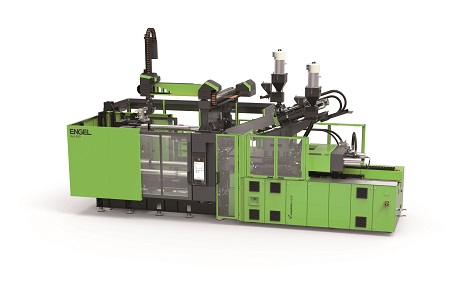 ENGEL skinmelt makes it possible to achieve high recycled content levels.
Unlike classic coinjection, the skinmelt process involves fusing the two melts prior to injection. The skin – the virgin material – is first to reach the cavity. It is pushed forward by the inflowing recycled PP and pressed against the cavity walls, while the core is filled with recycled material. The amount of recycled material possible to accumulate in the core depends crucially on the geometry of the moulded part and the flow pattern in the cavity. The injection position chosen and the relative viscosity of the skin and core materials have a significant influence on this outcome.
Excellent reproducibility in the moulding process is necessary to also ensure dimensional reliability and stability in products with a high level of recycled content. For this purpose, ENGEL has engineered an especially compact production solution based on a duo dual-platen injection moulding machine. On the duo 3660H/1560W/450 combi exhibited at K, the second plasticising unit for the skin material is located at a sharp angle above the horizontal injection unit inside which the recycled material is melted – a highly space-saving design.
Lebron James Shoes