By Alyssa Bueno
Carbon fibre production has been at the forefront of cutting-edge technology in various industries all over the world. Due to the nature of this polymer being an incredibly tenacious and compact yet very lightweight at the same time, a lot of previous inventions were given an upgrade, and new ideas are being formed. This can be seen in various industries such as the military with protective vests and helmets meeting their target function; automotive where parts are increasingly benefitting from the latest innovations; and in the production of other consumer products to set new trends in terms of durability and functionalities.
As Corporate Social Responsibility (CSR) is a key objective for most producers who are concerned about the future welfare of the earth, research and development efforts are now being directed at finding ways to remove solid, light carbon fibre from landfills and getting it ready for recycling and functional reuse. But recycling carbon fibre has some obstacles due to the complexity of manufacturing big structures, and the cost of carbon fibre itself.
Tackling the critical issues
Magma and ELG Carbon Fibre Ltd have collaborated to tackle the two critical issues on recycling carbon fibre. Magma Structures is a global leader in carbon composite technology and is engage in the design and manufacture of large composite structures. Flexible development and manufacturing processes meet the complex design challenges of clients in the transport, defense and oil and gas sectors. Magma's team has extensive experience in the construction of large composite structures. It includes the design and manufacture of carbon fibre masts and rigs for the world's three largest private yachts, using over 100 metres (330 feet) tall composite structures.
ELG Carbon Fibre Ltd operates the world's first and largest carbon fibre recovery plant in Coseley, United Kingdom, providing high quality large volume recycled carbon fibre to meet the needs of major industrial clients and projects around the globe. ELG can process dry, prepreg and laminate carbon fibre in a unique shredding, pyrolysis and chopping process at its UK facility, which is considered the world's largest carbon fibre recycling plant. For classification and quality control purposes, the mechanical properties of the recycled carbon fibre are measured using single filament testing. The revolutionary process of the company means that its recycled carbon fibre can be processed and moulded in the same way as virgin carbon fibre and, most importantly, reduces the cost of raw materials by as much as 40%.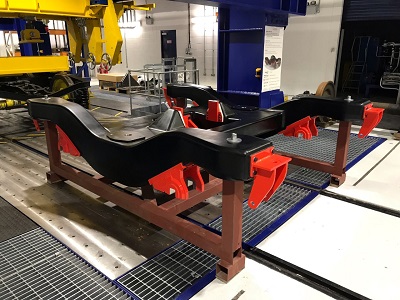 The world's first recycled carbon fibre rail bogie
A consortium of companies – composed of ELG, Magma Structures, the University of Birmingham, the University of Huddersfield and Alstom– is developing the world's first carbon fibre rail bogie (CAFIBO). The modern bogie, made entirely of surplus carbon fibre materials that have been recycled, is lighter than traditional bogies and optimises vertical and transverse rigidity.
The University of Huddersfield Institute of Railway Research (IRR) is a world leading centre in the field of railway engineering and risk. It helps to improve knowledge on how railway vehicles interact with the track, including suspension performance, wheel-rail contact, traction and braking.
As oil prices rise, most rail operators are striving to reduce fuel consumption on their diesel trains, as well as electric train costs where they are normally charged for their daily operations based on electric traction charges. Track failure also costs the repair and maintenance of rail operators millions per year. Charges will be assessed based on the amount of wear and damage caused by the trains and carriages of the operator.
Train weight affects both train fuel consumption and track damage, as well as the lateral forces incurred by carriages on steel rails as they pass through bends or track points. Because the bogie represents about 37% of the total carriage, it is vital to reduce the weight of this assembly. Progressively, the rail industry is seeking more cost-effective and lighter weight structures to provide versatility in the design of rail vehicles, shortened construction time and lower maintenance. The industry also needs to reduce many of the track damage costs, as well as the downtime and financial burden of regularly maintaining bogies and suspension units for train rail vehicles.
A carbon composite bogie is lighter than an identical steel or metal alloy frame, may have the mechanical properties of materials adapted to the needs and dimensions of individual rail vehicles, and may be designed to fit existing ancillary bogie components.
The CAFIBO's benefits include reduced cost of track wear and maintenance of infrastructure by reducing vertical and transverse rail loads; enhanced reliability and quality of operations through an integrated health monitoring programme; and reduced energy consumption.
The bogie will be checked on the Huddersfield Adhesion & Rolling touch rolling system, also known as HAROLD, at the University of Huddersfield. HAROLD incorporates a large 2 metre diameter rotating rail drum with the ability to test a full bogie assembly including a detailed depiction of the interaction conditions between the wheel and the rail.
Frazer Barnes, ELG Carbon Fibre's managing director stated, "Replacing steel with recycled carbon fibre to produce a rail bogie is a world first so it is a hugely exciting and rewarding project to be part of. We hope to make recycled carbon not only an attractive option for the rail industry in terms of weight reduction but also to eliminate waste and drive down cost."
Simon Iwnicki, Director of Huddersfield University's Institute of Railway Studies, stated: "There are significant potential benefits from adopting novel materials and construction methods in railway vehicle bogies. The reduction in mass results in energy savings but can also reduce track forces and improve dynamic performance. I hope that the tests on the CAFIBO bogie being carried out here at Huddersfield will help to encourage the railway industry to accept these new techniques."
Britannia board cradles with carbon fibre
In another strategic collaboration between ELG and INEOS Team UK for the 36th America's Cup campaign, more than 1.2 tonnes of British Challengers waste materials have been processed by the recycled carbon fibre converter and used these fibres to produce two ' Britannia ' race boat cradles. Moulds were also produced using the same technology for the hull regions of the test boats of the team. INEOS Team UK waste consisted of pre-impregnated and cured components from the current campaign subsequently reprocessed by ELG into thermoset and thermoplastic compounds and non-woven mats.
Britannia was officially launched at the headquarters of INEOS Team UK in Portsmouth last October 2019. The 75-feet foiling monohull is the first of its size and is a completely new race boat breed. To support the boat in transit, a structure of that proportion requires a strong and stable cradle. The non-woven carbon fibre mats of ELG were used to make the curved cradles on which the hull rests. Vacuum infusion has been chosen as the most economical way to produce such parts, while ELG materials can also be used in moulding processes for prepreg and liquid compression. Products from ELG were also included in the hull mould, which was again made using a process of vacuum infusion.
Recycled carbon fibre used to produce Britannia race boat cradles
Alan Boot, INEOS Team UK Naval Architect, remarks: "ELG's technology was ideal for the cradles application. Their recycled materials are easy to handle, perform well and fitted straight into our production processes. As an America's Cup Team we hope to lead the way showing other manufacturers you can avoid putting materials in landfill, close the loop and reuse the fibres with stunning results. This is a game changing approach to marine manufacturing that we are delighted to be part of."
Best Seller