India's largest flexible packaging solutions company, UfFlex Limited, is investing in recycling as well as new film manufacturing projects. The ambitious multi-million dollars expansion in the domestic market, as well as beyond India, would be functional by 2021. UFlex is building recycling sites inside the country as part of the incumbent government's 'Clean-India Initiative'.
The Noida-headquartered company is constructing plastics recycling sites in Bengaluru and Varanasi, while also setting-up recycling operations in its existing film production sites in Egypt, Mexico and Poland, and upcoming facilities in Moscow and Nigeria.
Mr. Jeevaraj Pillai, Jt. President - Packaging & New Product Development, UFlex Limited shared the company's upcoming recycling and film ventures with International Plastics News for Asia in the post-launch session of newly-built recycling operation at its mother plant in Noida near New Delhi.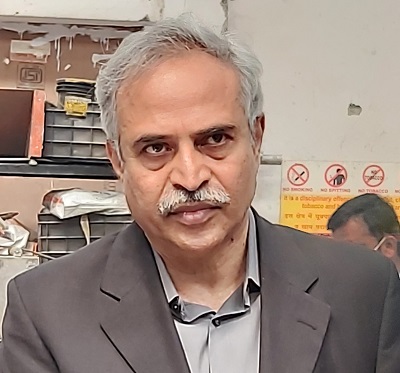 Mr. Jeevaraj Pillai, Jt. President - Packaging & New Product Development, UFlex Limited
What is the overall recycling scenario in the country?
Mr. Pillai: The information is very scattered and there is no available channel for collecting the information. In India, the total consumption of multi-layer plastics is in between 125,000 – 150,000 metric tonnes per month and hardly 5% is recycled, which is a tragic part of the whole story.
The problem of discarded plastics is escalating and alarming as India alone generates 26,000 tonnes of plastic waste every day. Therefore, we are visiting all kinds of forums, seminars and conferences to talk on the potential of recycling with emphasis on recycling and restrain from burning.
What is the objective of the new recycling plant set-up inside the UFlex Noida site?
Mr. Pillai: We have developed a technology for recycling multi-layer plastics in 1995, and since then we are also engaged in multi-layer plastic (MLP) recycling to make all over factories zero discharge plants. With the recently introduced Plastic Waste Management Rules, we realised that the country is not adequately equipped to recycle the post-consumer waste (PCW).
Since we have the technology to recycle multi-layer plastic (MLP) packaging, all we did was to extend this technology to recycle the post-consumer waste also. The recycle part was there then washing and sanitation plant was added. The plant thoroughly wash plastics coming from drain, soiled with dust. It has to be thoroughly washed as it has oil and different types of muck so this extension of technology for washing multi-layer plastics started a couple of months back is something which we have started very recently.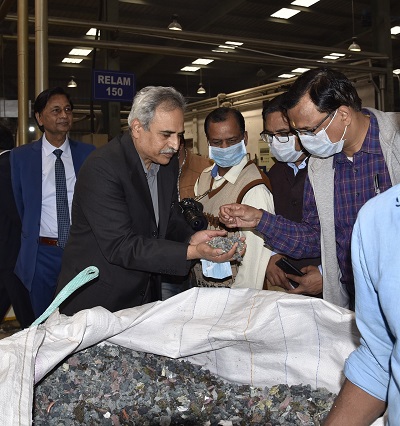 UFlex has initiated multi-layer plastic recycling in its various facilities.
What exactly is made out in terms of end-product?
Mr. Pillai: PET bottle line recycle discarded bottle collected by waste collection agencies in and around Delhi, to form chips, through process of crushing and washing and will finally get dried up before it reaches the extruder to form chips. Since the PET bottles are transparent and virgin in nature, chips derived as a result of the recycling process will further be upcycled to manufacture a range of PCR grade BOPET film from UFlex called Asclepius. The Asclepius film can be used and reused for multiple applications like packaging and label material, creating a circular economy.
The post-consumer plastic recyclate (PCPR) line washes and recycles post-consumer MLP waste and converts them into granules. The PCPR line will also pass the waste through the same process of crushing and washing before forming granules. The granules derived can be used to form more than 10,000 industrial and household products like flower pots, outdoor furniture, bucket, dustbins, paver tiles, road dividers etc.
We are also making products for industrial usage, for example, in the manufacture of core plug. All our rolls are worn on core and the core has to be plugged on both ends in order to prevent rolls from pricking. Core plugs strengthen the core and are being used by Uflex Group subsidiaries in huge quantity.
What is the total investment involved in the recently installed recycling plant?
Mr. Pillai: The total investment is about INR 500 million in the recycling site, which includes polyester bottle recycling, MLP washing and recycling, and the complete infrastructure.
How many lines are installed at the recycling unit?
Mr. Pillai: We have installed four lines for multi-layer plastics and two lines for polyester bottles. The plant has capacity to recycle 24,000 tonnes annually.
Is the plant machinery imported or sourced locally?
Mr. Pillai: There is no plant which can recycle multi-layer plastics actually, so what we have to do is to develop our own technology. Therefore, it is a mix of foreign and indigenous equipment as certain components has to be sourced from Germany, conveyors and low technology parts imported from China, while electronics and software were developed in-house. This is more a process technology and not an individual product technology. Therefore, this is a process developed with in-house know-how.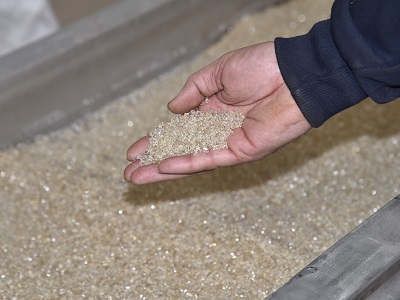 Recycled granules can produce a wide range of industrial and household products.
What is new about the technology?
Mr. Pillai: Generally, plastic is segregated and burned, whereas, we are the first company that goes for recycling of PCR plastics, which is something unique and along with that washing element is added, which is also very new technology in India.
Secondly, in the polyester bottle washing system, a lot of technology is being used in order to improve yield of the bottle as many things are extricated like caps, sleeves from different coloured bottles, granules are made out of polyester bottles and is being used in the making of film. Only few companies are making films out of post recycled bottles.
UFlex has been doing this for quite some time in the US site and introducing this year in India also. Now the polyester film made by us will have a lot of content recovered from the post recycled granules.
Please shed some light on the proposed recycling pilot project in Bengaluru (Capital of South Indian state of Karnataka). When would it be operational, what is the capacity and investment into the project?
Mr. Pillai: Last December, stone laying ceremony was conducted at Central Institute of Plastics Engineering & Technology (CIPET) Bengaluru campus, where UFlex is putting up Municipal Solid Waste (MSW) sorting and recycling plant for household waste.
The pilot-project involves an investment of INR 200 million, and will have a capacity of 200 metric tonnes, with target operation by October this year. The project, coming up at the CIPET complex, will give a suitable message to the industry and the world that there is a technology, which can recycle. We safely assume people would accept and put more such plants in the country.
UFlex is also involved in building recycling plant in Varanasi (located in largest Indian state of Uttar Pradesh). Please share details of the project.
Mr. Pillai: The 600-MT capacity plant will clean-up the entire Varanasi City. The land for the recycling plant has already been identified and a memorandum of understanding (MoU) will soon be signed with the Municipal Corporation of Varanasi as input in terms of garbage is required to be recycled and the municipality would deliver it to the new site. The MoU would likely to be signed in the next few days and the site would be functional in the ongoing fiscal only.
The proposed recycling site at Varanasi entails an investment of INR 1 billion. UFlex initiates and forms Multi-Layer Plastics Films Sanitation Trust (MLPFST) partnership with State Government to set-up municipal solid waste sorting and segregation plant that will separate plastic recoverable from mixed garbage via automated technology and recycle MLP waste into granules for making various plastic items including buckets, mugs, flower pots, outdoor furniture and many more. Members of MLPFST are film producers, which are collectively pooling their resources for the upcoming site.
UFlex is also planning to construct similar recycling plants in existing and upcoming overseas films operations. Please explain?
Mr. Pillai: We are planning to set-up post-consumer recycling (PCR) operations overseas in our existing sites as well as in new film sites starting later this year. Recycling operations would likely commence at existing film sites in Egypt, Mexico and Poland in 2020, while in Moscow and Nigeria, there would be new film producing factories where recycling operation would be added by 2021.
What would be the investment in the overseas recycling plants?
Mr. Pillai: Depending on the capacity and size, each plant entails an investment of $15-20 million. Each site would likely to have capacity of 24,000 metric tonnes yearly as it is a breakeven capacity. UFlex's total investment commitment would be to the tune of INR 4-5 billion in various expansions in the overseas market towards recycling and film side in CY 2020. IRNA
UFlex Limited
Tel: +91-120 401 2345 (30 Lines)
Fax: +91-120 255 6040
E-mail: enquiry@uflexltd.com
Website: www.uflexltd.com
Adidas Crazy Explosive