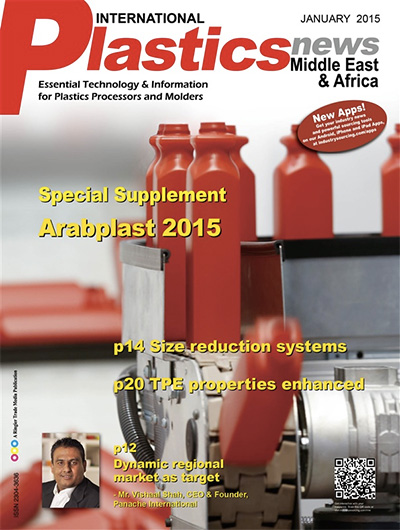 Int'l Plastics News - Middle East [2015-1]
This year opens with a major trade show in Dubai – Arabplast 2015. The show has gained tremendous following, both from exhibitors and visitors, who flock to the show every edition to check out the products on exhibit and obtain valuable information on processing technologies, new materials and other products and service.

In this issue, we have a Special Supplement on Arabplast which includes the show's highlights and products on exhibit. With the UAE becoming an important plastics hub in the Middle East, this year is expected to see a lot of active participation and business deals at the show.

Many thermoplastic elastomers (TPEs) available today offer processors the perfect combination of properties of plastics and elastomers, which significantly improves product design and development. With a lot of companies now looking for special properties to enhance their finished products, we expect to see further improvement in new TPEs that will be launched in the future.