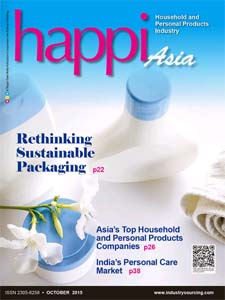 HAPPI Asia [2015-10]
Divest or diversify, time for a change
When talking about the growth of any industry, being prepared to fight slowdown in the global economic activity is a must. Divest or diversify seems to be a good solution for some companies. Although it is not usually the first choice of strategy for a business. However, as product demand changes and firms alter their strategies, there will always be some portion of the business that is not performing to management's expectations. We learned about the recent activities of many top players in the industry, for example P&G. The company is selling up to 100 brands to refocus on its core business, while Unilever on the other hand is acquiring a range of premium brands in an effort to expand in skin care arena.
However, there are still major players headquartered in Asia where brighter prospects are still widely predicted in Happi. Our annual report, The Asia Top, unveils how they have managed to maintain or even strengthen their leading positions in the past year. As you can read, few of them are holding back the businesses, and the one making the greatest strides is the most successful. AmorePacific is one example of a company who proves to be successful in this industry.
As always, we hope you enjoy this edition of Happi Asia, in which the growth potentials of a largely untapped category are explored by An Essential Role In Personal Care. Be sure to read "Growth opportunity in India's personal care market" in the Market & Trends section to learn more about this promising market. Finally, we welcome your comments and suggestions.