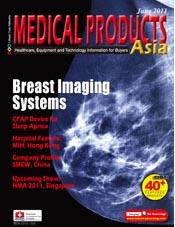 Medical & Pharmaceutical Asia [2011-6]
Dear readers,

MEDICAL PRODUCTS ASIA presents its followup medical imaging issue this June 2011 but this time concentrates on breast imaging systems.

A number of equipment and systems are presented. (a) Breast tomosynthesis provides 3D images of the breast with much better visibility (Mammo Tomosynthesis 5MP on page 16). (b) Breast-specific gamma imaging/ molecular breast imaging detects early-stage breast cancer, which complements mammography. (c) Positron emission mammography (PEM) uses high-resolution breast PET to an isolated immobilized breast to produce images with resolution down to 2 mm (Naviscan PEM scanner on pages 18 and 20). (d) Eizo Nanao presents 3D monitor for digital mammography.

New sections are also introduced. We have Company Profile featuring Shanghai Medical Equipment Works, a leading manufacturer of X-ray machines and operating tables (see page 15), as well as Hospital Feature (Country Focus) featuring Matilda International Hospital in Hong Kong and its development and expansion plans for 2011 (see page 26).

Beginning June 2011, MEDICAL PRODUCTS ASIA is published on even-numbered months (remaining issues for the year include August, October, and December). Watch out for our 2011-2012 Buyer's Guide on October and Outlook 2012 issue on December.

For your iPod touch/iPhone/iPad, download the mobile MEDICAL PRODUCTS ASIA app, powered by PixelMags.

Thank you and until the next issue!