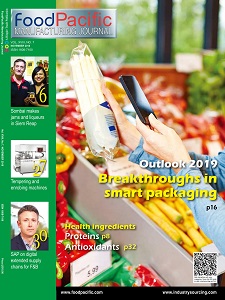 FoodPacific Manufacturing Journal [2018-11]

THE FORECASTS and projections are coming in. Mintel recently released a report on what it sees will be the top three trends for the next year and beyond – an assessment of how sustainability, health and wellness, and convenience continue to influence movements in the F&B industry.
For those interested in U.S. retail, Whole Foods Market also came up with its top 10 F&B predictions. While you may already have your own expectations and plans, you would still be interested in consumer surveys and figures, and how the predictions will play out especially in Southeast Asia – and even how Asian foods are also influencing global cuisine. Whole Foods singles out longanisa, a pork sausage from the Philippines, as a product gaining more shelf space, along with products with tropical fruits like jackfruit and guava.
Ingredients play a crucial part in upcoming trends as health becomes even more important to consumers. In this issue, read our features on the U.S. Export Dairy Council, Kerry, KH Roberts, and Wacker as they tackle ASEAN's needs.
In the packaging sector, among the fastest developments have to do with smart packaging because of its many benefits to all stakeholders, some of these benefits are featured in the outlook section. While for updates in automation, we interview SAP on Industry 4.0 in Asia.
Also in this issue get to know the owners of Sombai, a budding company which produces liqueurs and alcoholic jams in Siem Reap, Cambodia.