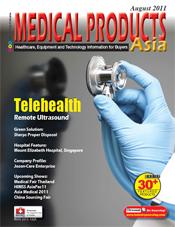 Medical & Pharmaceutical Asia [2011-8]
Dear readers,

For August 2011, MEDICAL PRODUCTS ASIA sets its focus on remote diagnostics, specifically diagnostic ultrasound and telemedicine. We present an article by the National Space Biomedical Research Institute, together with NASA, about tele-ultrasound applications in space and in underserved regions worldwide as well as an article about remote ultrasound machine developed by École Polytechnique Fédérale de Lausanne. Additional information includes HP Singapore's Mobile Health Monitoring Solution and the world's first ultrasound maintenance, technical support, and training application (page 20).

Joson-Care Enterprise Co., Ltd., a leading manufacturer of hospital beds from Taiwan, is featured in our Company Profile (page 10). The Hospital Feature (Country Focus) section presents Mount Elizabeth Hospital, an international cardiology center in Singapore (page 21). Latest world's firsts on Trends and Progress section: world's first Bluetooth heart rate belt, world's only single-chamber implantable defibrillator, and world's first 3D LASIK procedure performed. The article "Proper Disposal of Needles and Syringes" about sharps disposal is presented as green hospital solution.

September and October are months filled with medical and healthcare trade shows and exhibitions. A number of show previews are presented: Medical Fair Thailand 2011, HIMSS AsiaPac11, Asia Medical 2011, and China Sourcing Fair: Medical & Health Products.

MEDICAL PRODUCTS ASIA is now published on even-numbered months (remaining issues for the year include October and December). Watch out for our 2011-2012 Buyer's Guide on October and Outlook 2012 issue on December.

For your iPod touch/iPhone/iPad, download the mobile MEDICAL PRODUCTS ASIA app, powered by PixelMags.

Thank you and until the next issue!