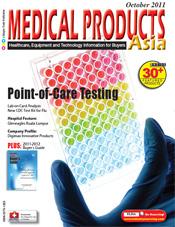 Medical & Pharmaceutical Asia [2011-10]
Dear readers,

This issue MEDICAL PRODUCTS ASIA has point-of-care testing (POCT) on spotlight. POCT is cost-effective medical testing that brings tests and its results immediately to the patient, including, but not limited to, tests for blood glucose, coagulation, hemoglobin, cholesterol, biomarkers, drug screening, urine, pregnancy, pathogens, and infectious diseases. POCT is usually performed using handheld and transportable devices as well as using test kits, such as those for ELISA. We give you AssayQuest™, a fully automated, portable platform that can perform complex POCT from a finger-prick blood sample; the newly FDA-approved lab kit developed by the CDC for testing for seasonal and novel influenza A viruses with pandemic potential; and an abstract for further reading about the integration of mobile phone imaging with ELISA to detect ovarian cancer biomarker in urine (pages 14 and 15).

In Trends and Progress, we have two breakthrough articles about heart transplants, a 3G Mobile Health Project in China, and the first WHO's World Hepatitis Day. Digimax Innovative Products, one of Taiwan's leading manufacturers of hearing aids, is featured in our Company Profile (page 12). Our regular sections have features on electrocardiography (page 16), patient monitoring (page 18), gloves and syringes (page 19), and electronic health records (page 20). The Hospital Feature (Country Focus) section has Gleneagles Kuala Lumpur, a state-of-the-art medical facility at the capital city of Malaysia (page 21). In Show Report is a show preview of the 3rd Annual Electronic Health Records Asia to be held on the last week of November in Singapore (page 22).

The free buyer's guide, which lists over 450 medical suppliers and manufacturers from countries in Asia, including China, Taiwan, Hong Kong, Japan, South Korea, Singapore, and Malaysia, has been carefully organized in alphabetical order by company name and grouped according to the categories of the Buyer Alert. We hope you find this reference very useful in purchasing medical equipment and supplies. Special thanks to Celema Lustan, our editorial intern from Manila, for the great help in making this buyer's guide possible.

MEDICAL PRODUCTS ASIA is now published on even-numbered months. Our December issue will have an Outlook + Company Compatibilities special feature.

For your iPod touch/iPhone/iPad, download the mobile MEDICAL PRODUCTS ASIA app, powered by PixelMags.

Thank you and until the next issue!