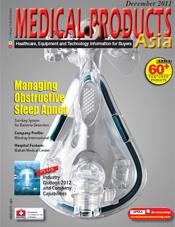 Medical & Pharmaceutical Asia [2011-12]
MEDICAL PRODUCTS ASIA features the management of obstructive sleep apnea, the temporary pause in breathing during sleep brought about by an airway obstruction, for its last issue of 2011. Continuous positive airway pressure or CPAP is the first treatment for sleep apnea in most people (check out the latest CPAP device from Philips Respironics); however, Ventus Medical offers a non-invasive treatment device for sleep apnea, which instead utilizes nasal expiratory positive airway pressure or nEPAP (page 12).

In Trends and Progress, we have another industry first—the OLED medical monitor from Sony, plus significant progress and updates in the leading medical facilities in Singapore, Hong Kong, and China (page 6). In Perspectives, Eric Garnier, President of Pall Asia, heads the opening of Pall Scientific and Laboratory Services in Singapore, a facility that boasts turnkey system for bacteria detection (page 10). Shenzhen Mindray, one of the world's leading developer, manufacturer, and marketer of patient monitors, IVD products, and medical imaging systems, is featured in our Company Profile (page 11). Our regular sections have features on diabetes self-management (page 14), mammography equipment (page 16), wound care (page 17), and mobile healthcare (page 18). The Hospital Feature (Country Focus) section has Makati Medical Center, a state-of- the-art and sophisticated patient care center in Makati City, Philippines (page 19). In Show Report is the coverage of the 66th China International Medical Equipment Fair (CMEF Autumn 2011), Asia Pacific's biggest exhibition serving the entire value chain for the medical devices market (page 20).

This issue comes with a Medical Devices Industry Outlook for 2012 plus Company Capabilities special feature, which includes Comfort Orthopedic, Shanghai Medicines and Health Products, Mesure Technology, and Shuenn Bao Shing (page 31).

MEDICAL PRODUCTS ASIA is now published on even-numbered months. For your iPod touch/iPhone/iPad, download the mobile MEDICAL PRODUCTS ASIA app, powered by PixelMags.

Thank you and until the next issue!