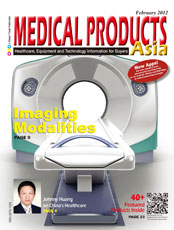 Medical & Pharmaceutical Asia [2012-2]
For February 2012, MEDICAL PRODUCTS ASIA gives you a sampler of 10 exceptional medical imaging modalities currently available in the market (page 9). As diagnostics and imaging technology push the world of medicine to a new frontier, products with advanced features and clinician- and patient-friendly qualities become more and more essential.

In Trends and Progress, we present The Diabetes Challenge (page 6), serving as preview for next issue's in-depth diabetes care section. We also have a Q&A With an Expert-Johnny Huang of Frost & Sullivan-China talks about the China's healthcare industry (page 8). Our regular sections have features on ambulatory care (page 12), orthopedics (page 14), hospital apparel (page 16), and medical iOS apps (page 18). The Country Focus section probes Malaysia's medical devices industry, highlighting its rubber production and utilization (page 20). In Show Report are short features and interview from the past shows (page 22).

A big "thank you" to the management and staff of MedTecs International (both in Bataan and in Taiwan) for making the factory shoot happen (unbelievably a success on the first week of the year). Special mention goes to EVP Akhmad Irgashev.

MEDICAL PRODUCTS ASIA app is available for download on your iPod touch/iPhone/iPad and on your Android phone.

Thank you and until the next issue!