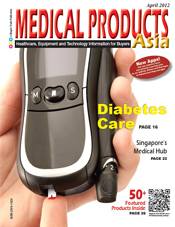 Medical & Pharmaceutical Asia [2012-4]
Dear readers,

"Statistics show the alarming rise of individuals afflicted with diabetes. Alongside these rates is the rise of products to help people counter the disease and to empower them to manage this persistent illness."
MEDICAL PRODUCTS ASIA April 2012 issue puts diabetes on spotlight together with the products and supplies related to its testing, treatment, and self-management. We have a "Diabetes Treatment Made Easy" article (pages 16 and 17) and a "Diabetes Care" supplement in our Featured Products section (pages 26–35). Check out the 27 diabetes care products and supplies, including lancets, blood glucose monitors, insulin pens, and insulin pumps.
Read more product news on pages 6–14 about diabetes care, respiratory care, healthcare imaging, implants, and research. Hospital furniture is featured on page 19, with highlights on hospital beds and medical carts. Business intelligence company Epsicom predicts that the global telemonitoring market will reach USD 1 billion in 3 years' time (page 20). Our Singapore correspondent reports about the country's burgeoning medical devices industry (pages 22 and 23) for the Country Focus section. Show Previews, in a new format, include upcoming regional exhibitions from April to June: SE-Asian Healthcare & Pharma Show, CMEF Spring 2012, Hong Kong International Medical Devices & Supplies Fair, Indomedicare, and Medicare Taiwan (page 24).
MEDICAL PRODUCTS ASIA app is available for download on your iPod touch/iPhone/iPad and on your Android phone.
Thank you and until the next issue!