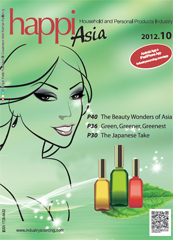 HAPPI Asia [2012-10]
Reaching more than 10,082 qualified household/personal care industry professionals in Asia, (manufactures and brand owners, including private label and OEM/ODM, ingredient and machinery suppliers), Happi Asia is the annual sister publication of Happi China and Happi International. Focusing on the most dynamic market in the world, Happi Asia covers every aspect of formulation, product manufacturing, packaging design and marketing, bringing the very latest information on ingredients, processing, packaging, as well as market and country reports.The magazine will cover the latest trends including Baby/Children/Teens Care, Male Grooming, as well as Natural/Organic products, Nutricosmetics /Cosmeceuticals.
The magazine will be supported by a monthly eNewsletter bringing formulation, processing, packaging, design and market information to decision makers (in English) across Asia.