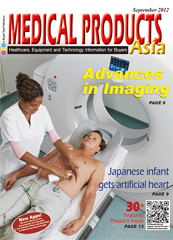 Medical & Pharmaceutical Asia [2012-9]
AS retiring boomers and emerging markets demand better healthcare, the global market for medical imaging equipment is setto reach $25.3 billion by 2015 - that's the assessment from analystsTechNavio. Growth in the Global Medical Imaging Equipment market is projected 4% CAGR to that year.
We can well accept these figures given the expansion Medical Products Asia is witnessing in China, where new builds are beingfinanced both publicly and privately. The number of private hospitalsin the country has increased 20.6% year-on-year to 8,947, accordingto statistics released in May by the Ministry of Health. Meanwhile Beijing itself is committed to improving its primary healthcarefacilities and backing specialist hospitals, from orthopaedic centresto traditional Chinese medicine centres.
In Southeast Asia, the healthcare sector is attracting foreign investments as well since the revenues in the region's healthcare sector could account for one-third of the global market in 2015, according Frost & Sullivan. The research firm estimates that 5million beds, or 25%, will be provided by the private sector in Asiaby 2015.
All these new builds will require a massive amount of medical equipment and diagnostic devices. Hospital infrastructure andupgrading drive for the medical-imaging market in Thailand, inparticular, was valued at $70 million in 2011 and expected to reach$100 million in 2015.
The demand for technological advances is partly drivingthis demand, TechNavio reports. To give you an idea of theselatest developments, we turn the spotlight on imaging technology beginning on.