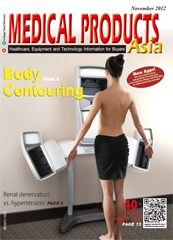 Medical & Pharmaceutical Asia [2012-11]
With rising rates of morbid obesity, the number of bariatric surgery procedures is likely to increase, according to a review on current practices by Drs Bruce Wolfe and Erin Gilbert of Oregon Health and Science University in Portland. At the same time, there will be a fast-growing population of patients seeking bodycontouring procedures after bariatric surgery.
There are three main options for bariatric surgery (considered for patients who are unable to achieve a 5% decrease in weight with diet and lifestyle modifications): adjustable gastric banding, sleeve gastrectomy, and "Roux-en-Y" gastric bypass. The expected percentage of excess weight loss is about 48% after adjustable gastric banding and 61% after sleeve gastrectomy and gastric bypass, according to Drs Wolfe and Gilbert.
Of these three options, gastric bypass is the most popular procedure because it results in greater weight loss and less weight regain. It also performs best in terms of resolving obesity-related diseases, such as diabetes, high cholesterol and high blood pressure. Gastric banding, however, is a reversible procedure that causes fewer long-term metabolic problems.
In their review, the doctors note that it has become especially important for plastic surgeons to understand the concepts and outcomes of bariatric surgery procedures, as they will increasingly play key role in body contouring after massive weight loss.