The Polystar factory creates a completely refreshing impression from the usual production plants in the plastics machinery industry. For one, the Polystar factory and its machineries appear simple, yet highly efficient and innovative. In fact, the set-up represented Polystar's core aspect – being convenient, simple, helpful and secure.

Polystar has more than 20 years of R&D experience in the industry. The manufacturer created its own patent not long ago but has already risen to the top rank among global plastics machineries users. The key purpose of Polystar is to help their customers obtain the most convenient solution to recycling, and this has taken Polystar's products to many parts of the world.

An interview with two managers of Polystar, Jack Lin and Aria Chen, brings into the fore the reasons why Polystar is growing to become a leading company specializing in recycling machineries. For both managers, the establishment of a solid relationship with the customers is a major task, and therefore they keep track of every situation the customers encounter and ask for detailed feedback. The customer's feedback is then carefully assessed and utilized to adjust the machineries' specifications. A few key changes in the machineries made from last year are based on these suggestions.

Target: zero down-time
Polystar earlier noted several disadvantages in recycling machines that are completely PC based – such as the complexity in system set-up, oversensitivity and time-demanding in terms of maintenance. "Polystar spotted that these are the main reasons that would affect users' production, hence, Polystar exerted efforts in helping customers confront these problems so that the concept of 'zero-down-time' could be further achieved," according to Mr. Lin.

The solution from Polystar was to select some smart features from the PC software system and return them to manual operation. "The logic behind this change is refusing to completely rely on software, and instead, combine the smart and manual features so as to increase the flexibility of the machineries," said Mr. Chen. These highly user-friendly designs are proven to be very popular among the customers and received positive responses since Polystar released this new model. This innovative touch to the recycling machine was even non-existence in the European machineries before.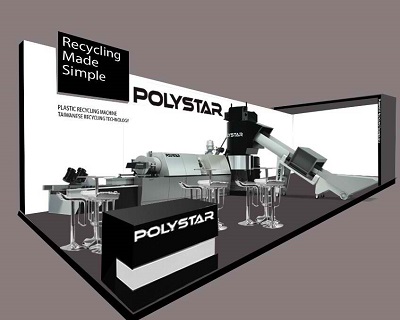 Secondly, Polystar increased the overall machinery capacity in response to the trend in renewable energy. Polystar ensures the motors in the machineries are energy-saving and operate 50% faster than other machineries, and also that the pellets produced by recycling machines are 100% usable and recyclable. Polystar's equipment advances with the growth of global recycling awareness, they serve as the tools of manufacturers in reducing waste and ensure lower materials cost. In addition to the energy-saving function, Polystar has also strengthened the ability of its machineries to process various innovative plastics materials and composites in the ever-growing plastics industry.

Sharpening on user-friendly features
Both Mr. Lin and Mr. Chen stressed how Polystar monitors the impact of its products to the customers and seeks valuable feedback on a regular basis. Not only does Polystar has strengthened its R&D to enhance its technology and the user-friendly features of its products, (the company has invested about 20% of the revenue in R&D annually), the company has been following on the latest trends in the plastics industry.

In 2014, Polystar was ranked as the highest market share recycling machine manufacturer in Russia – it was also the only Taiwanese plastics machinery manufacturer to enter the league. Polystar's machineries are in operation in over 100 countries presently, and it aims to forge more connections with more buyers at TaipeiPlas in order to expand its market reach.

Polystar Machinery Co., LTD
Tel: +886-6 2730 889
Fax: +886-6 273 0887
E-mail: polystar.sales@gmail.com, sales@polystarco.com
Website: www.polystarco.com/en/index.html



Nike