Kautex Maschinenbau is continuing to drive forward with its growth plans. In order to meet rising demand for its recently developed, all-electric packaging machines and compact suction blow molding machines, the company is expanding and modernizing its Bonn production location.
From third quarter 2017, the new 5,000 sq.m. assembly hall will mostly be dedicated to assembling and testing KBB-series packaging machines and KSB-series suction blow molding machines. Along with this, around 80 modern office workplaces are also being built. The ground breaking ceremony took place on February 15 in the presence of members of staff, Bonn's mayor Ashok Sridharan and the district mayor Guido Déus.

Kautex CEO Dr. Olaf Weiland hopes that the plant expansion will make production even more efficient and further reduce lead times for customers: "As well as improving the long-term performance and efficiency of our machines, we want to make the same improvements to our production."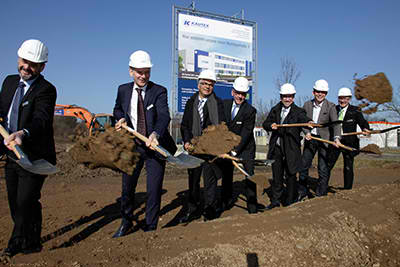 Thanks to a successful model lineup and positive market development, the specialist in extrusion blow molding machines finished fiscal 2016 on a high with record sales of EUR 122 million.
Mr. Weiland sees the sector heading in a positive direction, hence the focus on the company's Bonn HQ. "Bonn is located in the heart of one of the world's most important centers for plastics manufacturing. The high density of universities and the presence of specialist research institutes offer excellent development opportunities for our innovation-driven sector," comments Weiland on the city where the company was founded over 80 years ago. Kautex Maschinenbau has its own technical center in Bonn which is itself one of the world's largest research and development institutes for plastics machinery.
Adidas Yeezy