Yann Bang Electrical Machinery Co.,Ltd is a specialist in automatic auxiliary conveying and drying systems for the plastic and rubber industry in Taiwan. The company was founded in 1974, and after four decades of R&D to develop excellent products. Yann Bang was awarded with numerous patents. The company has obtained CE certification and ISO 9001:2008. It currently supplies its high quality products and services to over 80 countries.
In particular, the 2-in-1 Conveying Dryer is a hopper dryer combined with vacuum loader for easy transfer of the unit any where. It is a stainless insulated hopper dryer with dual layer for better and faster drying. Enhanced efficiency of the unit enables greater energy savings.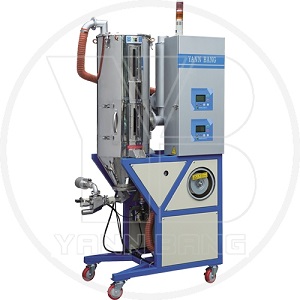 The vacuum loader automatically supplies dried resin to avoid shortage of material during production. Installed pipe-clean device (Taiwan Pat:M299801) and closed-loop can prevent the moisture return, static electricity and resin pollution inside the pipe for better quality. Patented Heat-recycler (Taiwan Pat:226245;China Pat:01258213.1) can reduce energy consumption, while enhancing drying and minimizing the release of pollutants, such as hot air and dust.
Installed weekly timer and safety protectors can save on labor cost and protect operators. With only one control unit, it is convenient to monitor all suction points and is capable of extending suction points up to four. The conveying system can supply materials for various molding machines.
For more details on Yann Bang products, click here.
Adidas Yeezy shoes