This October Kautex Maschinenbau, manufacturer of blow molding machines, opened its eighth overseas representative office in Malaysia. The new branch is headed by Louis Koay, an experienced sales professional.
In view of the significant demand for consumer and industrial packaging, as well as an automotive market capable of significant growth, the Southeast Asian region has increasingly become the focus of international plastic processing companies. Malaysia provides excellent conditions with its location between Singapore and Thailand. It is easily accessible, has an efficient infrastructure and qualified engineers.
As a leading manufacturer of extrusion blow molding machines, Kautex Maschinenbau's own representation in Kuala Lumpur brings the company in close proximity to customers in the Southeast Asian region. "The number of our customers in Southeast Asia is growing steadily, so that we see an increasing need to expand both sales and service in this economically important region. Customer proximity is an important factor", explains Andreas Lichtenauer, Managing Partner at Kautex Maschinenbau. "Our new office will make customer contact easier for the companies located there. At the same time, processes can be significantly accelerated so that we can help customers faster."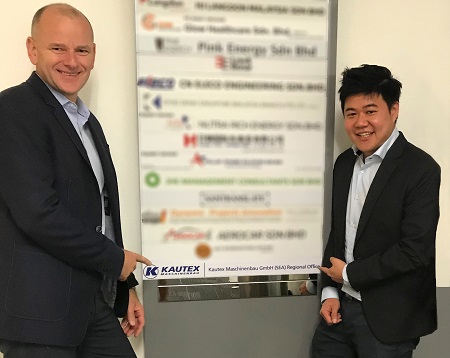 Mr. Andreas Lichtenauer (Managing Partner) and Mr. Louis Koay (Chief Representative South-East Asia)
With Mr. Koay, Kautex Maschinenbau now has an experienced sales professional for existing customers in the region and also serves as the primary contact for potential new customers. Additionally, the new regional office manager will provide the existing representatives with further support. In the medium-term outlook, two service technicians and a sales assistant will strengthen the team.
Eight decades of providing its customers with innovative products and services have turned Kautex Maschinenbau into the world's leading company in extrusion blow molding technology. With customers that include major automobile manufacturers and suppliers, as well as companies working in the packaging industry. All of them have come to rely on the knowledge and experience of a brand that stands for both quality and reliability. With 550 employees in Germany and a further 200 around the world, the company reached an annual turnover of €144 million in 2017. In addition to its HQ in Bonn, a Customer Service Center in Berlin and regional offices in the USA, Russia, China, Italy, India, Mexico and Malaysia, Kautex Maschinenbau operates an extensive global network of service and distribution offices.
Zoom Lebron XI 11