The Plastic Applications in Food & Beverage Packaging Summit held in September in the Philippines focused on breakthrough technologies benefiting the production of plastics packaging. One presentation by Ms. Jovy Chen, Sales Manager of DASE-SING Group highlighted the latest shrink sleeve packaging solutions for food and beverage packaging aimed at enhancing the overall appearance and functionality of today's packaging. Ms. Chen shares with International Plastics News for Asia (IRNA) how the company was able to develop its products over the years.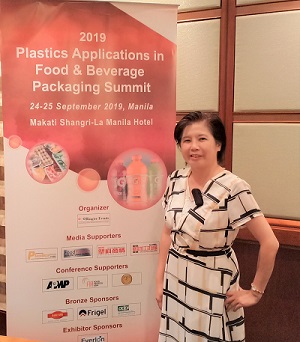 Ms. Jovy Chen, Sales Manager, DASE-SING Group
IRNA: Please provide an overview of DASE-SING and its operations.
Ms. Chen: DASE-SING is a one-stop shrink sleeve packaging solution supplier for beverage, dairy, water, pharma, food and other industries. We are one of the few companies in the world that can supply film, printing and machines.
Currently, we have three factories operating in Asia. Our Chiayi Plant is a printing plant established in 1985; the Hsinchu plant is a machine production plant established in 1994. 1994. Our Shanghai plant was established in 1999, manufacturing films, shrink sleeve printings and providing after sales service.
Our company aims to continuously innovate our products towards the development of energy saving and sustainable products.
IRNA: What are the products that DASE-SING offers and what are their special features?
Ms. Chen

:
High speed sleever machines are important in the packaging sector. DASE-SING specialises in film, printing, flexible packaging and packaging machinery. Our popular model is the i-Sleeve Pro which fills the needs of the packaging industry.
This machine, aside from being high-speed and applied for different bottle shapes, is also a versatile machine which can be equipped with orientation system, underlapping function, OPC-UA data collection, remote access, multi-reel system and many other features. This is the most powerful single-head machine that DASE-SING offers to meet the highly demanding packaging industry in Southeast Asia and the rest of the world.
IRNA: What are the general benefits or advantages of the machine to your target market, and how important that customers maximise the operations of this technology?
Ms. Chen: Our sleever helps improve the production efficiency of packaging manufacturers to meet global standards. DASE-SING shrink sleeve solutions guarantee cost reduction because of the flexibility of the machine as one machine can be applied for various types of bottles. This would lower container inventory and production cost. Another advantage is that DASE-SING shrink sleeve labeling machines are capable of making the products stand out on the shelves because it's possible to create more eye-catching designs to attract consumers. With brand owners now aware that their products need to look attractive on the shelf to please consumers, the shrink sleeves are now being utilized as an important tool to attract more consumers.
IRNA: How did DASE-SING develop its shrink sleeve solutions? What R&D strategy has it applied?
Ms. Chen
: DASE-SING's R&D programme enables our customer to maximise the benefits of our sleever machines. To summarise, the R&D strategy undertakes three major roles: one is the improvement of current design to further increase machine productivity at reasonable cost for the customers; another is the development of related parts and accessories to support full machine automation; and last but not the least, further development of new machines in response to market developments and demand.
We continuously follow world packaging trends, and we are always on the lookout to enhance our machines. We have a team of R&D specialists who constantly monitors technology developments around the world. DASE-SING also cooperates with suppliers who offer high quality parts and materials. Most important is our testing and quality control which checks on the operation of the machines before these are released to the market.
IRNA: What are the developments in the packaging sector that the company would like to point out in the presentation?
Ms. Chen: The trend is now moving towards SKU proliferation, shortening of the product life cycle, mass customisation, personalisation, special editions and seasonal versions due to the change in consumer habits. Thus, the converter will require the ability to satisfy personalised packaging, acceptance of small quantity order, short delivery, frequent change of motifs and plate cost reduction. The best solution will be the digital printing, but currently only suitable for small quantity.
Also, the need for efficient high-speed machines is increasing, and these machines should be able to produce large volumes at a given time.
In addition, customers are designing more and more complex bottle shapes in order to stand out from the competition. This will require a higher standard of technical capability for machines.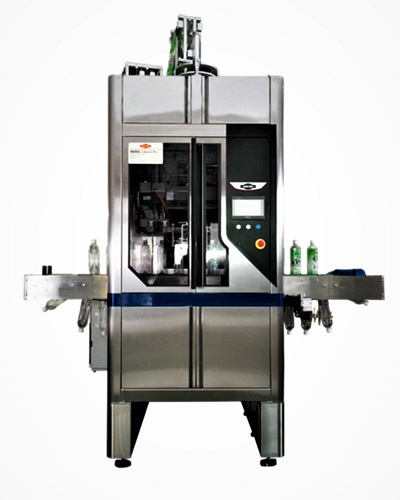 DASE-SING i-Sleeve Pro can create eye-catching packaging.
IRNA: How are these trends being met by DASE-SING?
Ms. Chen
: We can supply digital printed sleeves to meet growing limited editions or promotional campaigns. Also, our company has developed high-speed single and double-heads sleevers to meet the growing demands for higher efficiency fast machines.
Downgauging is also happening for the shrink sleeves, large brand owners are starting to approach us for testing or thinner material. We currently have a few ongoing projects to meet that trend.
IRNA: What demands from manufacturers in the Philippines that Dase-Sing can meet throug its products and services?
Ms. Chen:
Although tamper evident applications are not used in water products, ASEAN market like the Philippines, still requires such TE functions from the sleever machines for wine products. Also, shrink underlapping applications can be provided to achieve optimised packaging for FMCG products. Wide caliber machines can help improve the packaging of big containers such as powdered milk.
IRNA: How can Dase-Sing machines help customers meet current global trends in Industry 4.0 and circular economy?
Ms. Chen: DASE-SING machines adopt the OPC UA signal exchange protocol, which makes data collection and control of the production line easier. Transfer of information between server and client is more secure, open and reliable. There is a real-time presentation of production data. OPC UA allows the customer to collect data, analyse data to improve the customer's production process.
For the circular economy, our machines can use most of the recyclable material currently on the market right now. We also offer upgrade options for our customers, which will contribute to the circular economy. DASE-SING will be heading towards creating more products following the requirement of the circular economy.
IRNA: Does DASE-SING provide training and aftersales services for ASEAN-based customers?
Ms. Chen: In general, operator training is provided after the machine commissioning. Factories can also avail of training service during the yearly maintenance service provided by DASE-SING After-sales service is supported by the availability of replacement parts.
Currently, DASE-SING after-sales service is provided from Taiwan or China. We are also planning to set up an office in other regions in the future, which will provide immediate service response to our customers.
DASE-SING Group
Tel: +86-21 3365 8333
Fax:+86-21 3365 8732
E-mail: jovychen@dasesing.com
Website: www.dasesing.com
Zapatillas Trail Running