The plastics and rubber industry presented a complete range of products and services in the entire diversity of its innovative applications at K 2016, held from 19 to 26 October in Düsseldorf. A total of 3,285 exhibitors from every continent showcased their latest developments for every industrial segment. With a net display area of 173,966 square meters, all 19 halls at the Düsseldorf trade fair venue were completely booked out.
As Werner Matthias Dornscheidt, President and CEO of Messe Düsseldorf, stressed. "Once again it's absolutely clear that nowhere in this world is it possible to experience the complete spectrum of raw material, processing and application technology so completely as at K in Düsseldorf. In addition to plastic and rubber processing companies around the world, the innovations presented were also of major interest to experts in the automotive and aviation industry, packaging, electrical engineering, electronics and communications, the building industry and medical technology." The exhibition expected over 200,000 trade visitors from all over the world.
Ulrich Reifenhäuser, Chairman of the K 2016 Exhibitors' Council, expressed his optimism on the future of the global plastics and rubber industry. "Obviously, some markets such as Russia and parts of South America are currently experiencing difficulties, but all indicators point to growth in Europe, Asia and the US." Mr. Reifenhäuser is convinced that K 2016 can give fresh impetus to the industry. "The focus is on energy, resource and material efficiency, new materials, lightweight construction and – probably the most exciting topic – Industry 4.0.," he added.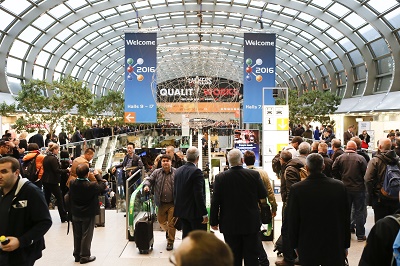 Global acceptance of polymer materials
The global success of this industry is most evident in the growth in utilization of plastic and rubber. Use of these materials rose on average by 8.5% annually from 1950 to 2015. Growth rates may not be as significant today as those recorded between the 1950s and 1970s, but the industry still recorded 4% to 5% annually since the turn of the millennium. However, significant differences are apparent, depending on the region, product or application.
The trade association PlasticsEurope estimated that global production of plastic reached 322 million tons in 2015. About 270 million tons of this consisted of plastic materials, meaning materials processed to make plastic products. The remaining 50 million tons were used for the manufacture of coatings, adhesives, dispersions, varnishes and paints.
With a share of 49%, Asia now produces almost half the plastics manufactured globally. Europe and North America are responsible for 18% and 19% of world production respectively, the Near and Middle East and Africa account for 7% together, South America produces 4% and the former CIS states produce 3%. Asia also dominates rubber production, traditionally accounting for 73% of natural rubber, but in the meantime also manufacturing 61 % of synthetic rubber.
Production of machinery for plastics and rubber
The production value of machinery for plastics and rubber reached a global volume of EUR 33.9 billin in 2015 (2014: EUR 32.5 bn). European plastics machinery manufacturers generated 40%, equivalent to a production value of EUR 13.6 billion. According to Euromap, the umbrella organization that includes machine manufacturers from Austria, France, Germany, the United Kingdom, Italy, Luxembourg, Spain, Switzerland and Turkey, the Europeans managed to maintain their leading role in 2015 with around half of global exports. Despite numerous uncertainties, Euromap anticipates a further increase in global production of 3% to EUR 34.9 billion in 2016 and growth in European production of 2% to EUR 13.8 billion.
World premieres
A wealth of world premieres from the largest K exhibitor group – machinery and system manufacturers – gathered substantial interest from visitors. The sector took up about two-thirds of the entire exhibition area. Raw and auxiliary material providers presented the latest developments in polymer research – materials which contribute to an economic and ecological balance through enhanced resource efficiency. With the broad variety they offer, manufacturers of semi-finished products, technical components and reinforced plastic products were noted to be focusing with even greater intensity on energy-efficient, environmentally friendly products that meet even the most sophisticated requirements.
The exhibition also presented a variety of interactive program. Kunststoff-Ausbildungs-Initiative (kai), the plastics training initiative, sought to to attract up-and-coming talent to the sector. Under the motto "Experience plastics live", program items were presented in a dedicated event. The kai program on each day of K 2016 offered a guide to career seekers and contacts for questions relating to vocational education and training. Events especially designed to attract young people and guided tours for target groups enabled visitors to experience modern technologies at first hand. As a plastics training initiative, kai was initiated by the GKV (the association representing the German plastics converting sector) and organizations from the plastics industry and is supported by Messe Düsseldorf.
Another highlight, "Plastics shape the future" presented a Special Show that featured the degree to which plastics already shape the design of modern living spaces – functionally, aesthetically and sustainably. Held for the ninth time, it complemented presentations dedicated to the exchange of information, ideas and opinions. Attention was also devoted to economic and environmental matters, and even problematical issues were not omitted.
K 2016 Highlights and Feedback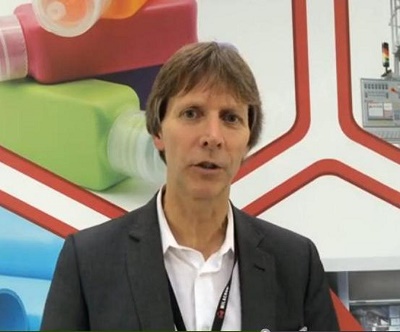 Mr. Bruce Catoen
Chief Technology Officer
Milacron
Website: www.milacron.com
Milacron Holdings Corp. displayed its Advanced Plastics Processing Technologies (APPT) that featured Milacron, Ferromatik and Uniloy product branded injection, PET, blow and extrusion offerings and Milacron's Melt Delivery and Control Systems (MDCS) featuring Milacron's product brands Mold-Masters, DME, TIRAD and CIMCOOL. The company marked its European show debut at K 2016 of its co-injection PET Technology. The M-PET 300 is a servo-hydraulic co-injection PET system that combines key components across Milacron's product portfolio – machines, clamps, injection unit, post mold cooling, co-injection hot runner, mold and robots – into a single solution.
Milacron's SmartMold module also took center stage. The module is the result of a multi-year development to make injection molding machine cells truly "Smart". The SmartMold allows different pieces of equipment to talk to each other, improving process quality and efficiency all while providing improved information and metrics. SmartMold collects data and reports the data via the cloud or LAN. The Milacron SmartMold also allows for the scheduling of regular and preventive maintenance.
According to Bruce Catoen, Chief Technology Officer at Milacron, the company offers a complete range of technologies aimed at achieving Industry 4.0 targets. "Industry 4.0 is the most important new technology trend in molding and we see it as an important feature to improve the overall productivity and equipment efficiency. As as result, Milacron has been striving to enhance our offerings along this area."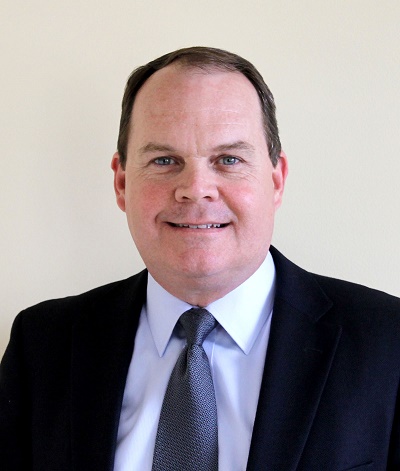 Mr. Jim Murphy
President
Davis-Standard LLC
Website: www.davis-standard.com
Davis-Standard presented its complete range of products for the plastics industry at K 2016. According to Jim Murphy, President: "We are seeing strong demand for flexible packaging and our dsX flex-packÔline for extrusion coating and lamination has been well accepted in the market. Converters are seeking the advantages of high-speed lamination, reduced scrap and improved quality offered by this machine. The economical benefit of these 450 MPM machines is allowing many regional converters to separate themselves from the competition." The dsX flex-pack is also built with an adaptable machine configuration to support a variety of end-use markets and that is advantageous.The dsX flex-pack excels in price, performance and delivery. The economical benefits of these machines have surprised converters. To get 450 mpm along with improved bonding strength and waste reduction is a significant advantage.
Another area with strong market demand is medical tubing. Customers are looking for turnkey systems that offer the production versatility to handle multiple polymers. "Our systems are built to support extruder outputs up to 700 pounds per hour (315 kg/hr) and line speeds up to 800 feet per minute (240 mpm) for materials including PLA, PLLA, PEEK, FPVC, polyurethane, nylon, PEBAX and FEP. To support this, we offer R&D trials at our laboratories in Pawcatuck, CT, USA and Suzhou, China where we have lines for product development and testing. One is a high-speed FPVC system for multipurpose tubing and the other is a micro bore tubing line for single or dual layer tubing, and single lumen tubing. Customers are able to test new resins and processes prior to making a large capital investment. The versatility of our systems is essential and we're able to accommodate customers with technology that addresses a variety of tubing," Mr. Murphy explained.
In terms of emerging applications, Mr. Murphy cited the continuous growth of the healthcare market, where the need for medical products and devices grows with this demand. "Plastics are a high performance material for the medical industry, providing disposable products that reduce the possibility of infections. We are seeing increased development of multi-layer structures and smaller diameter tubing to provide better physical property performance across a range of new applications." Packaging also continues to grow based on strong demand for packaged products and continued growth of the economy. Flexible packaging is growing faster than the overall packaging market due to the many benefits it provides. Flexible packaging provides a lightweight package that is durable and often re-sealable – these are features that consumers desire.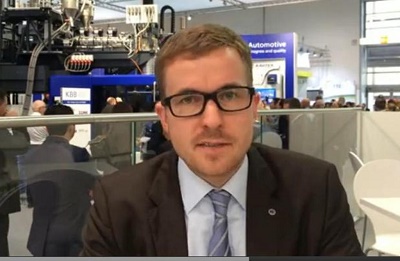 Mr. Achim Trubner
Design Engineer Robotics and Virtual Machine – R&D
Kautex Maschinenbau
Website: www.kautex-group.com
Kautex Maschinenbau expanded the program of its successful KBB series and this was presented at its K 2016 booth where the company's first all-electric jerry can machine was demonstrated. Models KBB200 and KBB400 were specifically developed for the production of stackable jerry cans. The exhibited KBB400S is manufactured for the AST Kunststoffverarbeitung GmbH and came with a three layer head for the economical ReCo- procedure and downstream equipment including leak testing, scales, and spot watcher.
After the great success of its first virtual machines, Kautex Maschinenbau presented its second, modular generation. According to Achim Trubner, Design Engineer Robotics and Virtual Machine – R&D: "The new machines can now be equipped with different control systems. Virtual machines make it possible to perform simulation-based training which saves the high costs for materials and machine operation. It also ends the risk of damage to real extrusion blow molding machines." He also said that even before Industry 4.0 swept the industrial world, Kautex has also been working toward this direction with its various solutions.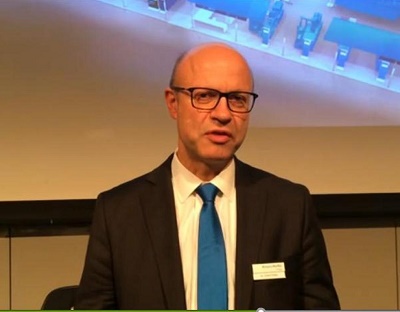 Dr. Frank Stieler
CEO
KraussMaffei Group
Website: www.kraussmaffeigroup.com
Under the umbrella term Plastics 4.0, the KraussMaffei Group promoted the implementation of the fourth industrial revolution with its three brands KraussMaffei, KraussMaffei Berstorff and Netstal, according to Dr. Frank Stieler, CEO. "At this show, we present our customers with various solutions in the area of Intelligent Machines, Networked Production Process and Interactive Services to enable them to achieve Industry 4.0 targets," Dr. Stieler said.
Under the name Plastics 4.0, the KraussMaffei Group bundles its solutions into three categories: Intelligent Machines, Integrated Production and Interactive Services. Intelligent Machines represents intelligent, self-optimizing machines, which improve productivity and quality. Integrated Production symbolizes seamlessly networked production, in which the individual machines and components communicate with each other and autonomously control the processes accordingly. Interactive Services must in turn be equated with systems and services based on state-of-the-art communication technologies in the environment of fast and globally active service.
NIKE AIR JORDAN