Maguire IMEA will present a comprehensive array of raw material handling equipment at ArabPlast 2017, including new systems that provide molders and extrusion processors with increased productivity, efficiency, and capability for automation (Hall 6, Stand 6C114).
Dubai-based Maguire IMEA sells and supports Maguire auxiliary equipment for plastics processors and compounders in India, the Middle East, and Africa.Chris Crittenden, managing director of Maguire IMEA said that the company is mounting a comprehensive exhibit at ArabPlast, including all of its latest innovations, because Arabplast is a crossroads for one of the world's fastest growing plastics processing regions.
At Arabplast, Maguire is set to bring its innovations which include:
● Super-fast blender controller advances automation. The new Maguire 4088 blender controller has far greater data processing capability than the previous controller, substantially enhancing communications with other devices in an Industry 4.0 setting, and offering centralized control of both blending and loading with FlexBus Lite. The increased volume, speed, and reliability of data transfer achieved by the new controller makes it possible for valuable information on the makeup and consumption of raw materials being metered into the molding or extrusion process to be readily shared with third-party devices via any standard communication protocol.
● Low-profile loaders automate conveying of materials to blenders. The new LoPro™ vacuum loading system for conveying pellets and regrind from storage to single or multiple blenders is simpler to operate than standard systems and consists of autonomously controlled receivers that are fully 80% lower than traditional material receivers. Each receiver protrudes only 200 mm above the lid of a blender, providing a low center of gravity that minimizes potential sway on fast-cycling processing machines. The receivers are self-controlled, with no central control required. Connection and installation is simple, with plug-and-play cabling and sequential linking of components. Receivers load on a first-in / first-out basis. Vacuum is supplied from a "mini-central" unit mounted on a portable floor stand or on the blender frame and is powered by a single-phase brushless motor that has been used in thousands of installed Maguire® GSL™ vacuum loaders.
● Vacuum dryer is fast and energy-efficient. A substantial departure from conventional desiccant dryers, the Maguire® VBD™ vacuum dryer dries resin six times more quickly, uses 60% less energy, and exposes resin to elevated temperatures for up to 83% less time. The system carries out a continuous batching operation in three vertically arranged, heavily insulated, stainless steel-lined vessels for—respectively—heating, application of vacuum, and retention of resin in a dry state. Gravity moves material through the three stages, with the discharge of material from one stage to the next controlled by high-speed slide-gate valves with an accuracy per dispense of +/- 4 grams. Load cells beneath the vacuum chamber and retention hopper permit real-time monitoring, control, and documentation of material consumption, enabling operators to precisely monitor and document material.
● Connected extrusion control. Maguire will be highlighting last month's launching of a partnership with Syncro srl, whose extensive range of control options for extrusion will enable customers to use existing equipment from Maguire while easily expanding control elements on both existing and new lines going forward. On display at ArabPlast will be an automatic blown film air ring designed for high efficiency and output.
● Blenders for Injection molding, blow molding and extrusion. Recently Maguire shipped its 50,000thgravimetric weigh scale blender. There will be three WSBs on display at ArabPlast: The MicroBlender, Maguire's smallest unit, provides throughputs up to 45 kg/hr (100 lb/hr) for four materials. The WSB 140R, with an optional removable hopper for quick color changes, is designed to mount over the feed throat of the processing machine. This makes it ideal for injection molders and small extruders. The WSB 950, for blown film lines, large extrusion lines, and central blending systems, blends up to twelve materials and reaches throughputs of up to 1,800 kg/hr (4,000 lb/hr). Maguire also services extrusion customers for applications such as sheet, cable, pipe, and film extrusion.
● Materials conveying solutions. Also on display at Maguire's ArabPlast stand will be two conveying system solutions: 1) QUAD™ three-phase receivers with 2 to 100 liter capacities, plus a range of QUAD™ vacuum pumps for loading up to four receivers. 2) FlexBus central conveying systems for more flexible and larger-volume conveying systems.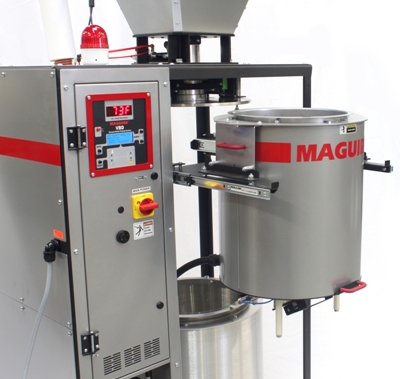 Buty, koszulki, spodnie Dziecięce