The recently concluded InterPlas Thailand 2018 served as an ideal venue for Polystar to promote its recycling system. The Repro-Flex offers a simple and practical solution for the recyling of packaging films, according to Sales Manager Jack Lin.
The machine is ideal for blown and cast film producers dealing with HDPE, LDPE, PP shrink, stretch film, BOPP, CPP, OPP leftover waste of edge trim from blown film in the format of scraps (T-shirt bags cut-offs from bag making processes), as well as complete film rolls which can be efficiently recycled in a simple process. "Most packaging film producers generate production wastes and those materials can be recyled by Polystar machine into high-quality pellets so instead of throwing away the waste materials, these can be re-used. And the whole process is good for the environment and enables the customer to cut costs," Mr. Lin stressed.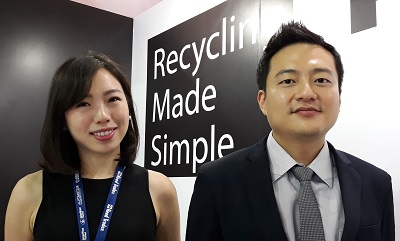 Ms. Aria Chen (left) and Mr. Jack Lin (right), Sales Managers at Polystar
Repro-Flex boasts of a simple design and flexible operation. It is a one-step direct technology that can undertake cutting, extrusion and pelletizing and it's very easy to install, operate and maintain. It's ideal for the reprocessing of flexible packaging materials, printed and non-printed. This cutter-integrated pelletizing system eliminates the need of pre-cutting the material, requires less space and energy consumption while producing high quality plastic pellets at a highly productive rate.
According to Mr. Lin, Polystar's recycling machine has gained acceptance the world over that the company has been serving customers around Asia as well as Mexico, Russia, Turkey, etc. "Polystar has focused on making one excellent recycling machine that the market needs and so we have attracted customers from around the workd as word gets around on how good this machine is," Mr. Lin explained.
Currently, India is Polystar's biggest market and to be successful in this highly competitive market is not easy. "We need to add value to our machine by offering special after-sales services, parts availability and superiod maintenance. We have a good partnership in India with its own sales team and technical professionals. For the rest of Asia, the sales and after-sales services are undertaken from our Taiwan office," Mr. Lin added.
Polystar's last appearance at InterPlas Thailand was five years ago. This year, the company felt that it's the perfect time to be back as the plastics industry in the ASEAN region is growing more than that in Europe.
Polystar Machinery Co., Ltd.
Tel: +886-6 273 0889 ext.39
E-mail: jack.lin@polystarco.com
Website: wwww.polystarco.com/en/index.html
Nike Air Max 95