As an internationally recognised plastic recycling machine manufacturer, Polystar Machinery Co., Ltd, specialises in post-industrial (in-house) recycling with its simplest easy-operation recycling system in the market today. The Polystar recycling machine can process various types of material including printed HDPE/LDPE film, stretch film, shrink film, BOPP, CPP, and OPP laminated film. Mr. Jack Lin, Sales Manager of Polystar Machinery, shares with International Plastics News for Asia (IRNA) the company's exhibit at TaipeiPLAS as well as the company's major leaps in the Southeast Asian market.
IRNA: What are the machines that Polystar is set to display at TaipeiPLAS?
Mr. Lin: Polystar Repro-Flex re-engineered recycling model takes prominent place in our exhibit this year. This model is an upgraded version that is made more simple and straightforward, with easier maintenance. Polystar has strived so that parts replacement would be easily available so that the newcomers who enter the recycling industry can start recycling without complexity. Considering the producers' demographic condition, it is often necessary for customers to recycle their own waste in the factory for post-industrial purposes. Unlike other recycling machines from other manufacturers, for those who just stepped into the field the designs of Polystar's Repro-Flex models offer customers a head start in recycling.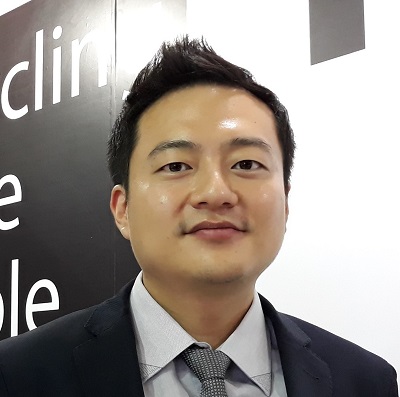 Mr. Jack Lin, Sales Manager, Polystar Machinery Co., Ltd.
IRNA: The past few years saw Polystar gaining popularity in the global plastics recycling sector, what contributes to this success?
Mr. Lin: I'd say the greatest difference of our machines is that they are extremely user-oriented, and packed with all the key functions in a compact, simple way. An example is our original electronic unit, which singled out a few most used recycling cycle on the buttons while setting up the size of pellets, feeding, and production speed is already automated and integrated to the button. This has reduced the time to go through different windows on the panels. And these features have gained positive recognition from our customers over the years, so we are confident to insist on our special position of supplying the simplest recycling machine in the world.
IRNA: Is there any special projects that you are working on recently?
Mr. Lin: A pretty exciting project is ongoing at Beijing with our recycling machines as part of the recycling demonstration park that promotes recycling concepts and exchange related technologies to manufacturers. We believe that this is crucial for the environment generally as countries across the world are seeking all sorts of measures to build a sustainable plastics economy.
IRNA: For the ASEAN region, what has been the achievements of Polystar as far as market expansion is concerned?
Mr. Lin: The recently concluded InterPlas Thailand 2018 served as an ideal venue for Polystar to promote its recycling system. In particular, we highlighted the Repro-Flex as a simple and practical solution for the recyling of packaging films.
The machine is ideal for blown and cast film producers dealing with HDPE, LDPE, PP shrink, stretch film, BOPP, CPP, OPP leftover waste of edge trim from blown film in the format of scraps (T-shirt bags cut-offs from bag making processes), as well as complete film rolls which can be efficiently recycled in a simple process. Since packaging film producers generate production wastes, we emphasized that these materials can be recyled by Polystar machine into high-quality pellets so instead of throwing away the waste materials, these can be re-used. And the whole process is good for the environment and enables the customer to cut costs.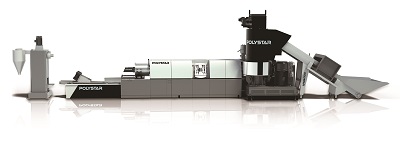 Polystar recycling machine has gained popularity worldwide for its design and easy operation.
IRNA: Would you please cite an example of how a customer responded to the Polystar recycling machine?
Mr. Lin: We have many satisfied customers in various parts of the world. Most recent is the experience of a customer in Thailand that produces plastic bags, garbage bags etc. This customer has six factories in Thailand, and in late 2016, it bought its first Polystar recycling machine for in-house, post industrial recycling purposes. Comparing Polystar recycling machine to traditional recycling machine that this customer used, the percentage of recycling materials capacity jumped from 12% to 30%.
The customer exports 100% of its products to the United States. After using Polystar recycling machine, the customer was provided with the quality advantages to pass the import standards for plastic bags in the US. Moreover, it took the customer 6 months to get a return on its investment in the Polystar recycling machine it purchased. So far, this customer in Thailand has purchased three machines in two years. The Thai customer is most impressed with the reusability of recycled pellets and the mechanical design of the recycling machine, as well as its easy operation. To strengthen the ability for processing difficult-to-recycle materials such as composites, Polystar in the future will focus on technologies such as filtration and degassing.
IRNA: Does Polystar have any future plans?
Mr. Lin: We will open and move to our new 30,000 sq.m. factory by the end of this year. This is a quite emotional milestone for the entire company as the founder started from a small-scale machine shop 30 years ago, and now it has gained a status internationally. We thank every customer who has been on this journey with us, and value every single feedback to improve the details of our machines. IRNA
POLYSTAR MACHINERY CO., LTD
Tel: +886-6-2730889
Fax: +886-6-2730887
E-mail: sales@polystarco.com
Website: www.polystarco.com/en/index.html
Air Jordans