VietnamPlas 2018, which was held from October 4-7, was the largest-scale ever plastics machinery exhibition in Vietnam to date. For nearly two decades Vietnam International Plastics and Rubber Industry Exhibition(VietnamPlas) has grown to be the most well-known and reputed trade fair of the sector in the Vietnam market. Organized by Ministry of Industry & Trade - Vinexad National Trade Fair & Advertising J.S.C (VINEXAD) and Yorkers Trade & Marketing Service Co., Ltd., co-organized by Vietnam Plastics Associations (VPA), the exhibition was held at the Saigon Exhibition & Convention Center (SECC). The exhibition was also endorsed by the Vietnam Rubber association(VRA) and Rubber Plastic Manufacturers Association(RPMA) and other industry associations.
Presence of world's top-notch plastics machinery manufacturers
Over the years, VietnamPlas has been well-equipped to bring in substantial business opportunities for participating exhibitors and trade visitors, and this year's edition was no exception.
The exhibition was filled by leading suppliers from over 15 countries and regions around the world. Exhibitors came from Belgium, China, Hong Kong, India, Iran, Japan, Korea, Poland, Singapore, South Korea, Netherlands, Taiwan, Thailand, Turkey and Vietnam, and they showcased their latest manufacturing solutions for the Vietnam market. Around 520 well-known brands locally and internationally were present at the venue that spanned 18,000 sqm.
WAPS presented its tailor-made polymer and BS-III series injection molding machine with high versatility and energy efficiency; globally recognized plastic recycling machine manufacturer - Polystar showed off not only the signature recycling machine but also its blown film machine and bag making machine; Lung Meng demonstrated its high performance co-extrusion blown film machine for the plastic bag manufacturers in Vietnam who are looking to improve their production efficiency; leading injection molding manufacturer, Haitian, brought its the latest injection, CNC technology for the thriving domestic plastics industry; Bimetal showcased its op of the line extruder, screw barrel and also complete technical support for customers; LS Mtron promoted its compact hybrid injection molding machine with servo energy saving and high injecting technology; Van Su Loi brought several plastics machinery brands to the show ground to give more purchasing options for the domestic buyers. World leading brands of plastics machinery were well-represented to provide local manufacturers with the latest information on how to step up their production efficiency.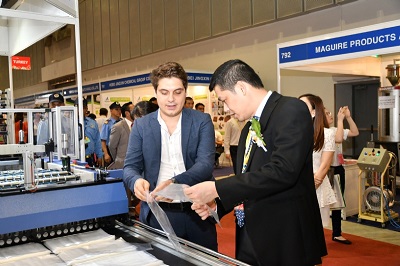 Support from worldwide trade associations
For the past 18 years, VietnamPlas has earned its excellent reputation among industry professionals around the world. International associations such as Korea Plastics Processing Machine Industry Cooperative (KPPMIC), Taiwan Association of Machinery Industry (TAMI), Taiwan Mold & Die Industry Association (TMDIA) and The Taiwan Plastic Industry Association (TTPIA) continue to support the exhibition by bringing their top brands to VietnamPlas, which is now considered as one of the best business platforms gathering the most advanced technologies and the most investment-oriented visitors in Southeast Asia.
Other industry associations namely Vietnam Association of Mechanical Industry (VAMI), HCMC Automation Association (HAuA), HCMC Association of Mechanical – Electrical Enterprise (HAMEE), China Council for the Promotion of International Trade (CCPIT) have all expressed their full support for the exhibition, making VietnamPlas the go to trade show for sourcing and upgrading manufacturing facilities.
Intense workshop on industry trends
An in-depth industry workshop, "Vietnam enterprises how to stand on the brink of technological innovation", was held on the first day of the trade show. The first section consisted of the overview of Vietnam plastic sector, including industry current status, potential and prospect. The second section was the discussion between the audience and the speaker focusing on the key issues that the industry is currently facing. The workshop was designed not only for people from the industry, but also for investors who are looking to invest in this sector.
The next Vietnam International Plastics and Rubber Industry Exhibition is scheduled on October 3-6, 2019 at the Saigon Exhibition & Convention Center (SECC) in Ho Chi Minh City. For more information of the show please go to www.vietnamplas.com
Nike Shoes