Hydrogen presents considerable challenges in relation to the liner material's permeability. Being the smallest molecule in the periodic table, hydrogen can diffuse through virtually every plastic material. Special polyamides (PAs) have the best barrier properties. However, due to their low melt rigidity and complexity, they have previously been difficult to process on this scale by blow moulding. Newly developed polyamides and a special extrusion technique have now made this possible.

Kautex Maschinenbau's blow moulding experts have successfully produced a large-volume polyamide liner for hydrogen pressure vessels using extrusion blow moulding. The liner is more than two metres long, with a diameter of approximately 500 mm and a volume of 320 litres. This is the first time that a liner for a hydrogen container has been produced in this size by blow moulding.

"Producing a liner of this size from polyamide has been a major challenge. The work we are doing here is truly pioneering", said Abdellah El Bouchfrati, Head of Kautex's Composite Business Development, where the new hydrogen liner was developed.

Development of composite pressure vessels
For some time now, Kautex has been putting its efforts into on-going development of composite pressure vessels (CPV) for various applications such as hydrogen, CNG and LPG tanks. Composite tanks consist of a thermoplastic liner, a boss part, to which the valve is connected, and a fibre winding which adds mechanical strength. The internal liner is produced by blow moulding.

CPV high-pressure containers for hydrogen are generally designed for an operating pressure of 700 bar and a burst pressure of 1750 bar. The liner is a core component of the container. It is the inner skin of the tank. It absorbs the gas, surrounding the contents and sealing them off from the outside. The liner is subjected to high mechanical stresses and temperature ranges from -60 °C to +120 °C. Now, for the first time, the method developed by Kautex in cooperation with a plastics manufacturer enables hydrogen liners in sizes with industrial applications to be produced by blow moulding.

"The liner size we have now achieved is just the start. We are confident that, in future, we will also be able to use this method to produce considerably larger liners for hydrogen pressure vessels", said Abdellah El Bouchfrati.

The technology developed by Kautex Maschinenbau for producing large-volume liners for hydrogen containers means that a cost-effective solution for transport and infrastructure requirements is now within reach. Experts have long considered sole reliance on battery technologies to provide a solution to tomorrow's mobility problems will not achieve the long-term goal of mobility that is as carbon-neutral as possible.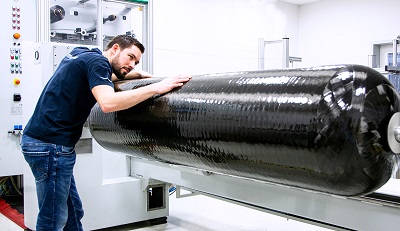 While fuel cell technology in the passenger car sector does not yet appear to be economically viable, due to production costs and a lack of infrastructure, hydrogen-powered drive and production technologies are already being successfully implemented in other areas. This technology currently appears to be of particular interest for heavy goods transport, local public transport, shipbuilding, and the aircraft industry. In those sectors, the primary demand is for safe, lightweight and leak-proof tank systems. CPVs are not only significantly lighter than steel tanks, but also completely resistant to corrosion.

Hydrogen is also a first-class energy storage medium, especially if it has been produced using renewable energies. Here, too, tank systems that can withstand the associated pressure, and still store the extremely light gas safely, are needed.

Alongside high-tech machines for packaging and automotive products, the company also develops systems for producing thermoplastic pressure vessels. Kautex Maschinenbau's portfolio ranges from the development and production of prototypes and small series to the construction of complete production systems for manufacturing composite pressure vessels. Working together with its customers and materials manufacturers, Kautex continues to advance developments in CPV technology. The hydrogen liner that has just been unveiled is the latest fruit of this cooperation.

85 years in business
Kautex Maschinenbau is celebrating three anniversaries this year: its founding 85 years ago, 60 years since its USA subsidiary opened and 25 years of machine manufacturing in China. Reinhold Hagen, who was a plastics pioneer, founded the company in 1935. With his love of experimentation and business sense, he succeeded in developing the world's first standard production plant for seamlessly manufacturing hollow plastic products in 1949.

Kautex Maschinenbau has been a leader in the plastics industry with pioneering technologies and services. Its blow moulders have such a good reputation that the first international Kautex subsidiary was opened in New Jersey, USA, in 1960. The first German-Chinese joint venture was then opened in Shunde, southern China, in 1995. Today, the third generation of the Chinese KCC series is assembled there. It is also planned to start production of other well-known machine types from the German portfolio at the Shunde facility in 2020. Today, Kautex, a leading manufacturer of high-tech extrusion blow moulders, based in Bonn, Germany, is working towards shortening delivery times and supplying its machines from Germany or China depending on where they are ordered. Kautex has subsidiaries in Europe, Asia and North America.

Thanks to their excellent properties, demand for the first blow-moulded products grew and grew, but today, plastic products are increasingly facing criticism. There is a lack of efficient recycling concepts. For this reason, Kautex's research and development teams are focusing on hot topics such as sustainability, recycling and digitalisation. The latest development in sustainability are new technologies that drastically reduce energy and material consumption, for example when there is a color or material change. Kautex has also been optimising recycled plastics processing for some time. This is a core task for the plastics processing sector, in the opinion of Andreas Lichtenauer, Managing Partner: "Public perception of plastic products has changed considerably in the last few years. Sustainability arguments and the ecological footprint of products play an ever-greater role in their acceptance. For this reason, we deliberately promote plastics recycling and the optimisation of material supply loops."

In addition to technological innovations, Kautex is also using digital services to achieve sustainable production. For example, clients can use Kautex's augmented service to request virtual services worldwide. Using this service, teams of experts across the globe can access the machines virtually, without needing to travel, so that they can resolve problems as quickly as possible. This reduces service team air miles and therefore the CO2 emissions caused by such journeys. Kautex also uses digital simulators for training. "Digital twins" accurately mimic machine processes while saving the energy and materials required to operate the real machines.

Kautex Maschinenbau celebrates its triple anniversary at different events in 2020. The high point will be an open house at its site in southern China in the last quarter of this year.