With the current trend and preference for advanced technology, fully automatic production line promising efficiency and high quality at lower cost has become a hit in the plastics industry. Since 2013, the year when industry 4.0 was introduced, the idea of total automation has driven demand for innovative production technology.
Full Shine has incorporated automation into its solutions to ensure efficient performance in the production line and minimize the impact of labor shortage or surging wage. Thanks to the development of automation, the technology has become mature and cost-effective. The return on investment can be recovered fast through practical arrangement with Full Shine playing a significant role in the improvement of customer's production line.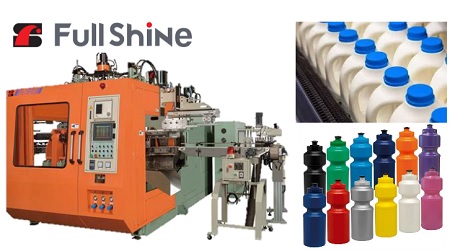 Full Shine is devoted to the total automation in blow molding production. In particular, model FS-75PFDO is suitable for producing milk /drink bottles for everyday use. The model is equipped with double station and four cavities. Full Shine can support more than four cavities to meet the target of high-volume output production, high quality and less labor intervention. From blow molding packages, auto deflashing process, carrying out the finished bottles by robot arms, auto neck trimming process, leaking tester, auto recycling process to connecting to the central material supply system, bagging machine and packing machine, the entire production procedure is completed on one single production line. The whole production line is implemented without any labor intervention and contributes to less contamination. Full Shine provides various aspects of solutions for the automation in the plastic production line especially designed and personalized in your plant.
For more information, please visit Full Shine Spanish website: http://www.full-shine.com/es/index.html, P Series Blow Molding Machinery: http://www.full-shine.com/es/products_sub_P-Series.html, or e-mail to sales@full-shine.com
Mens Running Shoes